spinach artichoke lasagna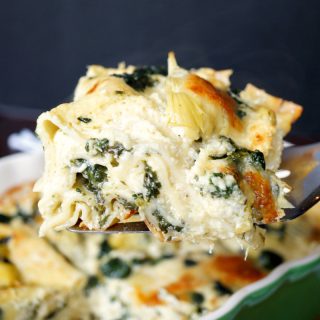 Author:
Valentina | The Baking Fairy
1 box no-boil lasagna noodles
6 cups fresh spinach (1 standard bag)
1 can artichokes
1-2 tbsp olive oil
2 garlic cloves
1 15oz container ricotta
2 cups shredded mozzarella cheese
8 oz fresh sliced mozzarella
1 cup grated parmesan
2 tbsp butter
salt & pepper to taste
Preheat oven to 375F.
First, prepare the lasagna noodles. Fill a large bowl with hot water, and let the noodles soak for a few minutes until they soften slightly. Careful as they tend to stick to each other! Meanwhile, you can prepare the rest.
Next, prep the artichokes. Drain and rinse well.
In a small pan, heat the olive oil with the garlic on medium-high heat. When the oil is warm, add in the artichokes and saute until lightly golden brown. Add salt and pepper as needed.
In a food processor, combine the ricotta cheese, ¼ cup of parmesan, ¼ cup of grated mozzarella, and half of the artichokes. Process until a smooth cream forms. Add more s&p as needed.
Grab a 9x13 baking pan, and lightly grease the bottom and sides with some olive oil. Spread a small amount of the ricotta cream on the bottom, and top with one layer of lasagna noodles.
Layer on more cream, ¼ of the artichoke pieces, spinach, fresh and grated mozzarella, and parmesan. Repeat until you have created 4 layers, saving a little more of the cream and cheese for the very top. Cut the 2 tbsp of butter into small pieces and scatter on the top.
Cover tightly with foil, and bake for 35-40 minutes, then uncover and bake for 20 minutes more, until the top is golden brown and bubbly. You can also broil the lasagna for 1-2 minutes at the end, watching carefully!
Let cool slightly then cut and enjoy!
Recipe by
The Baking Fairy
at https://www.thebakingfairy.net/2017/01/3-cheese-spinach-artichoke-lasagna/