spinach, bacon, and mushroom sweet potato crust quiche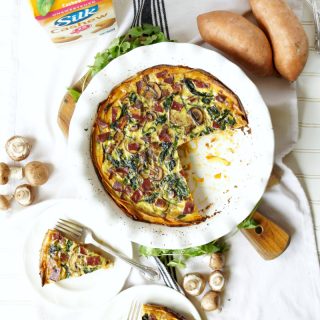 Author:
Valentina | The Baking Fairy
Recipe type:
Meat & Seafood
1 large sweet potato, washed and peeled
6 whole eggs
½ cup Silk unsweetened cashew milk
1-2 tsp olive oil
1 cup sliced mushrooms
¼ cup diced onion
3 cups fresh spinach
6 strips turkey bacon, diced
¼ tsp garlic powder
salt & pepper to taste
Preheat the oven to 350F.
Using a mandolin or sharp knife, cut the sweet potato into thin slices.
Grab a deep-dish 9-inch pie plate, and lightly spray with nonstick spray. Lay out the sweet potato slices on the bottom and sides of the pan, making 2-3 layers to ensure the whole pan is lined. Season with salt and pepper, and bake for 20 minutes.
Meanwhile, heat the olive oil in a medium nonstick pan over medium-high heat, and add in the chopped turkey bacon. Cook until lightly golden brown, then add in the onion and mushrooms.
Cook, stirring often, until veggies are tender and crisp. Season with more salt and pepper.
Finally add in the spinach, and cook until just wilted and soft. Remove mixture from heat.
In a large bowl, whisk together the eggs and Silk cashew milk.
Add in the cooked turkey bacon and vegetables, then pour the whole mixture in the prepared sweet potato crust.
Turn the oven up to 400F, and bake quiche for 25-27 minutes, until it's golden brown on top and does not jiggle. Let cool slightly, then cut and enjoy!
Recipe by
The Baking Fairy
at https://www.thebakingfairy.net/2017/01/sweet-potato-crust-quiche/