prosciutto & asparagus orecchiette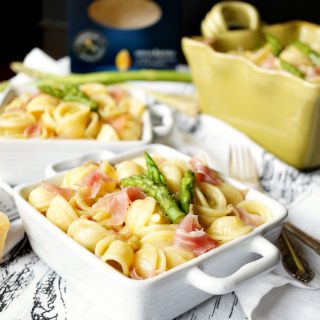 Author:
Valentina | The Baking Fairy
Recipe type:
Meat & Seafood
1 box Barilla Collezione Orecchiette pasta
3 tbsp salted butter
1 tbsp olive oil
¾ cups white wine
1 cup freshly grated Parmesan cheese
4-5 slices prosciutto, cut into thin strips
1 bunch asparagus
½ cup heavy cream
salt & pepper to taste
First, prepare the asparagus. Wash and trim off the hard ends. Bring a medium pot of water to a boil, add salt, and cook asparagus for 6-8 minutes, until tender but not mushy. Immediately remove from the water, and set aside to cool slightly. Chop the ends into ½ inch pieces, and save the pretty tops for garnishing the plates.
Next, cook the pasta. You can use the same pot as you did for the asparagus. Bring water to a boil, add salt, and cook according to package directions (11-12 min).
While the pasta cooks, start on the sauce. In a large saute pan or wok, heat the olive oil and salted butter over medium-high heat.
Add in the white wine, and cook, stirring often, until the sauce has thickened slightly and no longer smells like alcohol.
Stir in the parmesan cheese, heavy cream, and asparagus pieces, and season with salt and pepper. Keep cooking until the sauce is creamy and thick. Turn off the heat, and add in the pieces of prosciutto.
Toss orecchiette with the sauce, divide evenly among 4 plates, and top each with some of the reserved asparagus tips. Serve immediately!
Recipe by
The Baking Fairy
at https://www.thebakingfairy.net/2017/01/prosciutto-asparagus-orecchiette/