vegan fajita enchiladas with cheesy sauce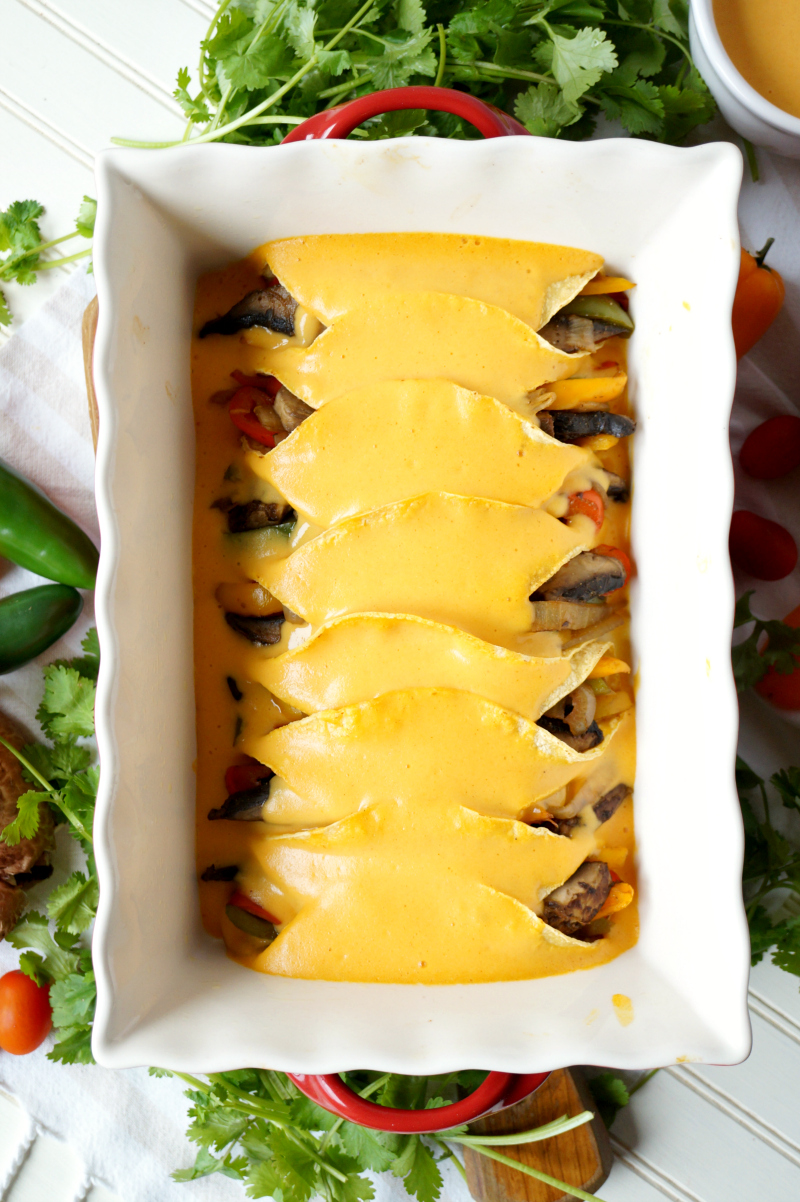 Author:
Valentina | The Baking Fairy
*for the "cheesy" sauce*
2 cups peeled and chopped Yukon gold potatoes (about 2-3 medium potatoes)
1 medium carrot, chopped
4 tbsp olive oil
½ cup unsweetened cashew milk (or other nondairy milk)
3 tsp lemon juice
½ tsp garlic powder
½ tsp onion powder
½ tsp salt
¼ tsp smoked paprika
2 tbsp Dijon mustard
1 tsp soy sauce
*for the enchiladas*
12 small tortillas (I like corn, but flour works too!)
1 onion, sliced
3 bell peppers, sliced
2 heads Portobello mushrooms, sliced
½ tsp smoked paprika
½ tsp cumin
½ tsp garlic powder
½ tsp onion powder
½ tsp cayenne pepper
½ – 1 tsp salt (to taste)
1-2 tsp olive oil
*for topping*
avocado, tomatoes, salsa, dairy-free sour cream, etc.
First, make the sauce. In a medium pot, place the chopped potatoes and carrot, and cover with water.
Bring water to a boil, and simmer vegetables for about 20 minutes, until very tender when poked with a fork. Drain the vegetables.
In a blender, combine the drained vegetables and the rest of the sauce ingredients. Pulse until a smooth, creamy sauce forms. Set aside for now.
Preheat oven to 325F.
Heat a small saute pan over medium-high heat, and toast the tortillas, one at a time, until lightly charred and soft. Wrap in a paper towel and set aside for now.
In a large nonstick saute pan, heat the olive oil over medium-high heat.
Add in all the vegetables, season with the spices, and cook, stirring occasionally, until veggies are tender and slightly charred.
Grab a 9x13 baking pan, spray lightly with baking spray, and spoon a thin layer of the prepared cheesy sauce on the bottom.
Divide the vegetable filling evenly among the 12 tortillas, roll up, and place the enchiladas in the pan. Top with more cheesy sauce (you will have some left over!).
Bake in preheated over for 10-15 minutes, until sauce is hot and bubbly.
Top with desired toppings and serve immediately!
Recipe by
The Baking Fairy
at https://www.thebakingfairy.net/2017/03/vegan-fajita-enchiladas-cheesy-sauce/