vegan crab cream cheese wontons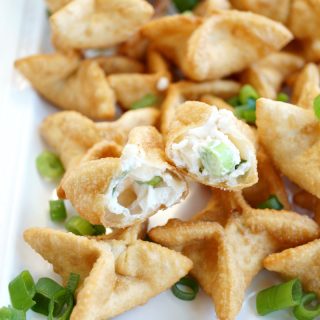 Author:
Valentina | The Baking Fairy
*for the wonton skins*
2 cups all-purpose flour
½ cup warm water + more as needed
pinch of salt
*for the filling*
8oz vegan cream cheese
12oz hearts of palm
3-4 fresh green onions, chopped
½ tsp garlic powder
salt and pepper to taste
vegetable oil, for frying
First, make the wonton skins. In a food processor, combine the flour, water, and salt, and pulse until a dough forms. Knead lightly by hand, then place in a clean bowl, top with a moist paper towel, and allow to rest for 20 minutes.
In the meanwhile, make the filling. In a large bowl, mix the cream cheese until cream and smooth. Finely chop the hearts of palm and green onions and add them in. Add in the garlic powder, salt, and pepper, and adjust seasonings to taste.
When dough is ready, roll out using a rolling pin or pasta roller until very thin. Using a standard glass or 3" cookie cutter, cut out as many circles as possible. Re-knead the dough and cut circles until you run out.
Place a ½ tbsp of filling in the center of each circle, then dip your fingers in water and moisten the edge. Pinch edges together to form a tight seal. Repeat with all.
Heat your oil over medium-high heat in a wide, deep pan, with the oil 2-3 inches deep.
Fry wontons, 4-5 at a time, making sure you don't crowd the pan. Cook until golden brown and bubbly on the surface.
Remove to a paper towel lined plate, sprinkle with salt, and serve immediately! Leftovers can be reheated in the oven for best results.
Recipe by
The Baking Fairy
at https://www.thebakingfairy.net/2017/04/vegan-crab-cream-cheese-wontons/