vegan sofritas tacos with cilantro lime cashew cream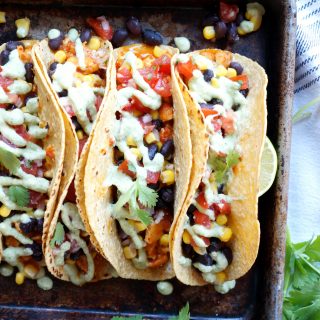 Author:
Valentina | The Baking Fairy
*for the sofritas*
1 block firm tofu
¼ cup cornstarch
1-2 cups vegetable oil
1 bell pepper (any color)
1-2 Roma tomatoes
½ jalapeno, seeded
½ cup onion
3-4 cloves garlic
½ tsp smoked paprika
½ tsp onion powder
½ tsp garlic powder
1 tsp salt
1 tsp cumin
*for the cashew cream*
1 cup raw unsalted cashews
¼ cup unsweetened cashew milk
½ jalapeno, seeded
¼ cup fresh cilantro leaves
juice of 1½ limes (1/2 cup)
½ tsp garlic powder
½ tsp onion powder
½ tsp salt
*for serving*
10 corn tortillas
corn, black beans, avocado, pico de gallo
First, press your tofu. Drain all the water from the package, and use a tofu press to squeeze the water out. If you don't have a tofu press, you can wrap the tofu in a few paper towels, place between two plates, and top with a heavy object (I just stack on some cookbooks!). Drain until tofu is firm and does not leach water when squeezed.
While tofu drains, prepare the cashews. Place the cashews in a small pot, and cover with water. Simmer for 15 minutes, then leave in the hot water to soak until needed.
Cut the tofu into 1" cubes, and toss with the cornstarch.
Heat the vegetable oil in a medium pot until it shimmers. Add in the tofu cubes a few at a time, and fry until golden brown and crisp. Place on a paper towel to drain. When cool enough to handle, chop into tiny pieces.
In a blender, combine the bell pepper, tomatoes, jalapeño, onion, and garlic for the sofritas, and blend until smooth. Add in the seasonings.
In a medium nonstick pot, pour in the blended mixture and the tofu pieces. Heat on to medium-low, and simmer until vegetables have cooked through and sauce has reduced a bit. Add more seasoning if needed.
When ready to serve, prepare the cashew cream. In a blender, combine the drained cashews, jalapeño, cilantro, lime juice, and seasonings. Add cashew milk as needed to make a smooth cream (you may not use it all).
Now, you are ready to assemble! Fill a tortilla with some sofritas, and top with your desired goodies: corn, beans, salsa, and of course the cashew cream. Enjoy!
Recipe by
The Baking Fairy
at https://www.thebakingfairy.net/2017/05/sofritas-tacos-cashew-cream/