lemon white chocolate poke cake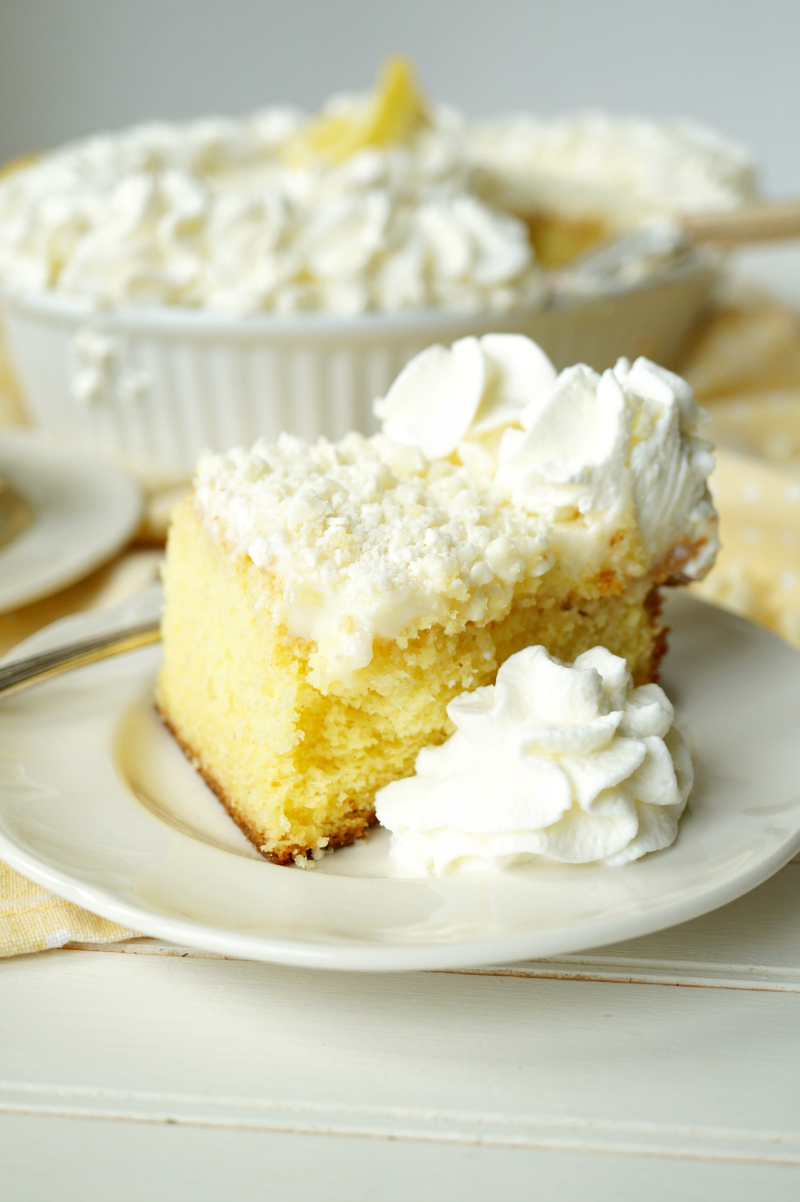 Author:
Valentina | The Baking Fairy
1 box lemon cake mix
ingredients called for on cake (eggs, water, oil)
2 boxes instant white chocolate pudding
milk for pudding
4oz white chocolate
1 cup heavy whipping cream
1 tbsp powdered milk
1 tbsp powdered sugar
lemon slices, for garnish
First, spray a 9x13 pan well with baking spray. Prepare cake mix according to package directions, pour into prepared pan, and bake as directed.
Let cake cool to room temperature, then use the handle of a wooden spoon and poke holes all over the surface of the cake (be sure to poke all the way through!).
In a large bowl, prepare the pudding according to package directions. When it's still pretty thin and liquid, pour all over the surface of the cake. Use a spatula to smooth the surface.
Refrigerate for at least 1hr.
To prepare the white chocolate, simply chop into tiny pieces with a knife, or you can quickly pulse it in a food processor until fine.
Spread the white chocolate pieces all over the cake surface.
To make the whipped cream, pour the heavy cream in the bowl of a stand mixer with a whisk attachment. Turn onto medium-high, and beat until slightly thickened. Add in the powdered milk and powdered sugar, and beat on high until thick and creamy.
Decorate the top of the cake with the whipped cream and lemon slices, and enjoy! Store leftovers in the fridge.
Recipe by
The Baking Fairy
at https://www.thebakingfairy.net/2017/06/lemon-white-chocolate-poke-cake/