mini sweet potato pies with marshmallow meringue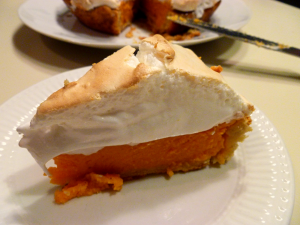 Author:
Valentina | The Baking Fairy
Recipe type:
Pies & Tarts
storebought bite-sized pie crusts, or one frozen 9-inch pie crust
*for the filling*
3 lbs sweet potatoes (or enough for 2 cups mashed yams)
1 14-oz can sweetened condensed milk
¼ cup white sugar
2 eggs
2 tsp lemon juice
1 tsp ground cinnamon
½ tsp nutmeg
¼ tsp salt
*for the meringue*
7 oz marshmallow creme (1 jar)
3 large egg whites
⅛ tsp salt
¼ cup white sugar
Preheat the oven to 350F.
Take the pie crusts out of the freezer, unwrap, and let them sit on the counter at room temperature as you prepare the rest.
Scrub the sweet potatoes well, and pierce all over with a fork. Wrap in a moist paper towel, and microwave for 5-6 minutes, until they are soft and cooked through. Cut in half, and let cool slightly.
When sweet potatoes are cooled enough to handle, scoop out the flesh and place it in a food processor. Blend the sweet potatoes until smooth and lump-free! Add in the can of condensed milk, eggs, sugar, lemon juice, and salt, and pulse until the filling is creamy and homogenous.
Arrange the room-temperature pie crusts on a baking sheet, and pour in the filling. Fill the crusts around ¾… they will rise as they cook, but fall again as they cool afterwards. You don't want half-empty pies!
Cook pies for 30-35 minutes if mini, and 50-60 minutes if making a 9-inch pie. Let pies cool COMPLETELY before topping with meringue!
Once pies are totally cooled (4 hrs or more), prepare the meringue.
In a very clean bowl, combine the egg whites and salt, and beat on high with a hand mixer until they become white and foamy. Start adding the ¼ cup of sugar, a little at a time, as you keep beating. You will whip the egg whites until white, glossy, and to a stiff peak!
Using a rubber spatula, spoon out about half of the marshmallow meringue, and gently fold it in the egg whites to lighten them. Once they are completely incorporated, fold in the remaining crème. Be sure to do this gently so you don't deflate your egg whites!
Using a spoon, place dollops of meringue on top of the pies, and bake at 400F for 4-5 minutes, just long enough for the meringue to warm through and form a golden brown crust. Serve warm or at room temperature, and store leftovers in the fridge!
Recipe by
The Baking Fairy
at https://www.thebakingfairy.net/2011/11/sweet-potato-pie-with-marshmallow-meringue/