vegetarian Mexican stuffed peppers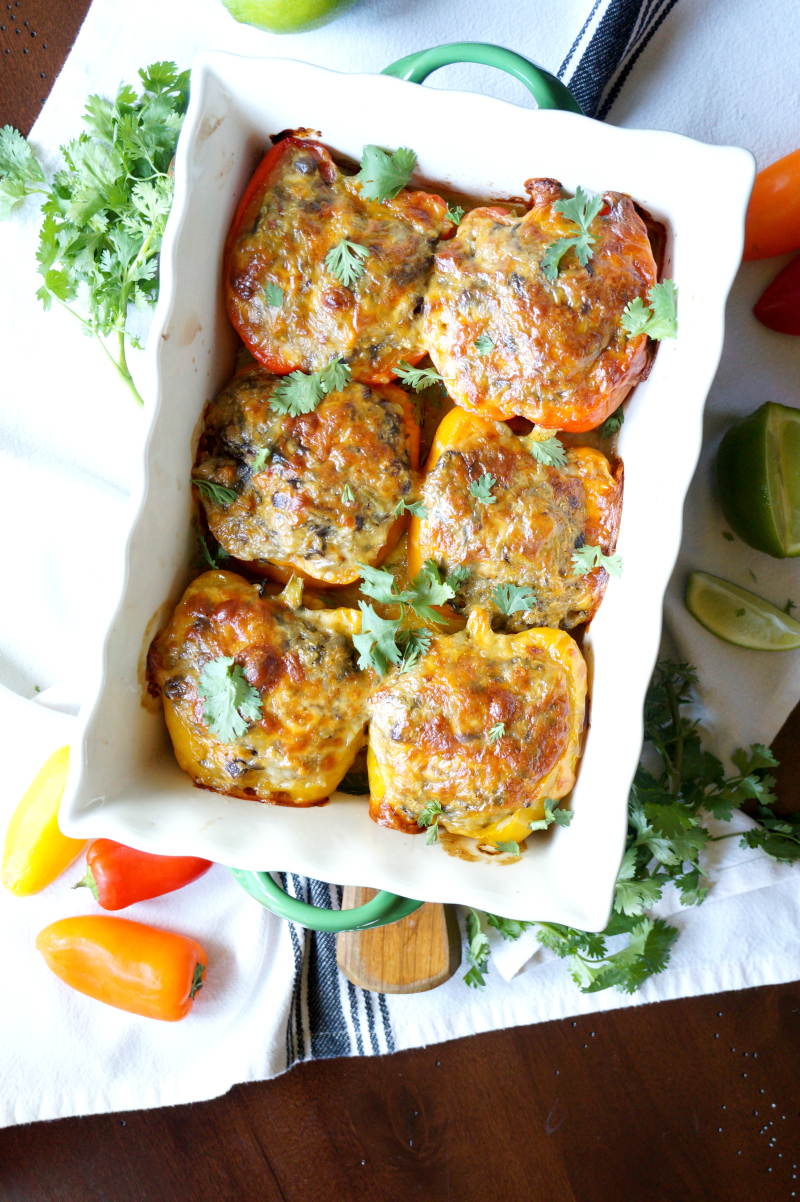 Author:
Valentina | The Baking Fairy
6 bell peppers
1 cup quinoa (uncooked)
1 vegetable bouillon cube
2 stalks celery, diced
3 carrots, diced
½ onion, diced
4-5 cloves garlic, chopped
1 jalapeno, seeded and chopped
1 tbsp olive oil
1 cup sliced mushrooms
2 cups kale
1 15oz can black beans, rinsed and drained
1 10oz can green enchilada sauce (I use Old EL Paso)
12 slices colby jack cheese
1 tsp oregano
2 tsp cumin
1 tsp smoked paprika
1 tsp salt
1 tsp red pepper flakes
1 tsp turmeric
First, preheat oven to 425F.
Prepare two 9x13 baking pans and lightly grease with olive oil. Cut each bell pepper in half and arrange, cut-side up, in a single layer. Set aside for now.
Cook quinoa according to package directions, adding the vegetable bouillon to the cooking water.
In a medium pot, heat the olive oil over medium-high heat. Add in the celery, carrots, onion, garlic, and jalapeño, and cook until fragrant and slightly softened.
Add in the mushrooms and quinoa, and saute for a few minutes. Lower heat to medium-low, and allow veggies to cook until soft.
Add in the beans and all the spices, and mix to combine.
When the quinoa is ready, add it to the veggie mixture. Pour in half of the enchilada sauce, and mix well.
Divide filling among the 12 pepper halves, drizzle with the remaining enchilada sauce, and top each with a slice of cheese.
Pour about ½ inch of water in the bottom of the pans, wrap tightly with foil, and bake for about 30 minutes.
Then, remove foil (BE CAREFUL because there can be hot steam!), and cook for 10 more minutes, until cheese is melted and golden brown.
Serve immediately with avocado and sour cream!
Recipe by
The Baking Fairy
at https://www.thebakingfairy.net/2017/07/vegetarian-mexican-stuffed-peppers/