vegan jackfruit & potato taquitos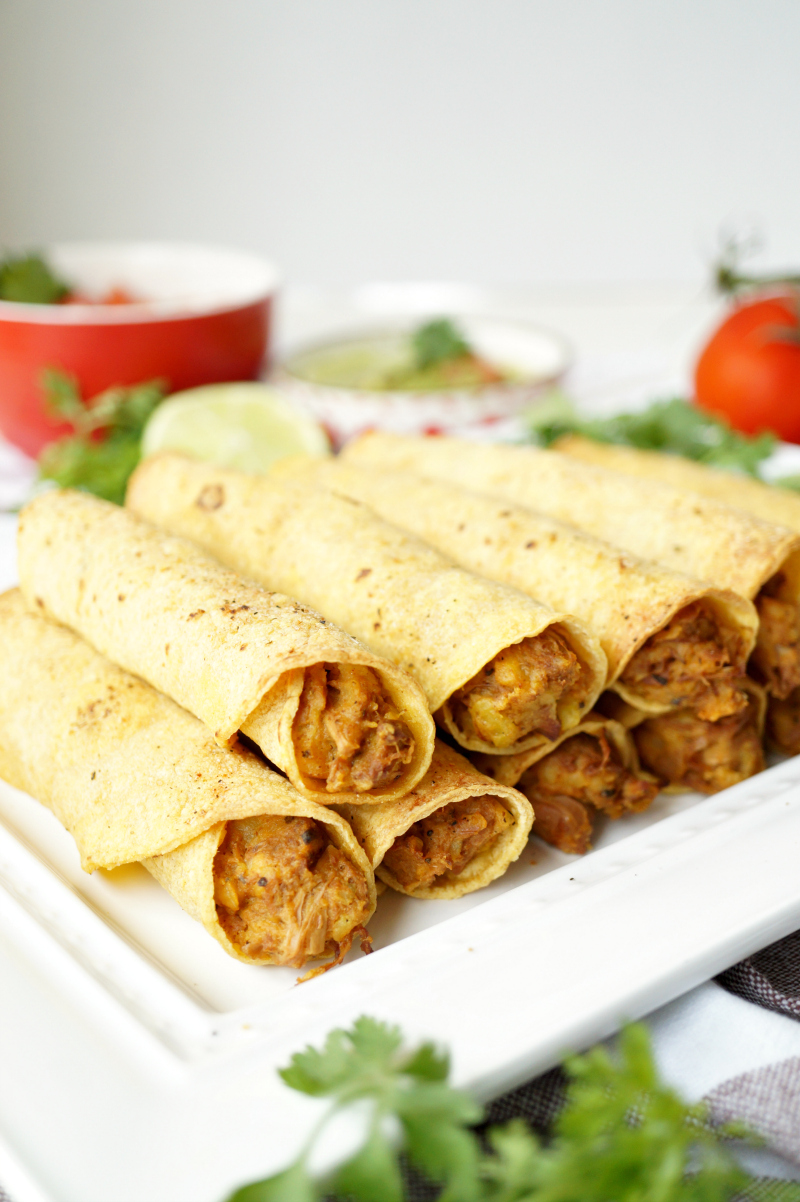 Author:
Valentina | The Baking Fairy
12 small corn tortillas
1 14oz can jackfruit
juice of ½ lime
¼ cup chopped onion
3 garlic cloves, chopped
½ tbsp cumin
1 tsp garlic powder
½ tsp smoked paprika
1 tsp salt
1 tsp black pepper
1 tsp mustard powder
1 tbsp tomato paste
1 tsp cumin
1 tsp oregano
2 tsp vegan Worcestershire
2-3 small potatoes, peeled and diced (about 1 cup)
¼ cup unsweetened nondairy milk
2-3 tbsp olive oil
First, prepare the jackfruit. Drain the brine from the can and rinse well.
Add the jackfruit to your Crockpot, and mix with the lime juice, onion, garlic, Worcestershire, and all the spices.
Cover, and cook on low 4hrs/high 2hrs until the jackfruit is tender and has soaked up the marinade mix.
Meanwhile, place the potato pieces in a small pot and cover with water. Boil for 10-15 minutes until soft and easily mashed with a fork.
Transfer to a medium bowl, and mash the potatoes with the nondairy milk. Mix in the jackfruit mixture, and add more seasoning as needed.
Preheat oven to 425F and line a baking sheet with parchment or a silicone liner.
Wrap the tortillas in a moist towel, and microwave for 5-10 seconds until warm and pliable. If you have time, I actually prefer toasting the tortillas in a dry, ungreased skillet for about 20-30 seconds on each side until lightly charred and flexible.
Spoon some filling in the center of each taquito, then fold in half and roll tightly. Repeat with all 12.
Place the taquitos on the prepared baking sheet, brush with oil, sprinkle on a little bit of salt, and bake for 13-15 minutes, until golden brown and crisp. Enjoy warm with salsa and guacamole for dipping!
Recipe by
The Baking Fairy
at https://www.thebakingfairy.net/2017/07/vegan-jackfruit-potato-taquitos/