vegan tofu scramble breakfast pockets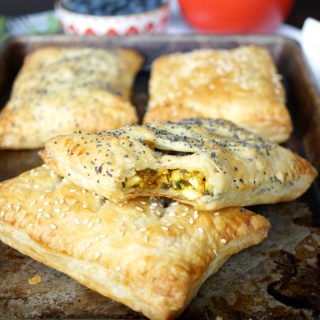 Author:
Valentina | The Baking Fairy
1 box (2 rolls) puff pastry, thawed (Pepperidge Farm brand's is vegan)
1-2 tbsp flour
1 block extra-firm tofu
2-3 tbsp cornstarch
2 tsp turmeric
½ - 1 tsp smoked paprika
1 tsp garlic powder
1 tsp onion powder
2 tsp chicken seasoning blend
1 tsp salt
½ tbsp low sodium soy sauce
½ tbsp vegan worcestershire sauce
2 tbsp + 1 tbsp olive oil (separated)
2-3 tbsp nutritional yeast
½ white onion, chopped
2 stalks celery, diced small
2 medium carrots, diced small
2 cups fresh spinach
4-5 mushrooms, diced small
1-2 tbsp unsweetened soy milk
poppy seeds and/or sesame seeds, for topping
First, press the tofu for about 30 minutes until most of the excess liquid has drained.
Crumble tofu with your hands into a medium bowl, and toss with the cornstarch.
Add in all of the spices, soy sauce, and worcestershire and mix until combined.
In a large saute pan, heat 2 tbsp of olive oil on medium-high heat until it shimmers.
Add in the tofu, and cook, stirring often, until the edges are golden brown and slightly crisp. Transfer tofu to a separate bowl.
In the same pan, heat the other 1 tbsp of olive oil, and toss in all of the vegetables. Cook over medium heat, stirring often, until all vegetables are softened and fragrant. Add them to the bowl with the tofu, and mix in the nutritional yeast. Taste, and add more salt and pepper as needed. Set the filling aside to cool.
Lightly flour a clean surface, and one at a time, lay out one sheet of puff pastry and stretch into a large rectangle using a rolling pin. Cut each sheet into 8 even rectangles.
Spoon the cooled filling onto half of the rectangles, lightly moisten the edges with a bit of water, and top with the other remaining rectangles.
Using a fork, press all the way around the edges to seal. Using a sharp knife, cut 3 small lines on the top of each pocket for steam to escape.
Brush the tops with the unsweetened soy or almond milk, and sprinkle with sesame or poppy seeds.
Place breakfast pockets on a baking sheet lined with parchment, and place in fridge for at least 15 minutes before baking.
When ready, preheat oven to 400F.
Transfer pans directly from fridge to oven, and bake for 22-24 minutes, until golden brown, crisp, and puffed.
Enjoy immediately, or let cool completely, wrap in plastic, and store in the refrigerator until needed.
Recipe by
The Baking Fairy
at https://www.thebakingfairy.net/2017/08/tofu-scramble-breakfast-pockets/