chubby pumpkin chocolate chip cookies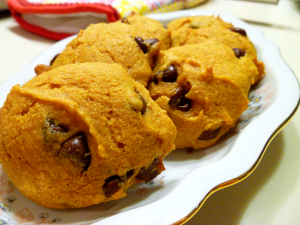 Author:
Valentina | The Baking Fairy
1½ cups (1 can) canned pumpkin puree
1½ cups white sugar
¾ cup vegetable oil
2 eggs
3 cups unbleached all-purpose flour
3 tsp baking powder
2 tsp pumpkin spice
¾ tsp salt
1½ tsp baking soda
2 tbsp vanilla extract
1½ cup semisweet chocolate chips
Preheat oven to 350F.
In a medium bowl, combine the pumpkin, sugar, oil, vanilla, and egg, mixing till well-blended. In a separate bowl, sift together the flours, baking powder, baking soda, salt, and cinnamon. Then, add the dry ingredients into the wet. mixing until evenly combined. The dough will be a little runny! Stir in the chocolate chips, then scoop out spoonfuls onto a silicone-mat or parchment paper lined sheet.
Bake in your preheated oven for about 10-12 minutes, until lightly golden and springy. Let cool on the sheet for a few minutes, then transfer to a wire rack to finish cooling completely. Enjoy!
Recipe by
The Baking Fairy
at https://www.thebakingfairy.net/2011/10/chubby-pumpkin-chocolate-chip-cookies/