garlic-stuffed olives in a blanket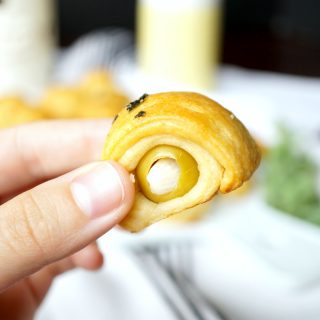 Author:
Valentina | The Baking Fairy
1 pack refrigerated crescent rolls (Pillsbury are vegan)
1 jar large garlic-stuffed olives (about 24)
2-3 tbsp olive oil
½ tsp garlic powder
½ tsp parsley flakes
Preheat oven to 375F. Line a baking sheet with parchment or a silicone liner.
Lightly flour a clean working surface, and lay the crescent rolls on top, being sure not to separate them. Press around the cut lines to create one big sheet of pastry.
Cut dough into 12 long strips, and cut each in half to make 24.
Drain the olives and pat dry with a paper towel. Place each olive at the end of a dough strip, and roll up. Place on prepared baking sheet.
In a small bowl, mix together the olive oil, garlic powder, and parsley. Brush on each of the prepared olives in a blanket.
Bake in preheated oven for 12-15 minutes, until golden brown and puffy. If you have any of the garlic oil left, you can brush it on now. Serve warm!
Recipe by
The Baking Fairy
at https://www.thebakingfairy.net/2017/09/olives-in-a-blanket/