vegan lentil mushroom pot pie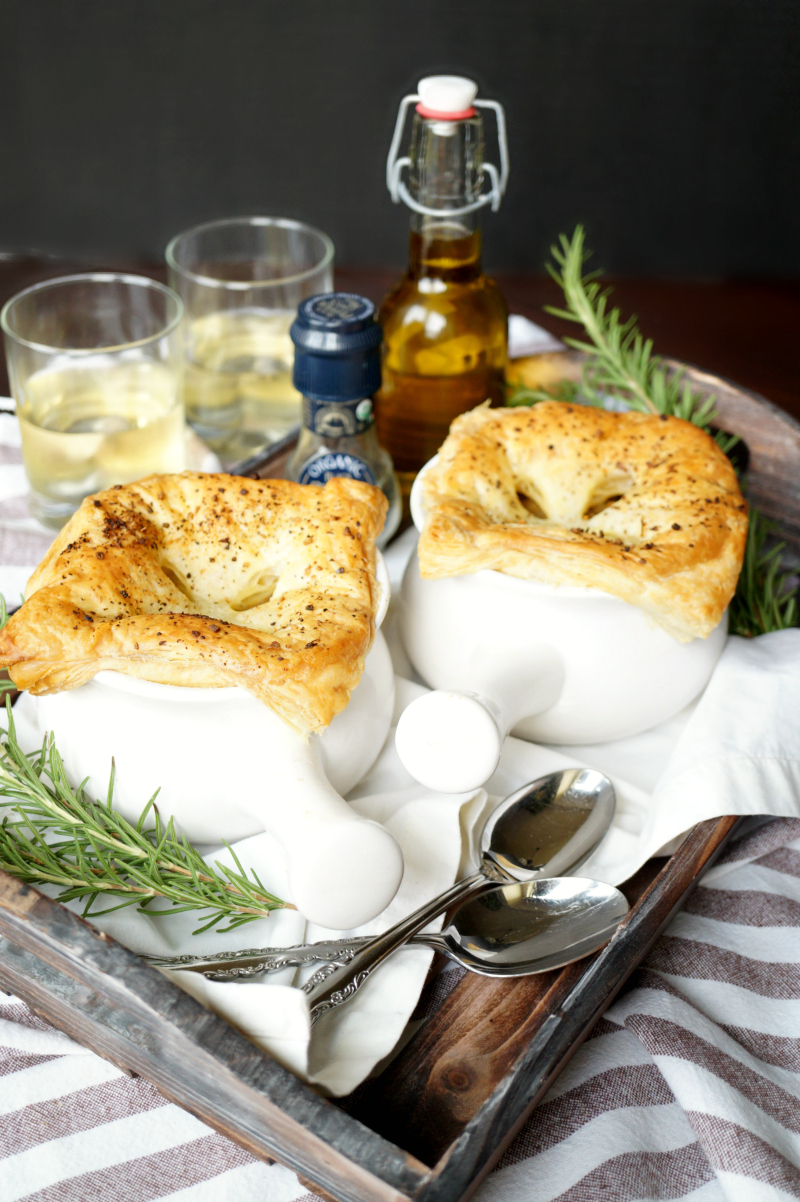 Author:
Valentina | The Baking Fairy
1 white onion
2 carrots
2 stalks of celery
1 tomato
one 8oz package mushrooms
3 cloves garlic
2 tbsp olive oil
1 lb lentils
1 vegetable bouillon cube
2 bay leaves
½ tsp garlic powder
¼ tsp paprika
½ tsp salt
1 sheet puff pastry
1-2 tbsp soy milk
First, prepare the filling. Dice the onion, carrots, celery, and tomato. Slice the mushrooms. Crush the garlic cloves.
In a large nonstick pot, heat the olive oil over medium-high heat until shimmering.
Add in the prepared vegetables, season with the garlic, paprika, and salt, and saute until soft.
Add in the lentils, and toss to coat with the olive oil.
Add enough water to cover (about 3-4 cups), and toss in the bay leaves and vegetable bouillon. Lower heat to a simmer, and cook until lentils are tender and mixture is thick and creamy, stirring occasionally. This should take about 20-25 minutes. Add more water if needed.
Preheat oven to 425F.
Divide the lentil mushroom mixture evenly among 4 big bowls (you could also do 6 smaller servings).
Grab your sheet of puff pastry, lay it on a lightly floured surface, and stretch it out slightly using a rolling pin. Cut into 4 or 6 even squares depending on how many bowls you have. Cut 4 small slits in each to let the steam escape.
Wet the edges of the bowls with a little water, and place each puff pastry square on top. Brush with soy milk, and sprinkle on a little salt and pepper or italian seasonings.
Place all the bowls on one cookie sheet, and place in oven. Bake for 20 minutes, until puff pastry is golden brown and crispy. You can do 1-2 minutes under the broiler at the end to get them nice and brown. Serve immediately!
Recipe by
The Baking Fairy
at https://www.thebakingfairy.net/2017/09/vegan-lentil-mushroom-pot-pies/