vegan dark chocolate pear turnovers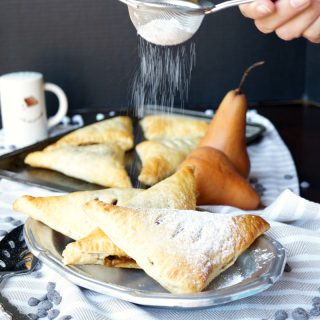 Author:
Valentina | The Baking Fairy
2 sheets frozen puff pastry, thawed
2 fresh ripe pears, peeled and cubed (about 2 cups)
¼ cup brown sugar
½ tsp cinnamon
1 cup dark chocolate chips (I like Guittard Dark)
8 graham crackers, crushed (be sure they do not contain honey)
2-3 tbsp soy milk
2-3 tbsp granulated sugar, for topping
Preheat oven to 400F.
In a medium bowl, mix together the pear chunks, brown sugar, and cinnamon. Set aside for now.
On a clean surface, sprinkle a little flour and set one of the puff pastry sheets on top. Using a rolling pin, gently roll out the dough to a large square. Cut into 4 equal squares.
Spoon a bit of the crushed graham crackers in a triangle shape on each puff pastry piece, and top with some of the pear mixture. Sprinkle on chocolate chips.
Use a bit of water to moisten the edges of the pastry, and close into a triangle shape. Use a fork to press down the edges. Using a sharp knife, cut 2-3 small slits on top to let the steam escape.
Set the 4 turnovers on a prepared cookie sheet lined with parchment or silicone liner. Repeat the process with the second sheet of puff pastry, and place on a second cookie sheet
When ready to bake, brush the soy milk on the turnovers, and sprinkle on the granulated sugar.
Bake in preheated oven for 18-20 minutes, until golden brown, puffy, and crisp.
Serve warm with a sprinkle of powdered sugar. Enjoy!
Recipe by
The Baking Fairy
at https://www.thebakingfairy.net/2017/10/vegan-dark-chocolate-pear-turnovers/