cheesy vegan pulled pork nachos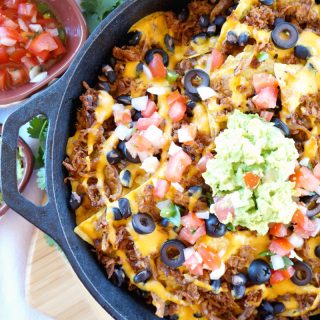 Author:
Valentina | The Baking Fairy
*for the nachos*
1 package MorningStar Farms Veggie Pulled Pork, thawed
¼ cup barbecue sauce
½ tsp cumin
½ tsp garlic powder
½ tsp onion powder
½ tsp paprika
1 bag thin tortilla chips
½ cup black beans, rinsed and drained
¼ sliced black olives
½ cup guacamole
½ cup pico de gallo
fresh cilantro, for topping
*for the cheese sauce*
1 cup diced and peeled potatoes
½ cup diced and peeled carrots
2 tbsp olive oil
¼ cup nondairy milk
1 tsp lemon juice
¼ tsp garlic powder
¼ tsp onion powder
⅛ tsp smoked paprika
½ tbsp Dijon mustard
½ tsp soy sauce
salt & pepper to taste
First, prepare the cheese sauce. Place the chopped potatoes and carrots in a small pot, cover with water, and bring to a boil. Cook vegetables until soft and easily pierced with a fork (about 10 minutes).
Drain the water, and pour cooked veggies into a blender. Add in the rest of the ingredients for the sauce, and blend on high until smooth and creamy. Adjust seasonings to taste. Set aside for now.
In a medium bowl, toss together the thawed MorningStar Farms veggie pulled pork with the barbecue sauce and seasonings. Mix until everything is evenly coated in sauce.
Grab a sheet pan, cast iron skillet, or oven-proof baking dish, and make a single layer of chips. Sprinkle on half of the veggie pulled pork, beans, olives, and cheese. Top with more chips, and add on the remaining toppings.
Heat on grill for 10-15 minutes, until heated through. Alternatively, you can also make the nachos in the oven, under the broiler. Set the pan in the oven with the broiler on medium heat, and heat, watching closely, for 5-10 minutes.
When ready to serve, top the nachos with guacamole, pico de gallo, and fresh cilantro. Enjoy!
Recipe by
The Baking Fairy
at https://www.thebakingfairy.net/2017/10/cheesy-vegan-pulled-pork-nachos/