vegan ramen noodle soup with sticky peanut tofu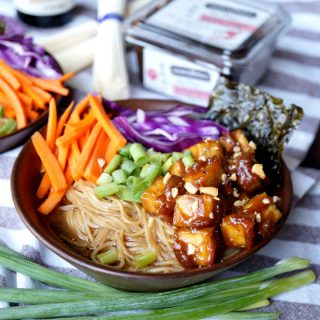 Author:
Valentina | The Baking Fairy
*for the broth*
1 carrot
1 stalk celery
½ onion
3 cloves garlic
1 cup dry shiitake mushrooms, soaked
1 inch piece ginger root
2 tbsp sesame oil
2-3 tbsp HemisFares Red Miso Paste
2 tbsp HemisFares Soy Sauce
1-2 tsp salt, to taste
2 tsp garlic powder
2 small sheets nori seaweed
*for the tofu*
1 block extra-firm tofu
½ cup smooth peanut butter
2 tbsp HemisFares Soy Sauce
1 tbsp sesame oil
2 tbsp maple syrup
1 tsp garlic powder
*to serve*
1 package HemisFares Somen noodles (4 bundles)
crushed peanuts
green onions
red cabbage, finely sliced
carrots, julienned
First, prepare the broth. Peel and largely dice all the vegetables for the broth.
In a large pot, heat the sesame oil, and add in the veggies. Saute on medium-high heat until fragrant, soft, and lightly golden, about 10 minutes.
Add in the soaked mushrooms, soy sauce, miso, nori, garlic powder, salt, and add enough water to cover (aim for at least 8 cups).
Bring mixture to a boil, then lower to a simmer and cook for 1-2 hrs.
At this point, also drain the tofu and either press in a tofu press or on a cutting board with heavy books on top.
After 1-2 hrs, drain all excess liquid from the tofu, and cut into cubes.
Preheat oven to 350F. Arrange tofu in a single layer on a baking sheet lined with parchment, and bake for 15-20 minutes, until it's golden brown and has a crisp crust.
When ready to serve, finish the tofu. In a medium nonstick pot, mix together all the ingredients for the peanut sauce. Toss in the tofu cubes, and heat on medium-low until the tofu is well-coated and warmed through.
Bring the broth to a boil, and add in the somen noodles. Cook for 2-3 minutes, until just soft.
Divide the noodles into 4 bowls, and top with the tofu, fresh veggies, and crushed peanuts. Serve immediately!
Recipe by
The Baking Fairy
at https://www.thebakingfairy.net/2017/11/vegan-ramen-noodle-soup-sticky-peanut-tofu/