potato mushroom gratin with mozzarella and parmesan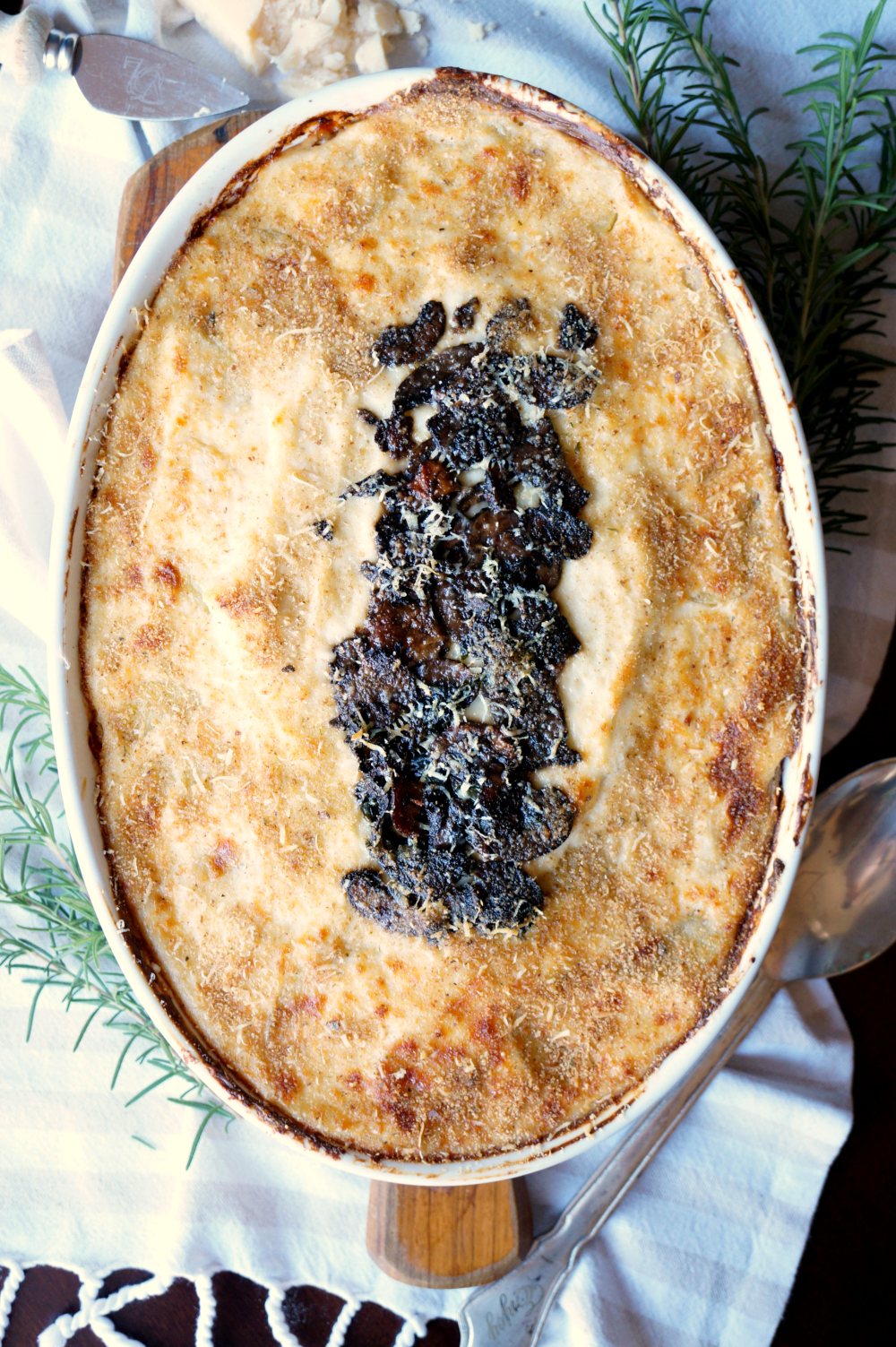 Author:
Valentina | The Baking Fairy
2 lbs Yukon gold potatoes
2 cups slices mushrooms
2 tbsp olive oil
2 cloves garlic, smashed
1 tsp garlic powder
salt & pepper to taste
¼ cup white wine
*for the béchamel sauce*
2 tbsp olive oil
2 tbsp salted butter
4 tbsp all-purpose flour
3 cups 2% milk
¼ tsp nutmeg
salt & pepper to taste
1 cup shredded mozzarella cheese
1 cup freshly grated parmesan
2-3 tbsp breadcrumbs, for topping
Preheat oven to 375F, and butter a 9x13 baking pan. Set aside.
First, prepare the potatoes. Scrub well, peel if desired, and slice in ¼" slices.
Bring a large pot of water to a boil, add in a generous pinch of salt, and add in the potatoes.
Cook for 2-3 minutes after the water resumes boiling. Potatoes should be easy to pierce with a fork but not mushy. Drain and set aside.
Now, prepare the mushrooms. In a medium pot over medium-high heat, heat the olive oil with the smashed garlic.
Add in the sliced mushrooms, and cook until soft. Add in the salt, pepper, and garlic powder. Add in the white wine, and cook until evaporated. Set these aside as well.
Finally, prepare the béchamel sauce. In a medium nonstick pot, heat the olive oil and butter for the sauce. Add in the flour all at once, and cook, whisking continuously, for 3-5 minutes. You want the mixture to be toasted and golden brown but not burnt.
Slowly add in the milk, continuing to whisk, until smooth and lump-free. Add in the salt & pepper and nutmeg. Cook over medium heat until the sauce is bubbly but still thin. You can add more milk as needed.
Now, you are ready to assemble. Grab the buttered pan from earlier, and spoon a small amount of the béchamel sauce on the bottom. Create 1 layer of potato slices, top with ⅓ of the sauteed mushrooms, mozzarella and parmesan, and béchamel sauce.
Repeat, making two more layers of potatoes and mushrooms.
Finish off with the cheese, and a sprinkle of breadcrumbs.
Cover with foil, and bake for 45 minutes, then uncover, and bake for 30 minutes more. Sauce should be bubbling and top of casserole should be golden brown. If desired, broil the top for 2-3 minutes for a crispier topping.
Let cool slightly, then cut and serve!
Recipe by
The Baking Fairy
at https://www.thebakingfairy.net/2017/11/potato-mushroom-gratin/