vegan fig dark chocolate layer cake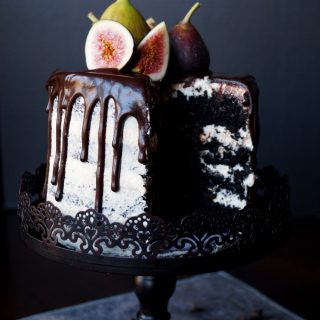 Author:
Valentina | The Baking Fairy
*for the cakes*
2½ cups all-purpose flour
2 cups white granulated sugar
1 cup cocoa powder
2 tsp baking powder
1 tsp baking soda
½ tsp salt
1 cup unsweetened nondairy milk
1 cup water
⅔ cup vegetable oil
4 tbsp white vinegar
1 tbsp vanilla extract
*for the frosting*
½ cup shortening
¼ cup EarthBalance
3 cups powdered sugar
1 tbsp vanilla extract
pinch of salt
2-3 tbsp fig jam, to mix into frosting
½ cup fig jam, for filling
*for the ganache*
3 oz dark chocolate chips
3 tbsp corn syrup
1-2 tbsp unsweetened nondairy milk
4-5 fresh figs, for decoration
Preheat the oven to 350F.
Spray two 6" round cake pans with baking spray, and set aside.
In a large bowl, whisk together the flour, cocoa, sugar, salt, baking powder, and baking soda.
Add in the nondairy milk, water, and oil, and mix vigorously. Add in the vinegar and vanilla, and mix until well combined.
Pour the batter into the prepared pan, and bake for 20-25 minutes.
Let cakes cool completely before removing from the pan.
When ready to assemble, cut each cake in half to create 4 thinner cake layers.
Make the frosting - in the bowl of a stand mixer fitted with the whisk attachment, combine the shortening and vegan butter and beat until creamy. Add in 2-3 tbsp of fig jam, vanilla, and sprinkle of salt, then add in the powdered sugar one cup at a time until frosting is fluffy but stiff.
To assemble, place one of the cake layers on a serving platter or cake circle.
Pipe a circle of frosting on top of the cake, close to the edge, then spoon in some of the fig jam and spread into an even layer. Repeat with the remaining cake layers.
Using an offset spatula, smooth the rest of the frosting on top and outside of the cake. For the naked cake look, I use a bench scraper and scrape off all the excess so that some of the cake layers show through the frosting. Otherwise, you can keep the frosting thicker for full coverage. You should have more than enough!
Place the cake in the fridge for at least 30 minutes before putting on the ganache.
When ready to decorate, combine the chocolate chips, corn syrup, and milk in a microwave safe bowl. Microwave in 15 second increments until smooth and melted. I like to pour my ganache into a squeeze bottle to get the drips! Go around the edge of the cake to make the drips first, then go back and fill the center with the remaining ganache. You'll more than likely have some left.
While the ganache is still wet, arrange the figs on top as desired.
Refrigerate until ready to serve!
Recipe by
The Baking Fairy
at https://www.thebakingfairy.net/2017/12/vegan-fig-dark-chocolate-layer-cake/