chocolate orange panettone tiramisu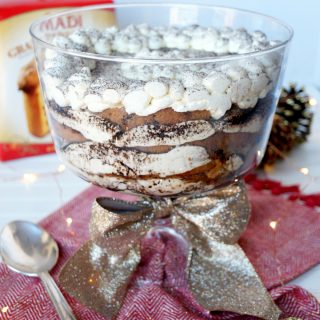 Author:
Valentina | The Baking Fairy
Recipe type:
Puddings & Trifles
1 chocolate chip panettone (classic with candied fruit works too)
8 oz. (1 small container) mascarpone cheese
2 egg yolks
2 tbsp Cointreau or other orange liqueur
2 cups espresso coffee with 2 tsp sugar, at room temperature
½ cup (150 gr) white sugar
2 cups heavy whipping cream
zest of 1 orange
4-5 tbsp dark cocoa powder
First, brew the coffee and add in the sugar, and set aside so that it has time to cool to room temperature.
Preheat oven to 450F
Slice your panettone into rounds about 1.5" thick. You should get 5 slices from 1 panettone.
Lay them in a single layer on a baking sheet lined with aluminum foil, and bake for about 7-10 minutes per side, until golden brown and toasted. Set aside to cool completely.
In a large bowl, whisk together the egg yolks and sugar until the mixture becomes pale and light. Add in the orange liqueur, and beat well. Add in the mascarpone cheese, and mix until no lumps remain. Mix in the orange zest.
In a medium bowl, using a hand mixer, beat the whipping cream until fluffy and stiff.
Using a spatula, gently fold the whipped cream into the egg and mascarpone mixture, being careful to not overmix.
Grab a large serving dish, and place one layer of panettone in, cutting pieces to fit as needed.! Using a spoon, drizzle the coffee on the panettone pieces until soft and soaked.
Top with ¼ of the cream mixture, smooth it down using a spatula, and top with some dark cocoa powder
Create another layer of panettone on top, and repeat the process. Depending on the size of the dish, you should get 3-4 layers.
Allow tiramisu to sit in the refrigerator for at least 24 hours before enjoying.
Recipe by
The Baking Fairy
at https://www.thebakingfairy.net/2017/12/chocolate-orange-panettone-tiramisu/