vegan chickpea mushroom tomato stew with polenta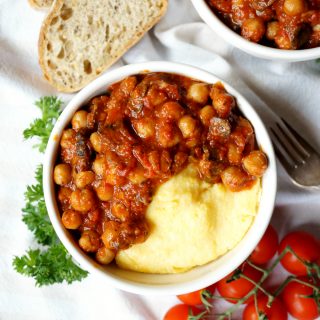 Author:
Valentina | The Baking Fairy
*for the stew*
1 tbsp olive oil
4-5 garlic cloves, chopped
1 cup sliced mushrooms
¼ cup white wine
1 15oz can diced tomato
1 15 oz can chickpeas
1-2 tsp salt as needed
2 tsp herbes de provence mix
pinch of sugar
*for the polenta*
½ cup instant polenta
1 cups water
1 cup nondairy unsweetened milk
2 tbsp EarthBalance
1-2 tsp salt & pepper to taste
First, prepare the stew. In a medium nonstick pot, combine the olive oil and garlic over medium-high heat. Allow to sizzle for about 1 min (be sure that the garlic doesn't burn!) then add in your sliced mushrooms.
Season with herbes de provence and salt, and saute for 5-7 minutes until mushrooms are softened and fragrant.
Add in the white wine, and allow it to evaporate, stirring often.
Now, drain the chickpeas and add them in, followed by the can of tomatoes. Add a pinch of sugar, more seasoning as needed, and turn heat down to low.
Cover, and simmer stew for 30-45 minutes until thickened and savory.
When almost ready to serve, prepare the polenta.
In a large nonstick pot, heat the milk and water to boiling. Add in the polenta, stirring constantly, until the mixture thickens and turns creamy (about 5 minutes).
Remove from heat, and stir in the Earth Balance, and salt and pepper as needed. Polenta solidifies quickly, so work fast! Either pour into a large platter and top with the chickpea stew to serve family-style, or divide polenta among 4 bowls and top with chickpeas.
Recipe by
The Baking Fairy
at https://www.thebakingfairy.net/2018/01/chickpea-mushroom-tomato-stew/