vegan sheetpan tofu fajitas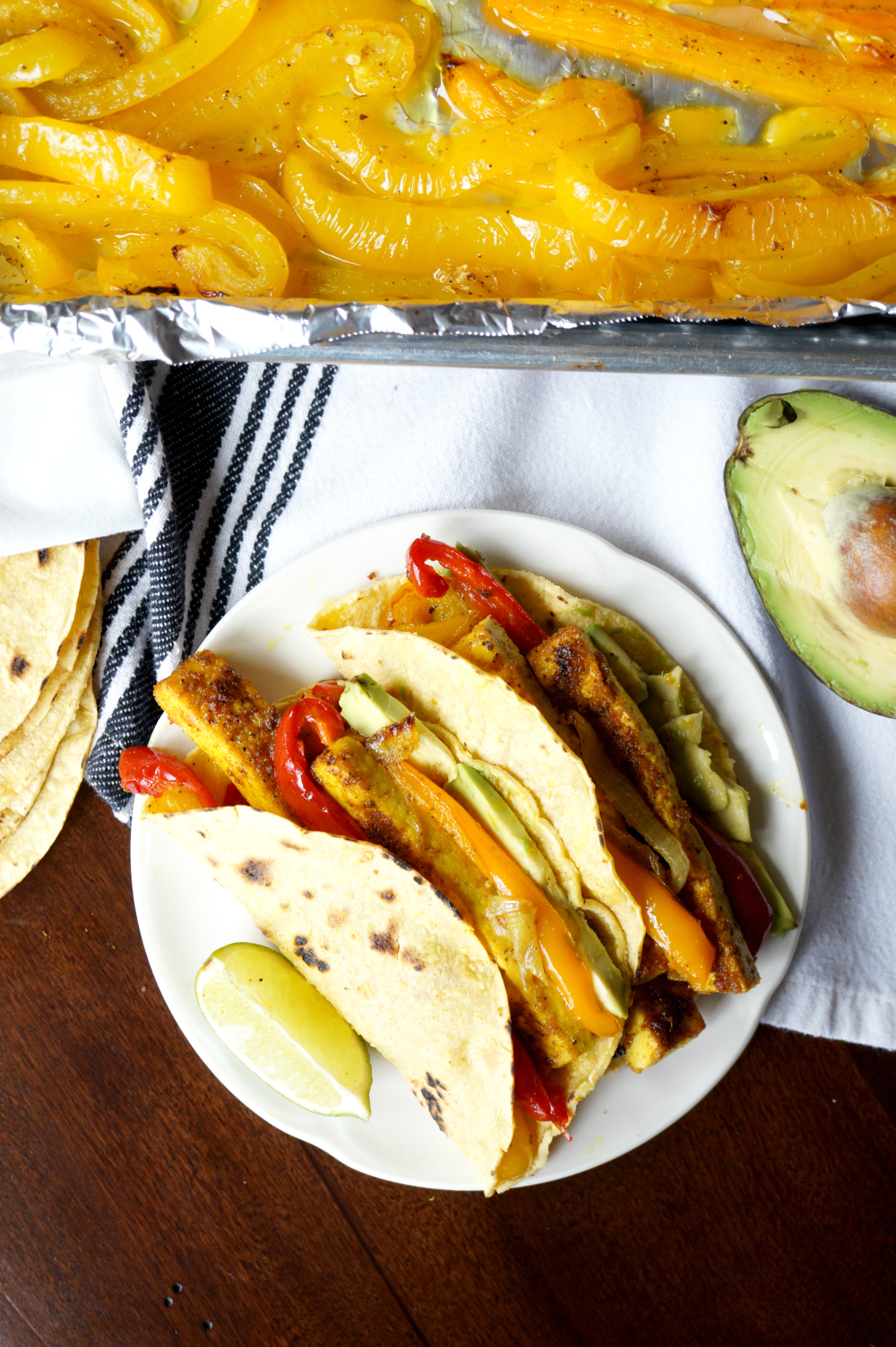 Author:
Valentina | The Baking Fairy
1 block extra-firm tofu
3 bell peppers
1 white onion
2-3 tbsp vegetable oil
1 tsp cumin
salt & cayenne to taste
*for the marinade*
juice of 1 lime
3-4 tbsp vegetable oil
1 tsp cumin
1 tsp garlic powder
1 tsp onion powder
1 tsp oregano
½ tsp smoked paprika
½ tsp turmeric
½ tsp cayenne pepper
2 tsp salt
First, prep your tofu. Drain the packaging water, and wrap your tofu block in paper towels. Place on a plate (ideally something with a lip) and top with a cutting board and then with some heavy objects. I find that some cookbooks work well!
Press tofu for at least 30 min, ideally an hour, to get rid of all the excess water. You can periodically dump out the water and change out the paper towels.
Now, cut your tofu block into thin sticks and set aside.
In a large bowl, whisk together all the ingredients for the marinade. Add in the tofu sticks, and toss to combine. Cover tightly, and place in fridge ideally overnight.
When ready to cook, preheat oven to 400F.
Slice the onion and the bell peppers, and toss with the vegetable oil, cumin, salt, and cayenne.
Line a baking sheet with foil, and arrange the vegetables and marinated tofu in a single layer.
Bake for 30 minutes, then broil for 3-4 minutes (watching closely!) for a little more char.
Serve tofu fajitas with toasted tortillas, avocado slices, and beans. Enjoy!
Recipe by
The Baking Fairy
at https://www.thebakingfairy.net/2018/02/vegan-sheetpan-tofu-fajitas/