vegan charred caesar salad with crispy chickpeas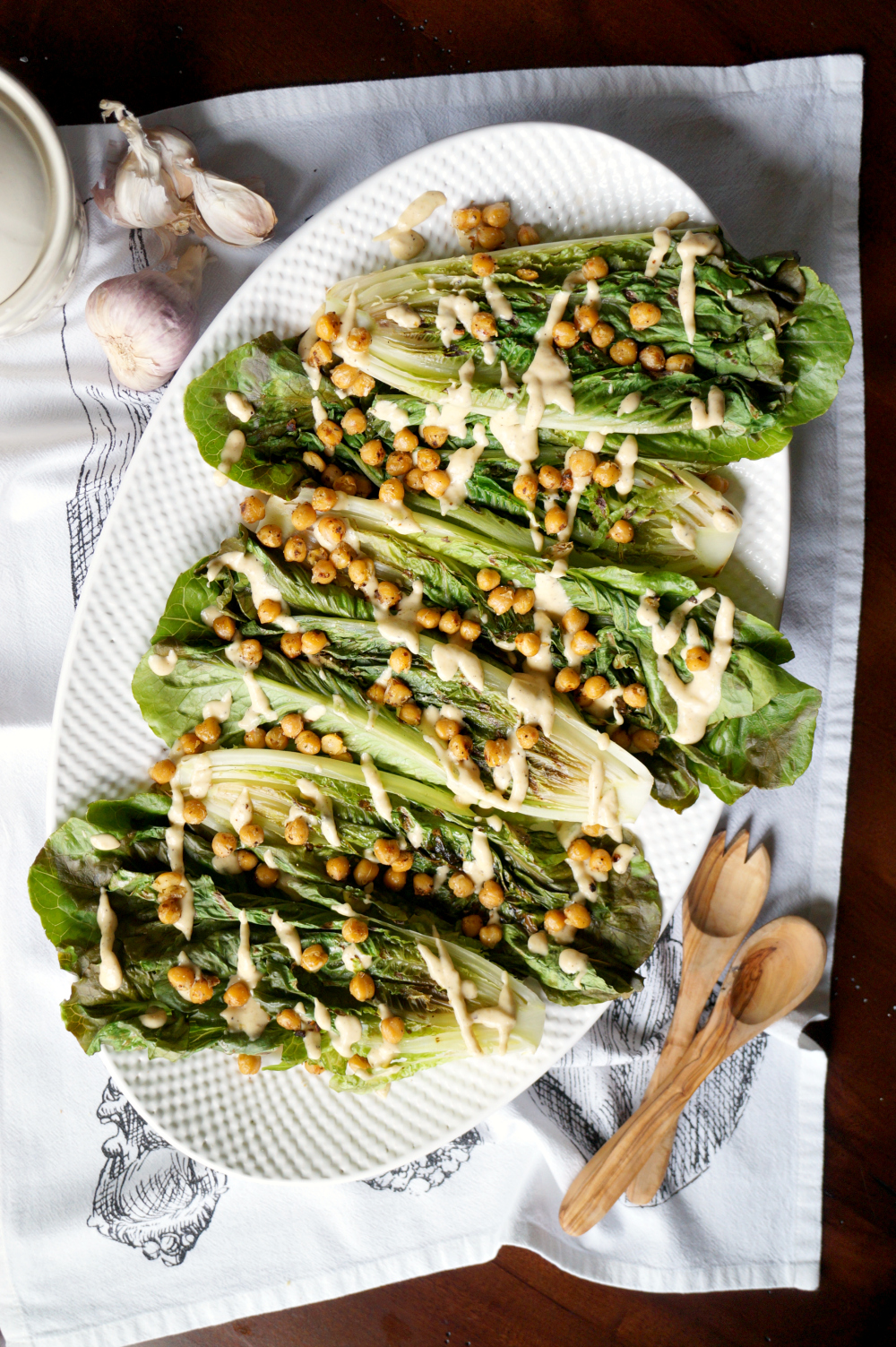 Author:
Valentina | The Baking Fairy
3 heads romaine lettuce
½ can chickpeas, rinsed and drained
1 tbsp olive oil
½ tsp italian herb mix
½ tsp garlic salt
*for the dressing*
¼ cup vegan mayonnaise
1 tsp garlic powder
1 tsp nutritional yeast
juice of ½ lemon
⅛ tsp soy sauce
freshly ground black pepper, to taste
First, make the dressing. In a small bowl, simply combine the vegan mayo with the lemon juice, soy sauce, garlic powder, nutritional yeast, and black pepper. Mix until well-combined and set aside.
Next, prepare your crispy chickpeas. Heat the olive oil in a medium pan over medium-high heat. When the oil starts to shimmer, add in the chickpeas, italian herbs, and garlic salt. Cook, stirring often, for 5-10 minutes, until golden brown and crispy. Set aside until needed.
Finally, prep your romaine lettuce. Rinse well. and cut in half length-wise to create 6 portions. Heat your grill to med-high. When ready to serve, place your romaine lettuce cut-side down on your grill. Cook for 2-3 minutes, until you have visible grill marks but before the lettuce starts to wilt.
To serve, top charred romaine with the prepared dressing and crispy chickpeas. Eat immediately. Enjoy!
Recipe by
The Baking Fairy
at https://www.thebakingfairy.net/2018/06/vegan-charred-caesar-salad/