vegan strawberry, mango, and peach slab pie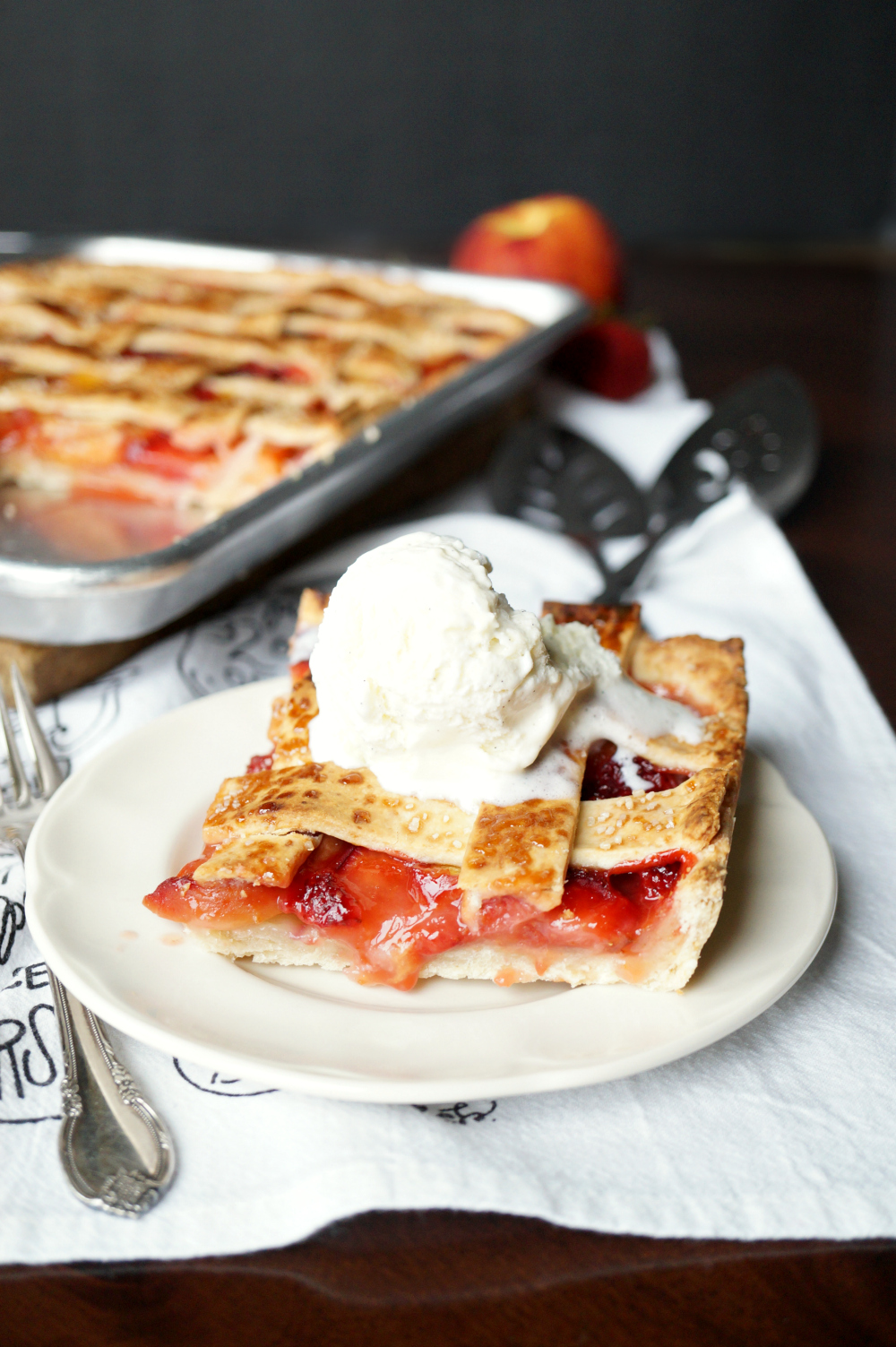 Author:
Valentina | The Baking Fairy
Recipe type:
Pies & Tarts
*for the dough*
3 cups all purpose flour
¾ teaspoon salt
¼ cup sugar
1 tsp baking powder
1 cup Barlean's butter-flavored coconut oil, cold
6-8 tablespoons of ice water
zest of 1 lemon
*for the filling*
2 cups sliced strawberries
4 peaches
1 mango
¼ cup granulated sugar
2-3 tbsp lemon juice
*to top*
2-3 tbsp nondairy milk
2-3 tbsp turbinado sugar
First, prepare the dough. In a bowl or food processor, combine the flour, cold coconut oil, baking powder, salt, and lemon zest. Cut the coconut oil into the flour using a pastry blender or food processor, then slowly add in the water until a dough forms.
Divide the dough with ⅔ reserved for the bottom, and ⅓ for the lattice top. Pat into two circles and wrap in plastic wrap. Refrigerate for 30 min-1 hour.
Preheat oven to 375F. Now, prepare the fruit filling. In a large bowl, combine the sliced strawberries with the peach slices and mango pieces. Toss together with the sugar and lemon juice and set aside.
Lightly flour a clean counter, and place the portion of the dough for the bottom crust on it. Use a rolling pin, and gently roll out to fit a quarter baking sheet (9x13). Lightly butter the baking pan, and transfer the dough into the pan.
Now, prepare the crust for the lattice. Roll out the remaining dough, and cut into evenly sized strips.
Pour the fruit filling into the prepared crust, and top with desired lattice design.
Using a fork, crimp all around the sides to secure the lattice to the crust.
Using a pastry brush, brush the crust with the nondairy milk and sprinkle with the turbinado sugar.
Bake for 35-45 minutes, until crust is golden brown and fruit is bubbling. Let cool slightly and enjoy!
Recipe by
The Baking Fairy
at https://www.thebakingfairy.net/2018/06/vegan-strawberry-mango-and-peach-slab-pie-cookoutweek/