vegan dark chocolate raspberry shortcake loaf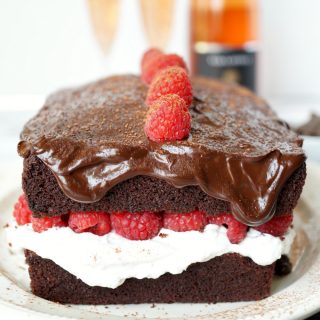 Author:
Valentina | The Baking Fairy
Recipe type:
Breads & Loaf Cakes
*for the loaf cake*
1¼ cup all-purpose flour
⅓ cup cocoa powder
½ cup granulated white sugar
½ cup powdered sugar
1 tsp baking powder
½ tsp baking soda
¼ tsp salt
1 cup unsweetened nondairy milk
⅓ cup oil
2 tbsp apple cider vinegar
½ tbsp vanilla extract
1 tsp chocolate extract
½ cup vegan dark chocolate chips
*for the coconut whipped cream*
1 can coconut cream, chilled overnight
2 tbsp powdered sugar
1 tsp vanilla extract or vanilla bean paste
*for the ganache*
½ cup vegan dark chocolate chips
2-3 tbsp unsweetened nondairy milk
*for serving*
1 pint raspberry
First, place the can of coconut cream in the fridge, and let chill for at least 6 hours but optimally overnight. DO NOT SHAKE AT ANY POINT.
Now, let's prepare the loaf cake. Preheat oven to 400F.
In a large bowl, whisk together the flour, cocoa, sugars, baking powder, baking soda, and salt.
Stir in the milk, oil, and extracts, followed by the vinegar. Finally, mix in the chocolate chips.
Spray a 9 x 5 loaf pan with nonstick spray, and pour prepared batter into pan.
Bake at 400F for 10 minutes, then lower temperature to 350F and bake for 25-30 min longer, until loaf is puffy and a toothpick inserted in the center comes out with just a few crumbs. Let cool COMPLETELY before assembling.
When ready to put everything together, prepare the coconut whipped cream. Carefully grab can from fridge, and open. Using a spoon, transfer all the solids into a bowl for whipping. Be sure to leave all the liquid behind in the can.
Using a hand mixer, beat coconut cream until smooth and creamy, then add in the powdered sugar and vanilla extract/paste. Beat until fluffy like whipped cream.
Finally, prepare the ganache. Combine the chocolate chips and nondairy milk, and heat in the microwave in 20 second increments until smooth and melted.
Carefully split loaf cake in half, and spread the coconut whipped cream on the bottom half. Top with most of the raspberries.
Place the top half atop the cake. Spread the ganache on top. Decorate with raspberries and cocoa powder as desired.
Serve immediately or refrigerate until needed. Serve with Vinho Verde sparkling rosé. Enjoy!
Recipe by
The Baking Fairy
at https://www.thebakingfairy.net/2018/07/vegan-dark-chocolate-raspberry-shortcake-loaf/