lemon curd raspberry homemade ice cream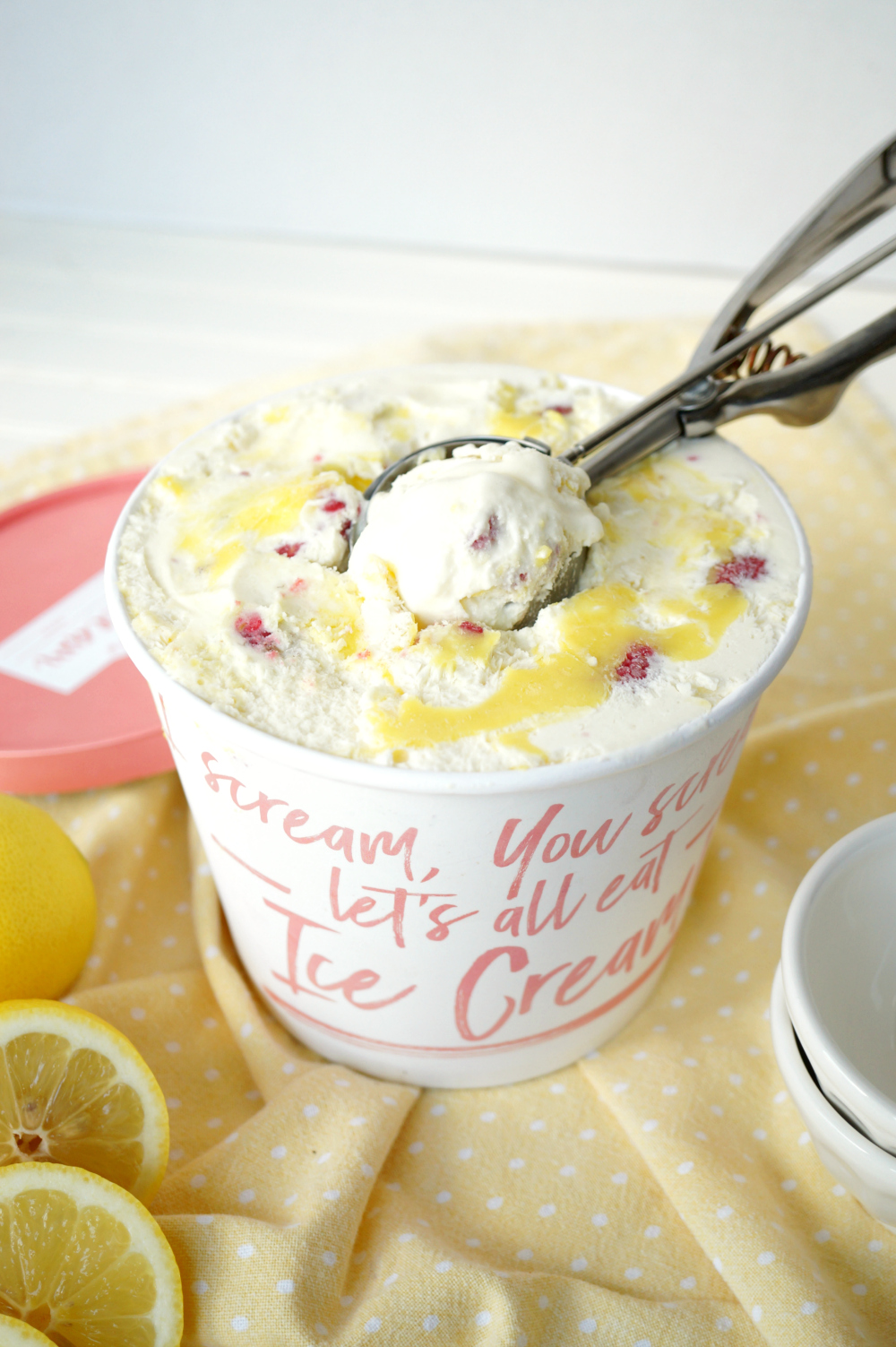 Author:
Valentina | The Baking Fairy
*for the lemon curd*
½ cup milk
¼ cup water
1 tbsp corn starch
6 tbsp granulated sugar
6 tbsp fresh lemon juice
zest of 1 lemon
⅓ cup butter
pinch of salt
*for the ice cream*
1 tablespoon plus 1 teaspoon cornstarch
1½ ounces cream cheese at room temperature
⅛ teaspoon fine sea salt
2 cups whole milk
1¼ cup heavy cream
⅔ cups sugar
2 tablespoons light corn syrup
lemon peel from 1 lemon
1 pint raspberries
Before you do anything, place your ice cream bowl in the freezer. Most manufacturers say this must be frozen solid before it can be used! Give it at least overnight to freeze.
When ready, prepare the lemon curd. In a small pot, whisk together the milk, water, and cornstarch.
Place over medium-high heat and add in the lemon juice, lemon zest, sugar, and butter, continuing to whisk. Mixture should start bubbling and thickening. Whisk for 1-2 minutes as it boils, then remove from heat and mix in the lemon extract. Set lemon curd aside to cool until needed. It has to be COLD before it can be used in the ice cream.
Next, make the ice cream base.
In a small bowl, mix about 2 tablespoons of milk with the cornstarch to make a slurry. In a medium bowl, add the salt and room-temperature cream cheese and whip all the bumps out. In a large bowl, make an ice bath (heavy on the ice) and set aside.
Pour the milk, cream, sugar, and corn syrup into a saucepan with the lemon peels. Bring to a boil and set a timer for 4 minutes. When the 4 minutes are up, turn off the heat and remove the lemon peels. Add the cornstarch slurry to the ice cream base in the pan.
Incorporate the hot cream mixture into the cream cheese. Do this a little bit at a time so that you can whip out any lumps of cream cheese. Pour the hot ice cream base into a zip top bag and seal. Submerge in the ice bath until very cold.
When ready, snip the corner off the zip top bag and pour the ice cream base into your ice cream maker. Add in about half of the lemon curd. Turn on the machine and churn until creamy and smooth (about 25-30 min). Ice cream will NOT be completely frozen at this point. Now it's time to transfer to a container!
Using a loaf pan or ice cream container, layer a bit of the reserved lemon curd at the bottom. Make a thin layer of ice cream on top, and sprinkle on some raspberries and dollops of curd. Repeat until you've used all the ice cream. Place a piece of wax paper on top, then wrap tightly with foil or place the top of the container on. Freeze until solid, at least 4 hours.
Recipe by
The Baking Fairy
at https://www.thebakingfairy.net/2018/07/lemon-curd-raspberry-homemade-ice-cream/