strawberry olive oil cake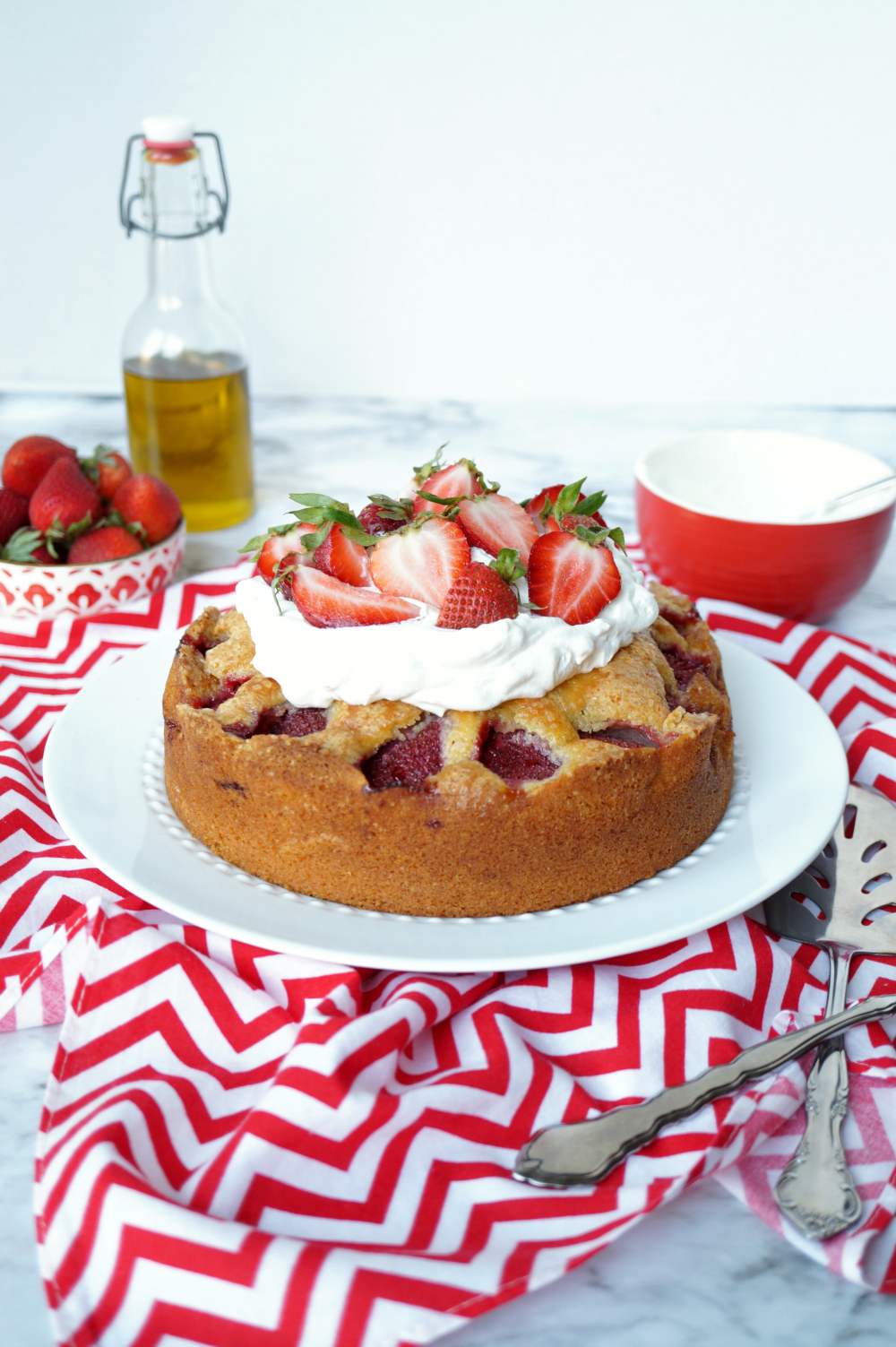 Author:
Valentina | The Baking Fairy
1½ cups all purpose flour
1 tsp baking powder
¼ tsp baking soda
¼ tsp salt
¾ cups granulated white sugar
¼ cup extra virgin olive oil
¼ cup milk
zest and juice of 1 lemon
½ tsp vanilla extract
2 eggs
2 cups fresh strawberries, halved
*for topping*
1 cup heavy whipping cream
2 tbsp powdered sugar
1 tbsp powdered milk
pinch of salt
1 cup fresh strawberries, quartered
Preheat the oven to 350F. Spray a 9″ cake pan with baking spray (or use butter and flour), and set aside.
In a large bowl, combine the sugar, olive oil, milk, vanilla extract, lemon zest, and lemon juice.
Mix until well combined, then add in the eggs.
Beat until smooth, then add in the flour, baking powder, baking soda, and salt. Beat on medium until the batter is light and fluffy. Pour into your prepared cake pan.
Wash and dry the strawberries, cut off the tops, and cut in half.
Starting in the center of the cake, lay down the strawberry halves close together, and work your way out until the whole cake is covered.
Bake the cake for about 45 minutes uncovered, then check it. If the middle is still jiggly, cover the surface with foil, and bake for 5-10 more minutes, until a toothpick inserted in the center comes out clean, and the cake is no longer jiggly.
When cake is cooled off, prepare the whipped cream. Pour the heavy cream, powdered milk, powdered sugar, and salt in the bowl of a stand mixer and beat until light and fluffy. Spread on top of the cake, and arrange fresh strawberries on top. Enjoy!
Recipe by
The Baking Fairy
at https://www.thebakingfairy.net/2018/08/strawberry-olive-oil-cake-2/