vegan burger sliders with avocado and eggplant bacon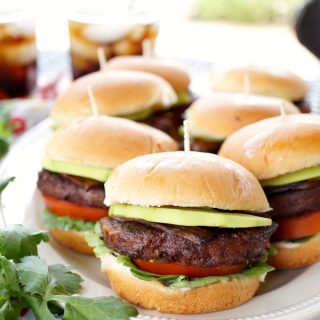 Author:
Valentina | The Baking Fairy
4 MorningStar Farms® Quarter Pound Meat Lovers Vegan Burgers
12 slider buns
1 avocado
2 tomatoes
1 cup mixed greens
¼ cup vegan mayonnaise
¼ cup dijon mustard
*for the eggplant bacon*
1 eggplant
¼ cup vegetable oil
2 tbsp brown sugar
2 tbsp liquid smoke
1 tsp salt
First, prepare the eggplant bacon. Peel the eggplant, slice thinly, and cut into slider-sized strips.
In a deep dish, whisk together the vegetable oil, brown sugar, liquid smoke, and salt. Arrange the eggplant strips in the marinade and set aside for about 30 minutes.
Meanwhile, prepare your slider toppings. Rinse and dry your lettuce, and slice your tomatoes and avocado. Spread some vegan mayonnaise and dijon mustard on each slider bun, and top with lettuce, tomato, and avocado.
When ready to cook, prepare your MorningStar Quarter Pound Meat Lovers Vegan Burgers in a pan on the stovetop or on the grill. Cook until warmed throughout and with a crispy crust.
While the patties cook, also cook your eggplant bacon. Arrange the bacon in a single layer in a frying pan, and cook until crispy, golden brown, and caramelized.
Divide each patty in 3 equal pieces, and place a piece on each prepared slider bun. Top with a few pieces of eggplant bacon. Serve immediately!
Recipe by
The Baking Fairy
at https://www.thebakingfairy.net/2018/09/vegan-burger-sliders/