vegan pesto tofu buddha bowls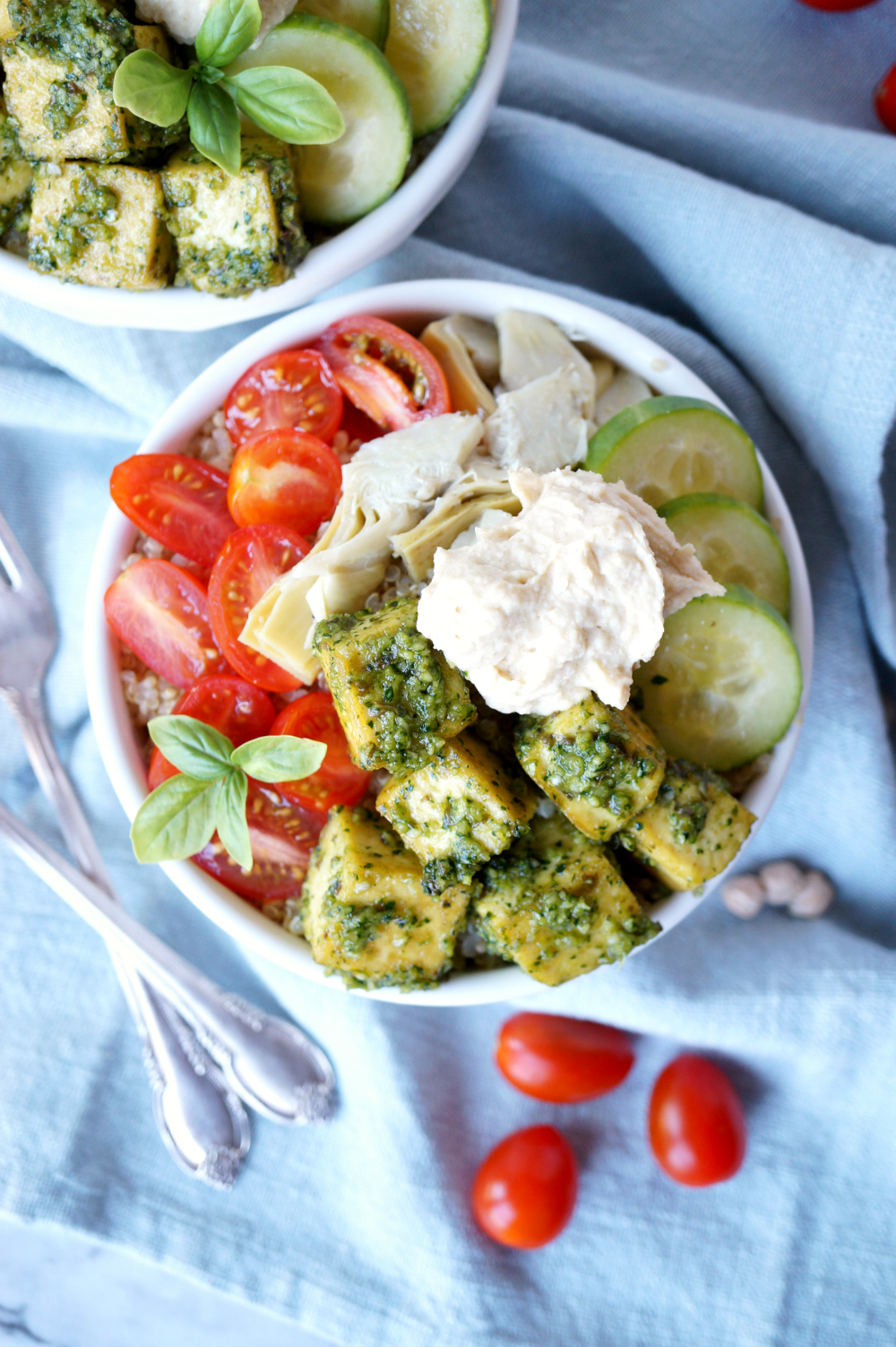 Author:
Valentina | The Baking Fairy
*for the pesto*
1 cup basil leaves
1 cup spinach
3-4 tbsp olive oil
3 tbsp pine nuts
3-4 cloves garlic
2 tbsp nutritional yeast
salt to taste
*for the bowl*
14oz extra firm tofu
garlic salt to taste
1½ cups uncooked quinoa
½ cup marinated artichokes in olive oil
½ cup cucumber slices
¾ cup cherry tomatoes
4 tbsp hummus
First, prepare the tofu. Preheat oven to 375F and line a baking sheet with a silicone mat or parchment paper.
Press all excess water from tofu and cut into ½ inch cubes. Toss with the garlic salt and lay in a single layer on your prepared sheet.
Bake for 20-25 minutes, flipping halfway, until tofu is golden brown on the outside and crisp.
While the tofu bakes, prepare the quinoa according to package directions.
Rinse and slice the cucumber and cherry tomatoes and set aside.
To prepare the pesto, combine all pesto ingredients in a food processor, and pulse until smooth and creamy.
When tofu is ready, transfer to a medium bowl and add in the pesto. Toss until all pieces are evenly coated.
To make the bowls, divide the quinoa into 4 dishes. Top with equal amounts of artichokes, tomatoes, and cucumber. Divide the tofu among the bowls, and top each with a large spoonful of hummus. Serve immediately!
Recipe by
The Baking Fairy
at https://www.thebakingfairy.net/2018/09/vegan-pesto-tofu-buddha-bowls/