vegan grilled veggie & tofu wraps with hummus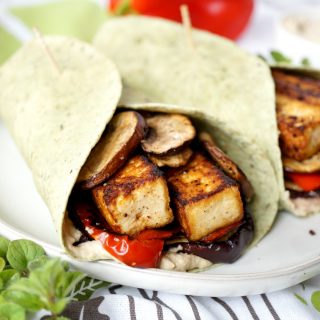 Author:
Valentina | The Baking Fairy
1 red bell pepper
1 medium eggplant
8 oz baby bella mushrooms
1-2 tsp vegetable oil
½ cup hummus
4 spinach wraps
1 block extra firm tofu
*for the marinade*
2 tbsp vegetable oil
1 tsp liquid smoke
1 tsp garlic powder
1 tsp onion powder
1 tsp salt
First prepare the tofu. Slice the block in half width-wise to create 2 thinner pieces. Wrap in paper towels, and place a cutting board on top with a few cookbooks to press out the excess moisture. Allow to sit for at least 10-15 minutes. After the tofu is drained, cut into 16 even small strips. In a medium bowl, whisk together the vegetable oil and spices for the marinade. Allow tofu to soak while you prepare the rest.
Meanwhile, prepare the vegetables. Wash and try well. Slice the eggplant into rounds, cut strips of bell pepper, and slice the mushrooms thickly.
Heat a grill pan on the stove on medium-high (you can also use a normal pan) and add a bit of the oil. Grill vegetables a few pieces at a time, making sure to not crowd the pan as to avoid everything getting soggy. Cook in batches until all veggies are ready. Sprinkle with garlic salt to season.
Finally, cook the tofu until golden brown and crispy. Flip several times so each side is cooked through.
When ready to serve, spread some hummus on each of 4 wraps. Top with some slices of grilled veggies and place 4 pieces of tofu on each. Roll up and serve immediately, or store in fridge for later.
Recipe by
The Baking Fairy
at https://www.thebakingfairy.net/2018/09/grilled-veggie-tofu-wraps-hummus/