caramelized apple wheatberry porridge with cranberries and pepitas #AppleWeek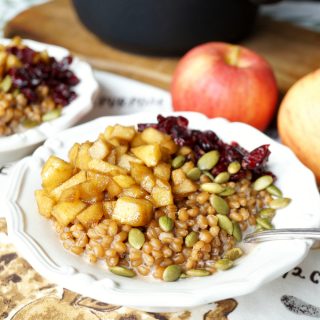 Author:
Valentina | The Baking Fairy
1 cup wheatberries
4 cups water
1½ cups unsweetened soy milk
1 tsp apple pie spice
½ tsp ginger powder
½ tsp vanilla extract
5 packets Stevia (can also sub ¼ cup brown or granulated sugar)
*to make the caramelized apples*
2 apples, peeled, cored, and diced
1 tbsp coconut oil
¼ cup brown sugar
½ tsp apple pie spice
*to serve: cranberries and pumpkin seeds
First, cook the wheat berries. Place in medium pot with 4 cups of water, and bring to a boil. Once boiling, lower to a simmer and cook for about 1 hour, until wheat berries are soft and slightly chewy.
When ready to make the porridge, combine your cooked wheat berries with the soy milk, apple pie spice, ginger, vanilla, and Stevia. Simmer on low until milk mixture thickens, about 20-30 minutes.
While the wheat berries cook, prepare the caramelized apples. In a medium nonstick pot, melt the coconut oil over medium heat. Add in the apple chunks, brown sugar, and apple pie spice. Cook, stirring often, until apples are soft and syrup has turned thick, about 15-20 minutes.
When ready to serve, spoon out some of the wheatberry mixture, top with the caramelized apples, cranberries, and pumpkin seeds. Enjoy warm!
Recipe by
The Baking Fairy
at https://www.thebakingfairy.net/2018/09/caramelized-apple-wheatberry-porridge/