vegan dark chocolate Sacher torte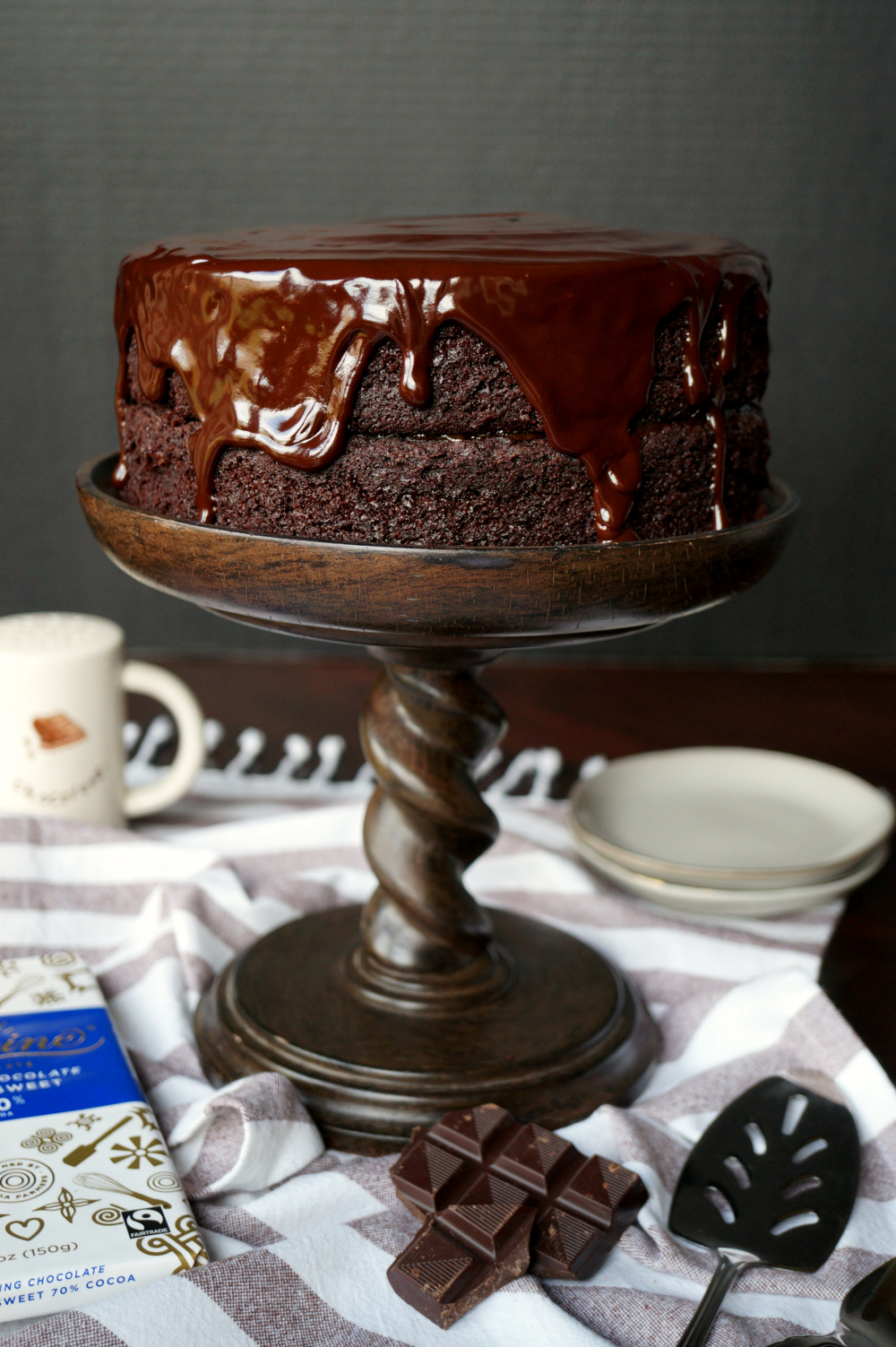 Author:
Valentina | The Baking Fairy
*for the cake*
2½ cups all-purpose flour
2 cups white granulated sugar
1 cup cocoa powder
2 tsp baking powder
1 tsp baking soda
½ tsp salt
3.5oz 70% dark Divine Chocolate bar
1 cup unsweetened vanilla almond milk
1 cup water
⅔ cup vegetable oil
4 tbsp white vinegar
1 tbsp vanilla extract
1 tsp chocolate extract
*for the filling*
½ cup apricot preserves
*for the ganache*
½ cup unsweetened nondairy milk
1 55% dark Divine Chocolate bar
Preheat the oven to 350F. Spray two 9" pans with baking spray and set aside.
In a large bowl, whisk together the flour, cocoa, sugar, salt, baking powder, and baking soda.
In a small microwave-safe bowl, combine the 1 cup of almond milk and 3.5oz of chocolate. Heat in 30 second increments until smooth and creamy.
Add the chocolate mixture to the dry ingredients, followed by the water and oil, and mix vigorously. Add in the vinegar, chocolate extract, and vanilla extract, and mix until well combined.
Pour the batter into the prepared pans, and bake for 40-45 minutes.
Let cake cool completely before removing from the pans.
While the cakes cool, make the ganache.
Combine the milk and chocolate bar in a microwave-safe bowl, and heat in 30 second intervals, mixing in-between, until the mixture is smooth and melted.
Once cakes are cooled, flip one onto a plate or cake stand. Spread the apricot preserves on top, and place the second cake on top of the filling.
Pour the ganache all over the top, and smooth with a spatula if desired. Serve immediately or let ganache harden and cool before serving!
Recipe by
The Baking Fairy
at https://www.thebakingfairy.net/2018/10/vegan-dark-chocolate-sacher-torte/