vegan Levain chocolate chip walnut cookies #Choctoberfest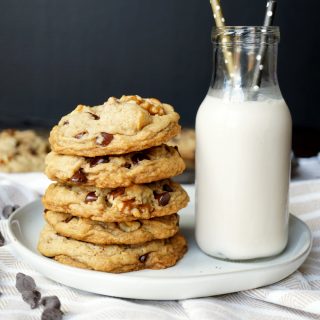 Author:
Valentina | The Baking Fairy
¼ cup Barlean's butter-flavored coconut oil, at room temperature
¼ cup vegan non-hydrogenated shortening
½ cup dark brown sugar
¼ cup white granulated sugar
2 tbsp ground flaxseed + 6 tbsp warm water
2 tsp vanilla extract
1½ cups all-purpose flour
¼ tsp smoked salt
½ tsp baking soda
1 tsp baking powder
½ cup walnut pieces
¾ cup dark chocolate chips
First, combine the ground flaxseed and warm water in a small bowl. Set aside to thicken.
In the bowl of a stand mixer fitted with the paddle attachment, beat together the Barlean's butter coconut oil and the shortening until combined.
Add in the brown and white sugar, and beat until light and fluffy.
Add in the thickened flax mixture, followed by the vanilla extract.
Finally, mix in the flour, smoked salt, baking soda, and baking powder until a dough forms.
Stir in the chocolate chips and walnut pieces.
Prepare two cookie sheets with parchment paper or a silicone liner.
Using a cupcake batter scoop or large spoon, scoop out large golf-ball sized portions of cookie dough. Place about 6 per pan to avoid them touching when they bake.
Now - THIS IS IMPORTANT! - place cookie dough in the freezer for 30 min-1 hr until solid, or in the fridge overnight.
When ready to bake, preheat oven to 350F.
Place cookie sheets directly from fridge/freezer into the oven. Bake for 14-15 minutes until golden brown and crisp at the edges. Enjoy!
Recipe by
The Baking Fairy
at https://www.thebakingfairy.net/2018/10/vegan-levain-chocolate-chip-walnut-cookies/