vegan japanese eggplant no-meatballs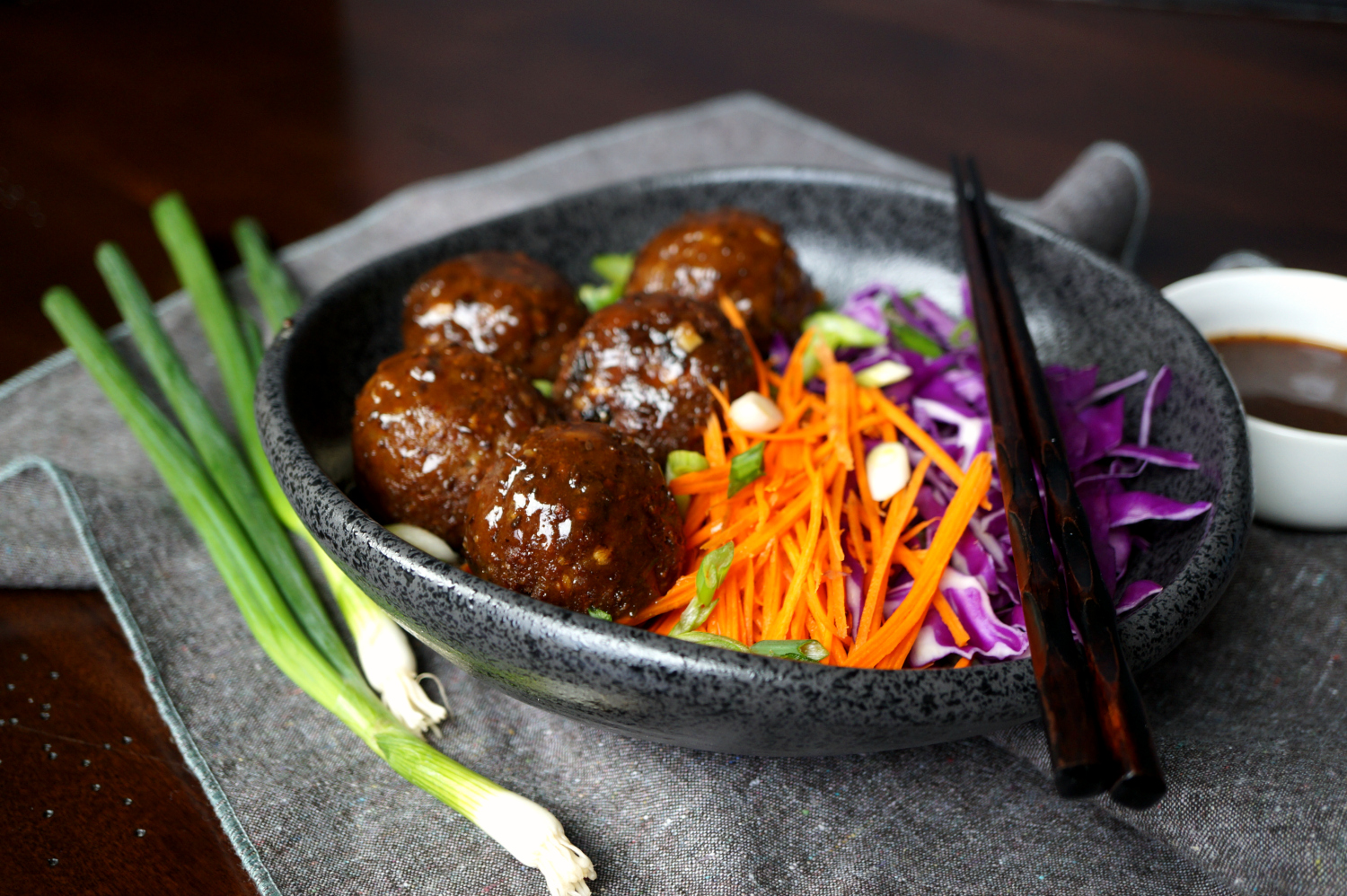 Author:
Valentina | The Baking Fairy
*for the eggplant meatballs*
1 large eggplant (~14oz), cut into cubes
1 cup (160g) cooked rice
¼ cup (20g) old fashioned oats
2 cloves garlic, chopped
1 inch piece ginger, chopped
1 tsp sesame oil
2 tsp (10mL) tamari or soy sauce
10oz (300gr) extra firm tofu, pressed and finely crumbled
2 scallions/green onion, whites finely sliced
1 8-oz (227g) can water chestnuts, drained and finely chopped
¼ - ½ cup (13-25g) panko breadcrumbs, as needed
2-3 tbsp (30-45mL) sunflower or peanut oil, to fry
*for the teriyaki sauce*
1 tsp grated ginger
¼ cup (60mL) mirin
¼ cup (60mL) tamari or soy sauce
1-2 tbsp (12-20g) raw sugar
¼ cup (60mL) water
*to serve*
cooked quinoa
thinly sliced red cabbage
thinly sliced carrots
green onion
sesame seeds
First, prepare the no-meatballs.
To steam the eggplant, add 3 inches of water to a saucepan and place eggplant cubes in a steamer. Place the steamer on top of the saucepan, making sure the water doesn't touch the underside, and bring the water to a simmer over high heat.
Reduce heat and steam the eggplant for about 10 minutes or until soft. Remove from heat and set aside to cool.
When the eggplant is cooled off, transfer to a food processor and add in the cooked rice, old fashioned oats, garlic, ginger, sesame oil, and tamari/soy sauce. Pulse until the mixture comes together but is still slightly textured.
Transfer this mixture to a large bowl and add in the crumbled tofu, sliced scallions, diced water chestnuts, and panko breadcrumbs. Use a large spoon to combine the mixture; test it out to make sure it will hold together and add more breadcrumbs as needed.
Line a large tray with wax paper and roll the mixture into golf-ball sized balls. Place on prepared tray and place in fridge for about 30 minutes.
Meanwhile, prepare the teriyaki sauce. Combine the grated ginger, miring, tamari/soy sauce, sugar, and water in a small saucepan over medium heat.
Bring the sauce to a boil, then reduce heat and simmer for about 2 minutes. Remove from heat and set aside.
When ready to cook, heat the oil in a large frying pan over medium heat. Fry the no-meatballs in batches of 6-8 for around 6 minutes each.
Place the cooked no-meatballs in a warm oven (200F/95C) while you cook the rest.
Serve with the prepared teriyaki sauce over quinoa with red cabbage, carrots, green onions, and a sprinkle of sesame seeds. Enjoy!
Recipe by
The Baking Fairy
at https://www.thebakingfairy.net/2018/11/vegan-japanese-eggplant-no-meatballs/