vegan coconut banoffee pie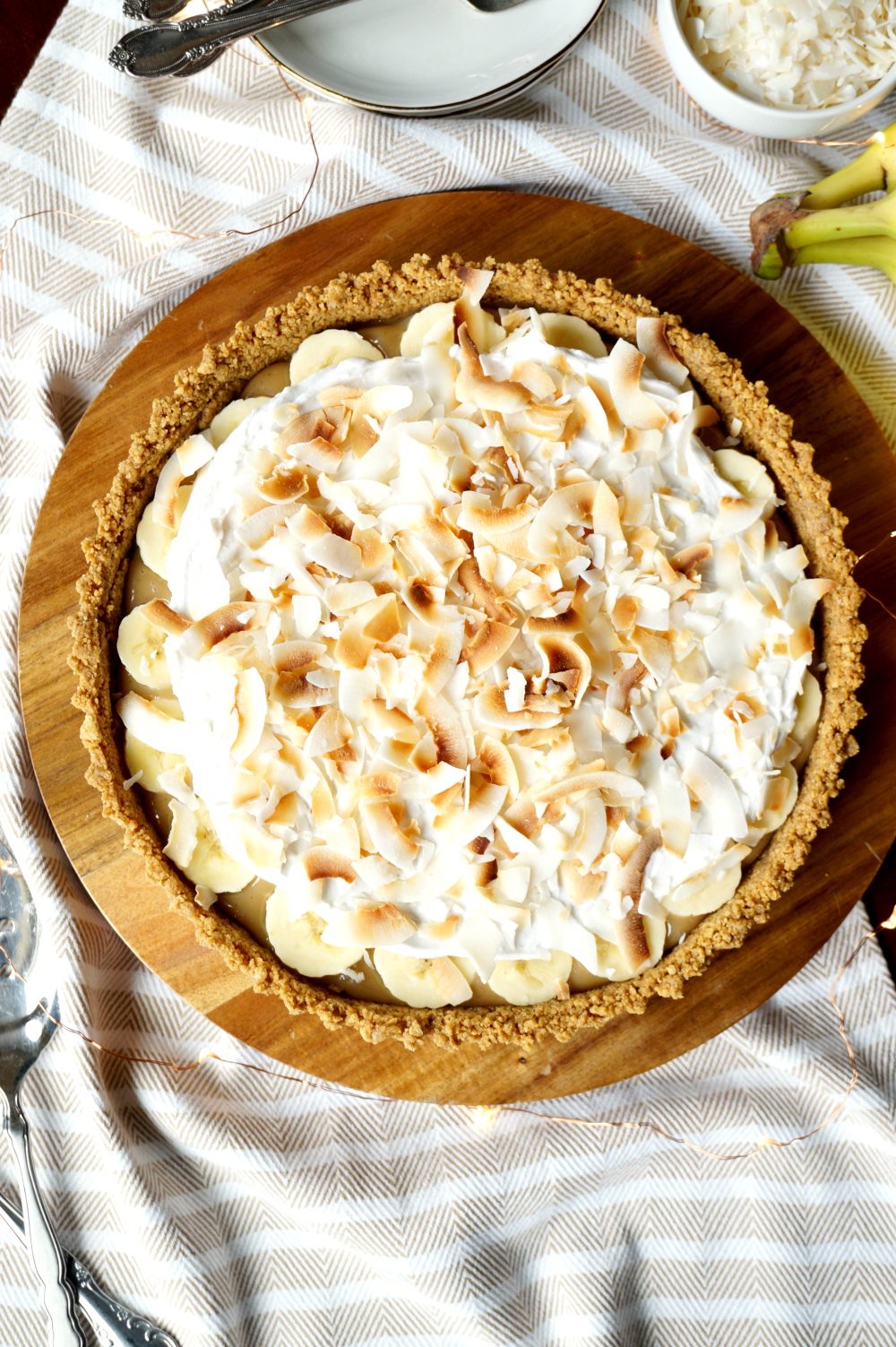 Author:
Valentina | The Baking Fairy
Recipe type:
Pies & Tarts
*for the crust*
6 tbsp vegan butter or shortening
⅓ cup light brown sugar
12 full sheets of plain graham crackers (about 1¾ cups)
*for the toffee sauce*
1 can full-fat coconut milk
⅓ cup granulated white sugar
⅓ cup light brown sugar
2 tsp vanilla paste (or extract)
*for topping*
2 medium ripe bananas, sliced
1 can coconut cream, chilled overnight
2-3 tbsp powdered sugar
1 tsp vanilla extract
½ cup coconut shavings, toasted
First things first, place the can of coconut cream in the fridge overnight. Be sure to buy the CREAM and do not shake or jostle the can at any point.
Next, prepare the crust. Preheat oven to 350F.
In a food processor, pulse the graham crackers until they are fine crumbs. Combine in a medium bowl with the brown sugar and melted vegan butter.
Grab an 11" fluted tart pan (or a deep-dish pie pan) and pour in the graham cracker mixture. Press the crust all over the bottom and up the sides using a glass or measuring cup.
Bake in preheated oven for 7-8 minutes, until it's golden brown and smells toasty. Cool to room temperature, then refrigerate until needed.
To make the toffee sauce, combine the coconut milk, sugars, and vanilla in a small nonstick pot.
Heat over medium until mixture comes to a boil, then lower to a simmer and cook, stirring occasionally, until mixture is reduced by about ⅔ and appears thick and caramel-y. This will take 30-45 minutes. Remember that it will thicken a little more as it cools.
Let toffee cool to room temperature, then pour into prepared pie crust. You can stop here until you are ready to serve, and place the crust with toffee in the fridge until needed.
When ready to serve the pie, top the entire surface with banana slices.
Make the coconut whipped cream by carefully opening the chilled can, and spooning the solid portion into a medium bowl. Whip using a hand or stand mixer until light and fluffy. Add in the powered sugar and vanilla extract.
Spoon the coconut whip on top of the prepared pie, and top with coconut shavings.
To toast the coconut shavings, arrange in a single layer on baking sheet, and place under broiler for 1-2 minutes until golden brown. Let cool before sprinkling on top of whipped cream.
Enjoy chilled and refrigerate leftovers!
Recipe by
The Baking Fairy
at https://www.thebakingfairy.net/2018/12/vegan-coconut-banoffee-pie/