teriyaki tofu quinoa bowls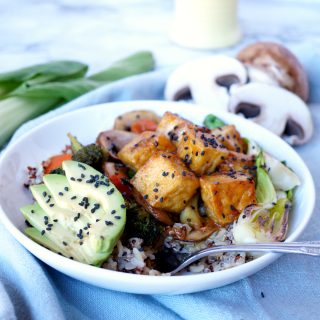 Author:
Valentina | The Baking Fairy
*for the teriyaki sauce*
2 tbsp soy sauce
2 tbsp coconut aminos
¼ cup water
2 tbsp cornstarch
2 tbsp rice vinegar
1 tbsp sesame oil
½ tsp garlic powder
¼ tsp ginger powder
½ tsp red pepper flakes
¼ tsp sesame seeds
*for the quinoa*
½ cup multicolor quinoa
½ cup brown rice
4 cups water
½ vegetable bouillon cube
*for the bowls*
1 block extra firm tofu
2-3 tbsp cornstarch, as needed
2 medium carrot, sliced
2 baby bok choy, chopped
1 cup sliced mushrooms
2 cups broccoli florets
2-3 tbsp oil, as needed
1 avocado
First, prepare the teriyaki sauce. Combine all ingredients in a bowl or cup, and whisk well to combine. Set aside
Next, prepare the quinoa. Rinse the quinoa and brown rice, and place in a pot. Add in the 4 cups of water and vegetable bouillon.
Bring mixture to a boil, then lower to a simmer and cover. Allow to cook until all water has been absorbed and quinoa and brown rice are tender, about 30-40 minutes.
While quinoa cooks, wrap block of tofu in a few layers of paper towels and press to get rid of excess water. When ready, cut tofu into cubes and lightly toss with some cornstarch.
When ready to cook, heat a large wok pan over medium-high heat and add in 1-2 tbsp of neutral oil (like corn or canola).
Add in the veggies, and cook, stirring often, until they start to soften and smell fragrant. Transfer vegetables to a plate, and add more oil to the pan.
Add in the cornstarch-covered tofu cubes, and cook until all sides are golden brown and crisp.
Add the vegetables back into the pan, and add in the teriyaki sauce you made. You may not need it all! Add some and stir, adding more as needed.
Serve immediately over the prepared quinoa/rice mixture. Serve with sliced avocado and an extra sprinkle of sesame seeds.
Recipe by
The Baking Fairy
at https://www.thebakingfairy.net/2019/01/teriyaki-tofu-quinoa-bowls/