vegan Thai roasted carrot soup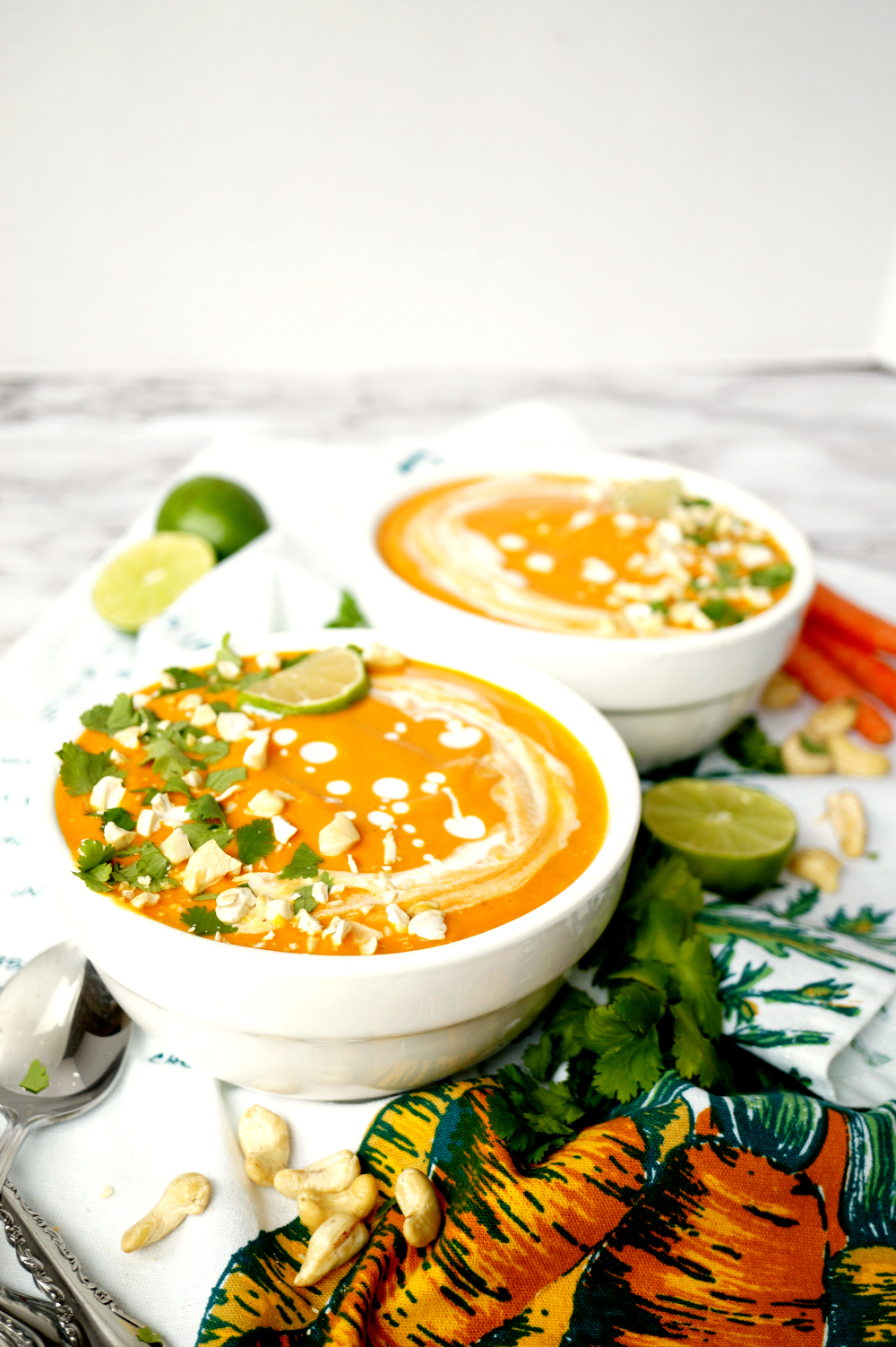 Author:
Valentina | The Baking Fairy
*for the roasted vegetables*
1 lb carrots (about 6-7)
1 white onion
2 stalks celery
2-3 tbsp olive oil
1 tsp salt
½ tsp cumin
½ tsp smoked paprika
½ tsp turmeric powder
1 tsp garlic powder
1 tsp onion powder
½ tsp black pepper
*to blend*
1 can light coconut milk
2 cups vegetable broth
1 tsp Thai red chili paste (more or less to taste)
*to serve*
fresh lime, cilantro, and cashews
Preheat oven to 400F. Line a baking sheet with foil.
Wash the carrots well, and peel if desired. Cut into rounds, and place on baking sheet.
Cut the celery into large pieces, followed by the onion.
Toss with the olive oil, and season with all the spices.
Roast for 30-40 minutes, until vegetables are golden brown and fragrant.
To make the soup, transfer all roasted veggies to a blender and add in the can of coconut milk and Thai red chili paste. Add the vegetable broth and blend until soup is smooth and silky. You may need a bit more or less for preference.
Taste the soup and add a bit more salt, garlic powder, onion powder, etc to taste.
To serve, top with a squeeze of fresh lime, fresh cilantro, and a handful of cashews.
Recipe by
The Baking Fairy
at https://www.thebakingfairy.net/2019/01/vegan-thai-roasted-carrot-soup/