vegan spinach artichoke mushroom quiche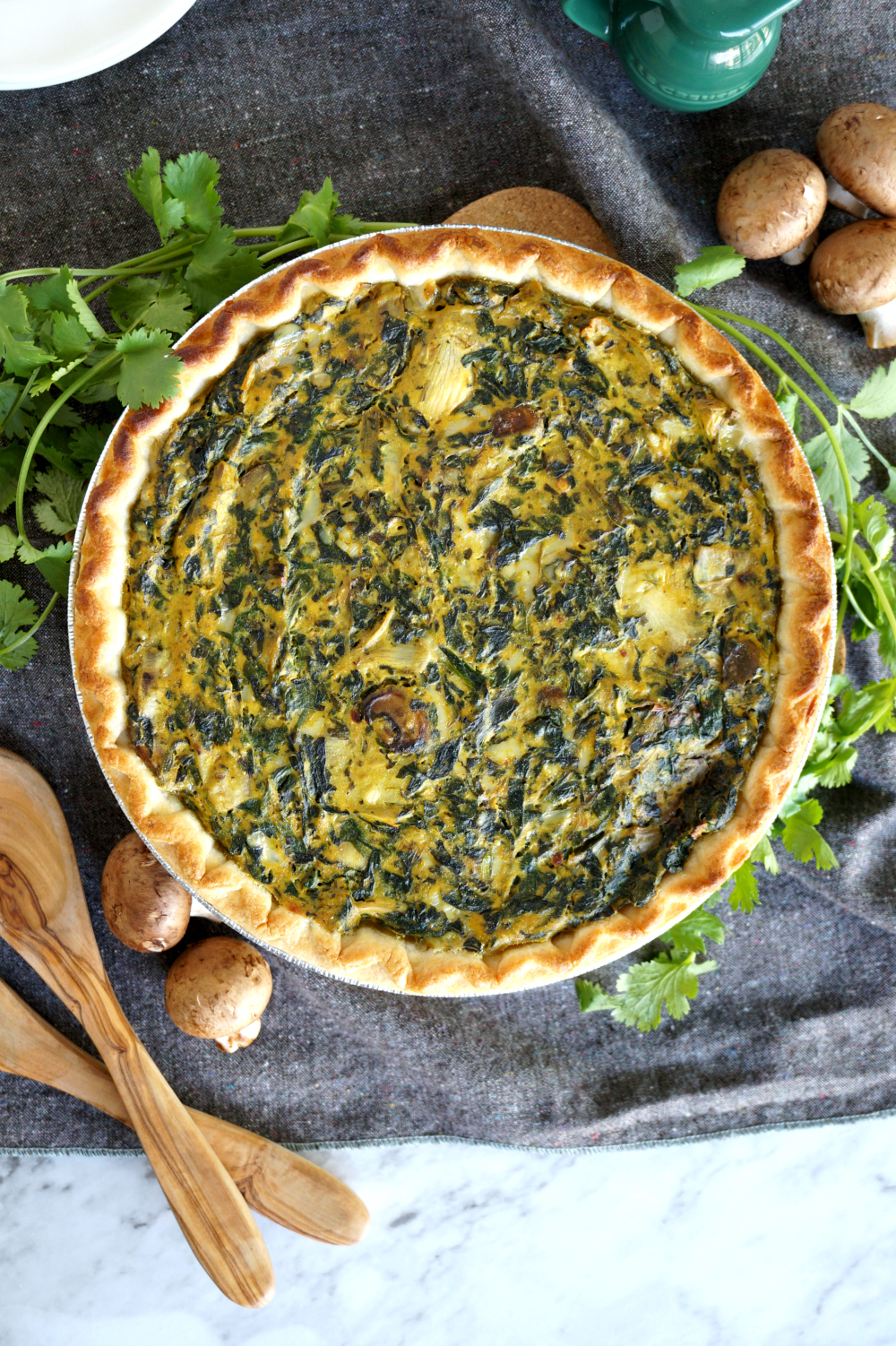 Author:
Valentina | The Baking Fairy
one 9-inch deep dish frozen pie crust
*for the filling*
12oz silken tofu
1 tbsp extra virgin olive oil
3 tbsp nutritional yeast
¼ tsp turmeric
¼ tsp Kala Namak black salt (optional, can sub with more regular salt)
½ tsp regular salt
¼ tsp freshly ground black pepper
¾ tsp garlic powder
½ tsp onion powder
*for the filling*
1 cup frozen spinach
2 cups sliced mushrooms
one 14oz can of quartered artichokes, rinsed and drained
2 tbsp olive oil
salt & pepper, to taste
½ cup vegan shredded cheese
Preheat oven to 425F.
Prick the bottom of your frozen pie crust, and place a piece of foil on the surface. Top with pie weights or dry beans, and bake for 15 minutes.
While the crust par-bakes, start on the vegetables. In a large pan, heat up the olive oil over medium high heat.
Add in the mushrooms, and saute for a few minutes until golden brown. Add in the frozen spinach, followed by the rinsed artichoke hearts.
Season with salt and pepper, and cook until vegetables are soft and fragrant.
To prepare the tofu filling, combine the silken tofu, olive oil, nutritional yeast, and all the spices in a food processor. Blend until smooth and creamy.
When pie is finished par-baking, lower the oven temperature to 375F.
Combine the tofu cream and vegetables together, add in the vegan shredded cheese, and pour into prepared crust.
Place in oven at 375F and bake for 30-45 minutes, until filling is set and light golden brown on top. If crust starts to get too dark, cover with aluminum foil to keep it from burning.
Let quiche come to room temperature before attempting to cut and serve. Store leftovers in the fridge.
Recipe by
The Baking Fairy
at https://www.thebakingfairy.net/2019/02/vegan-spinach-artichoke-mushroom-quiche/