vegan eggplant parmesan pizza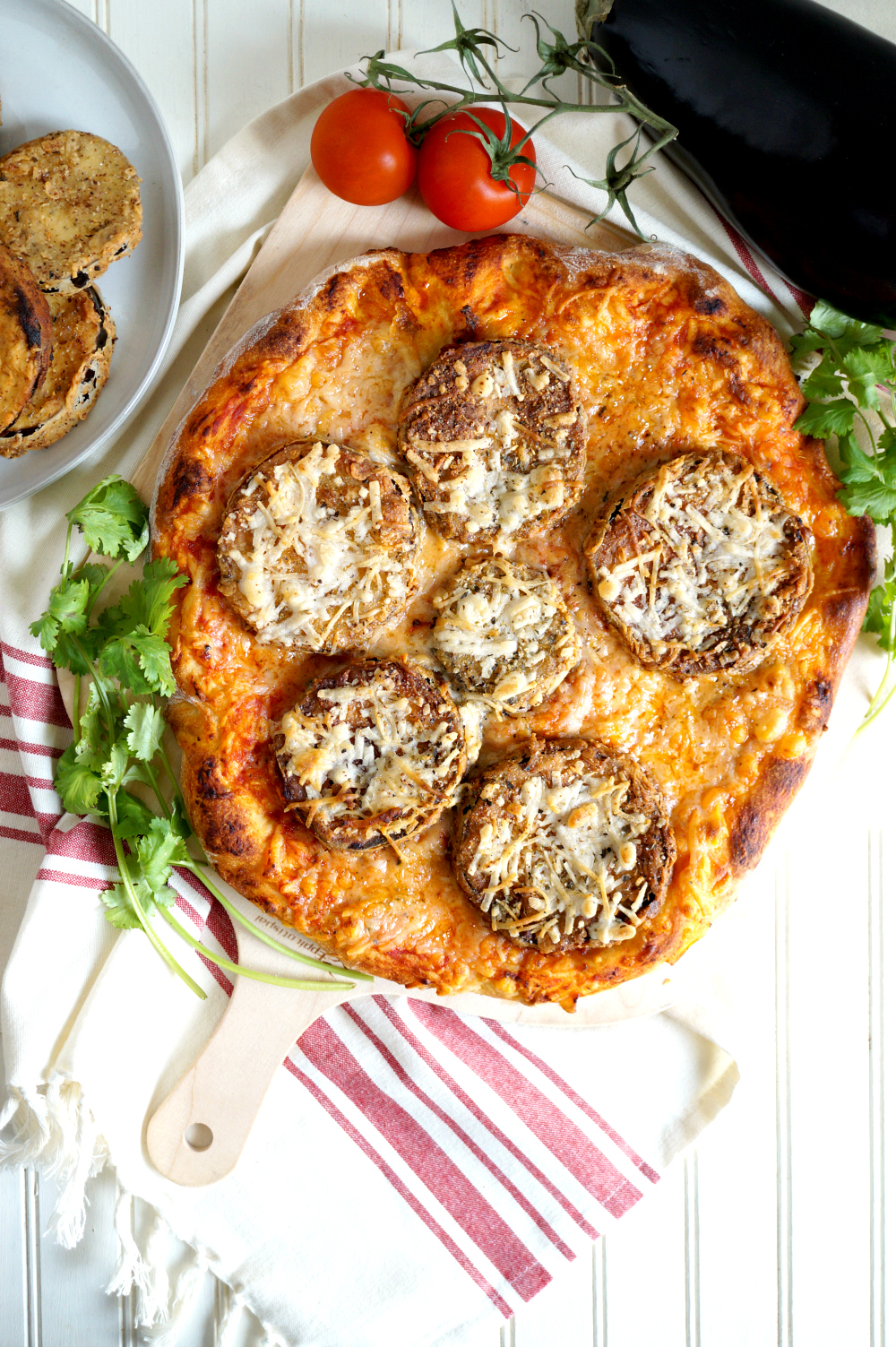 Author:
Valentina | The Baking Fairy
*for the eggplant*
1 medium eggplant
½ cup aquafaba (chickpea brine)
1½ cup all purpose flour
1 tsp Italian seasoning
1 tsp garlic salt
1-2 cups vegetable oil, to fry
*for the pizza*
1 lb storebought pizza dough (or see link for my homemade recipe above)
½ cup tomato puree
¼ tsp Italian seasoning
1 cup vegan mozzarella shreds (I like Follow Your Heart)
¼ cup vegan parmesan cheese
olive oil and garlic salt, to finish
First, prepare the eggplant. Wash and cut off the top and bottom. Cut thin slices, and lay them on a paper towel. Sprinkle slices with salt, and top with a second paper towel. This will draw out the excess water and some of the bitterness! Let slices sit for 10-15 minutes.
When ready to fry, create an assembly line. Pour the aquafaba in a shallow bowl, and in a second shallow bowl, combine the flour with Italian seasoning and garlic salt.
Pat the eggplant slices dry, then dip them in aquafaba, flour mixture, aquafaba, and flour mixture again. Repeat with all.
Pour the vegetable oil in a large shallow pan, and heat on medium until it shimmers. Fry the eggplant a few slices at a time, cooking until both sides are golden brown and crisp. Remove from the oil and place on a paper towel to absorb excess oil.
When ready to make the pizza, preheat oven to 500F. If you have a pizza stone, place it in the oven to preheat as well.
Grab your pizza dough, and gently stretch it into a round shape. Spoon on the tomato sauce, add on some eggplant slices, and top with the vegan mozzarella and parmesan. Finish by drizzling on some olive oil, Italian seasoning, and garlic salt.
Bake in preheated oven for 12-15 minutes, until crust is golden brown and crisp, and cheese is melted and bubbly. Serve immediately!
Recipe by
The Baking Fairy
at https://www.thebakingfairy.net/2019/03/vegan-eggplant-parmesan-pizza/