vegan banana split cake #SpringSweetsWeek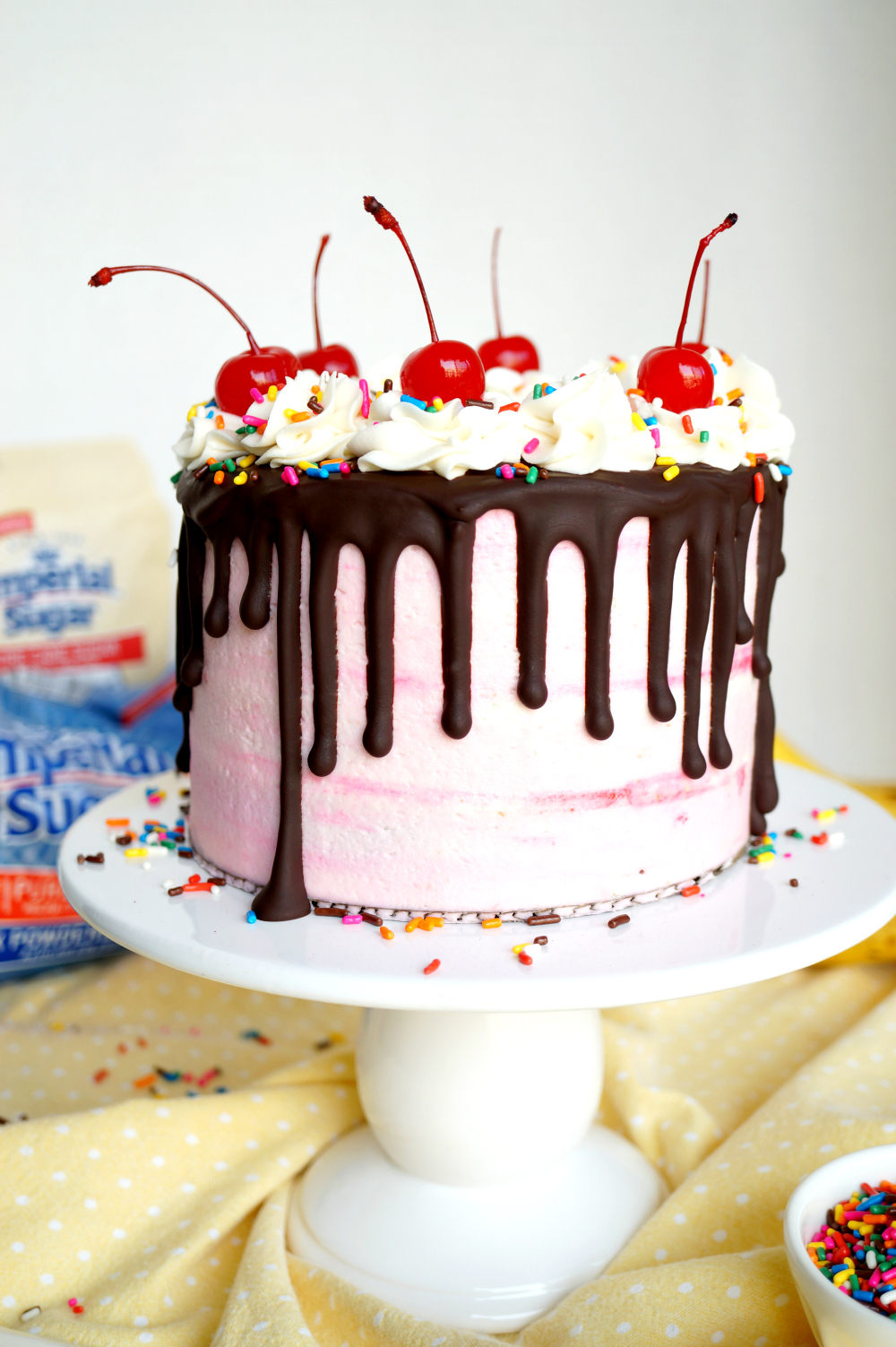 Author:
Valentina | The Baking Fairy
*for the cake*
4 ripe medium bananas
¼ cup vegetable oil (can sub melted coconut oil)
⅓ cup unsweetened nondairy milk
½ cup Dixie Crystals granulated white sugar
2 tsp vanilla extract
2 cups all-purpose flour
1 tsp baking soda
1½ tsp baking powder
½ tsp salt
1 tsp cinnamon
*for the frosting*
½ cup vegan shortening
½ cup vegan butter
4 cups Dixie Crystals powdered sugar
1 tsp vanilla extract
pinch of salt
*for the ganache*
3oz dark chocolate
2-3 tbsp nondairy unsweetened milk, as needed
*for assembling*
strawberry preserves
sprinkles
maraschino cherries
First, make the cake. Preheat oven to 350F and spray two 6" round cake pans with nonstick baking spray.
In a large bowl, mash the bananas. Add in the oil, milk, sugar, and vanilla, and mix well.
Stir in the flour, baking powder, baking soda, cinnamon, and salt.
Divide the batter between the two prepared cake pans, and bake for 45 minutes until cake is set in the center and a toothpick comes out clean.
When ready to assemble, make the frosting. With a stand mixer fitted with the paddle attachment, beat together the vegan butter shortening until creamy.
Add in powdered sugar as needed to create a frosting, and add a pinch of salt. Add nondairy milk as needed if the frosting is too thick and lumpy. Set a small amount of white frosting aside, then color the rest a pale pink.
To assemble the cake, divide the 2 cake layers in half to create 4 thin layers.
Place one cake piece on your cake stand or platter, pipe some of the pink frosting around the edge of the cake to create a "fence", then spoon some strawberry preserves in the center. Spread it to create a thin layer, and repeat with all.
Frost the outside of the cake with the rest of the frosting as desired. Place cake in fridge while you prepare the ganache.
Place the chocolate in a microwave safe bowl and heat in 15-20 second increments until melted. Add in nondairy milk as needed, stirring well, until ganache is smooth and creamy. If it appears lumpy or grainy, don't worry! Just add more milk and keep stirring. It will come back together!
Drizzle the ganache on top of the cooled cake, then allow to cool and harden.
To finish decorating, place the white frosting you had set aside in a decorating bag fitted with a wide star (1M) tip. Pipe little mounds of frosting all around the top of the cake, and place a maraschino cherry on each. Finish off the cake with rainbow sprinkles, and enjoy!
Recipe by
The Baking Fairy
at https://www.thebakingfairy.net/2019/03/vegan-banana-split-cake/