vegan lemon blueberry cupcakes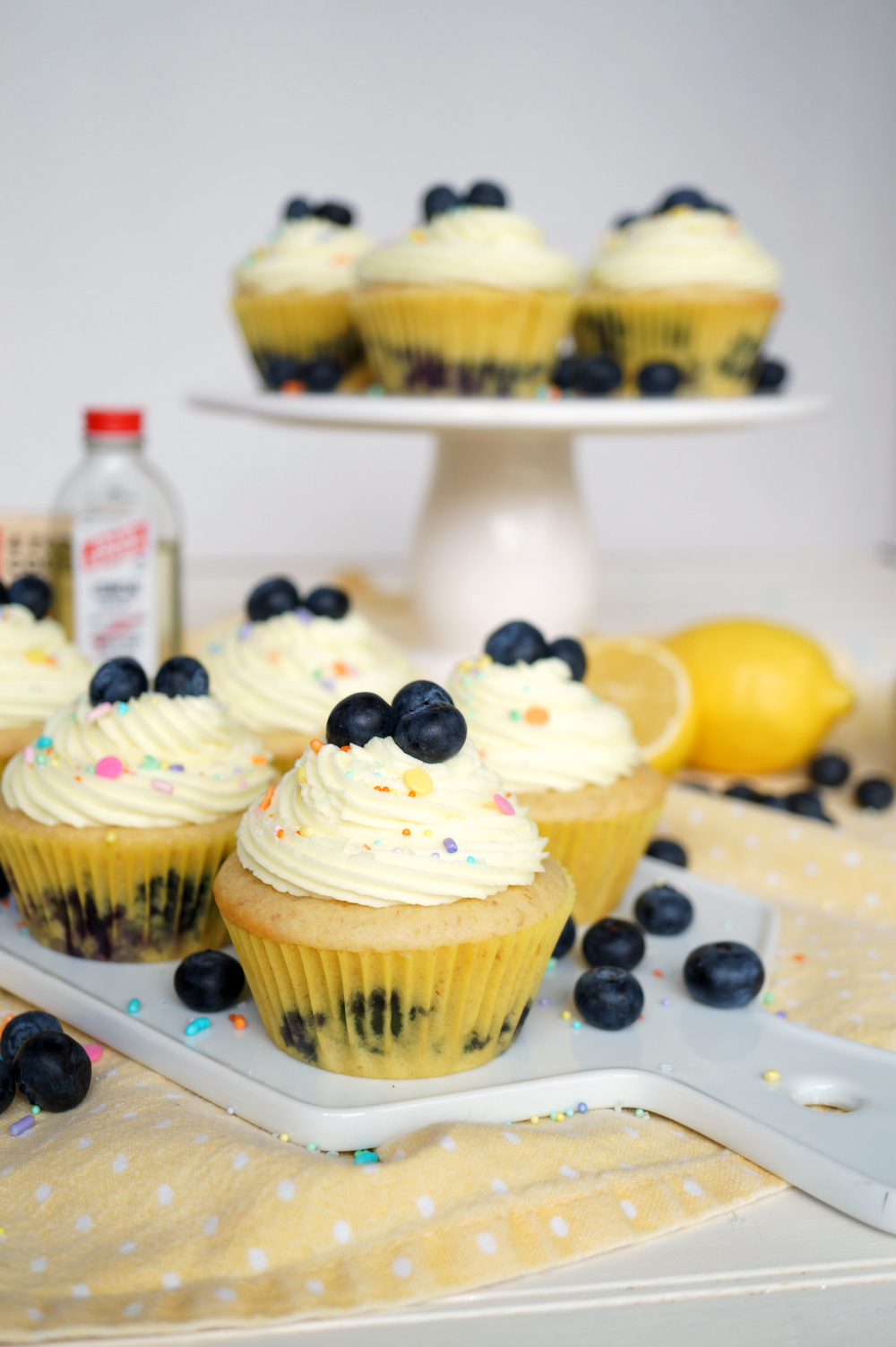 Author:
Valentina | The Baking Fairy
*for the lemon cupcakes*
2 tbsp ground flaxseed + 6 tbsp water
1 cup granulated sugar
1¾ cup all-purpose flour
1½ tsp baking powder
1 tsp baking soda
½ tsp salt
¼ cup vegan butter, at room temperature
⅓ cup nondairy yogurt
¼ cup vegetable oil
1 tbsp Adams lemon extract
⅓ cup unsweetened nondairy milk
⅓ cup lemon juice
zest of 1 lemon
1 cup fresh blueberries
*for the frosting*
½ cup shortening
¼ cup vegan butter
3 cups powdered sugar
1 tbsp Adams lemon extract
pinch of salt
2-3 tbsp nondairy milk, as needed
few drops of Adams Natural yellow food coloring (optional)
First, make the cupcakes. Preheat oven to 350F and line two muffin pans with 18 muffin liners.
In a small bowl, whisk together the ground flaxseed with the water and set aside to thicken.
In the bowl of a stand mixer, combine the flour, baking powder, baking soda, salt, and sugar.
Add in the vegan butter, and beat on low until it's incorporated and has a sandy texture.
In a small bowl, whisk together the oil, flaxseed mixture, nondairy yogurt, lemon zest and and lemon extract, and add them to the dry ingredients. Mix until combined.
Pour in the unsweetened nondairy milk, and beat on medium-low until smooth and creamy. Finally, gently fold in the blueberries.
Divide batter evenly among the prepared cupcake liners. Bake cupcakes for 20-25 min until they are fluffy and a toothpick inserted in the center comes out clean.
While the cupcakes cool, prepare the frosting.
In the bowl of a stand mixer, beat the shortening, vegan butter, and lemon extract together until completely smooth and creamy. Add in the powdered sugar, 1 cup at a time, until a thick frosting forms. Add in the salt and some food coloring if desired. You can add a few spoonfuls of nondairy milk if it's too thick.
When the cupcakes are cooled completely, decorate them with the frosting. I used an open star tip (#8B). Top the cupcakes with a few blueberries and the Sprinkle Pop sprinkles.
Recipe by
The Baking Fairy
at https://www.thebakingfairy.net/2019/03/vegan-lemon-blueberry-cupcakes/