vegan blood orange dark chocolate loaf cake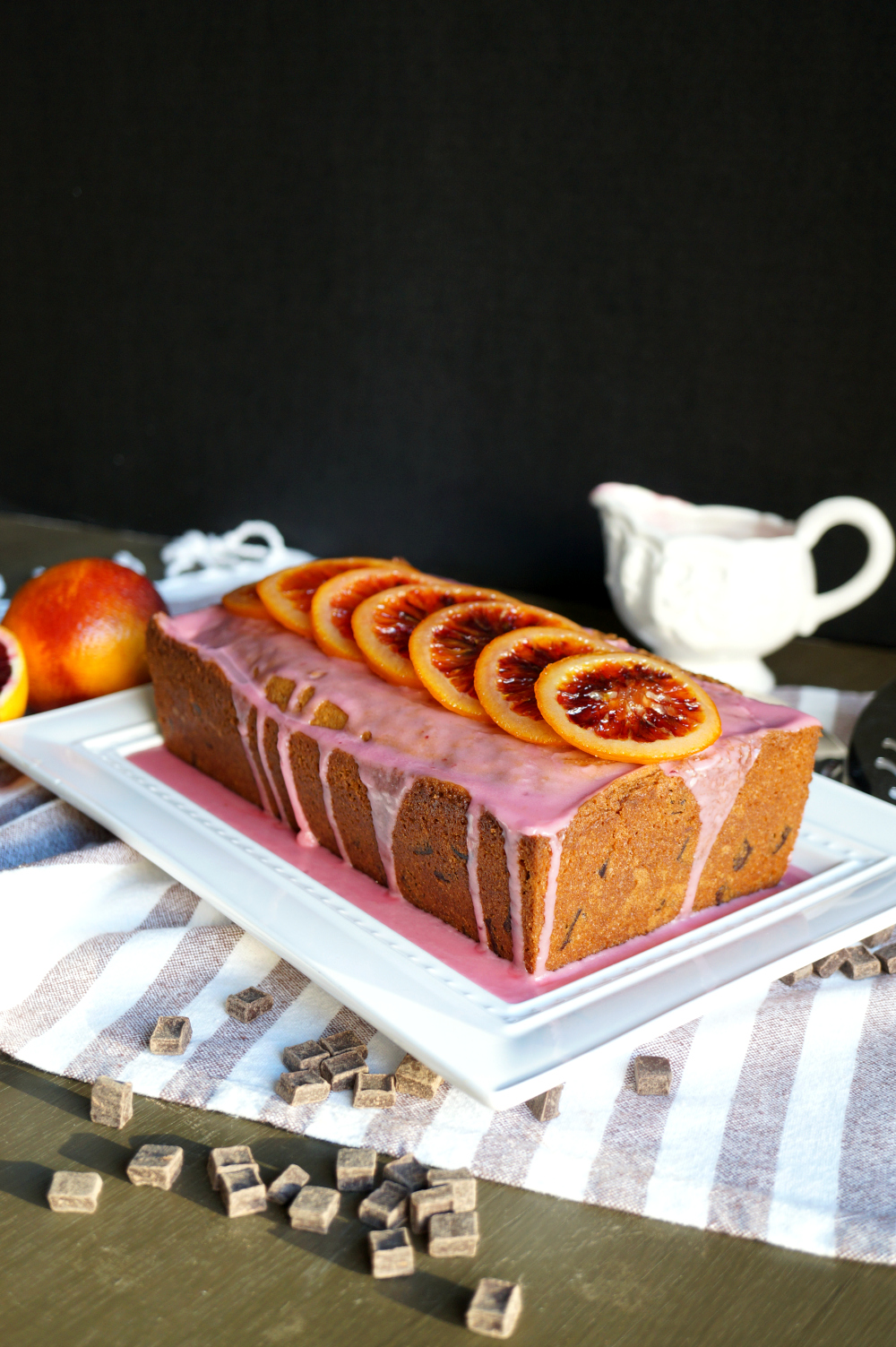 Author:
Valentina | The Baking Fairy
Recipe type:
Breads & Loaf Cakes
2 tbsp ground flaxseed + 6 tbsp water
1 cup white granulated sugar
1¾ cups all-purpose flour
1½ tsp baking powder
1 tsp baking soda
½ tsp salt
¼ cup vegan butter
⅓ cup nondairy yogurt
¼ cup vegetable oil
⅓ cup blood orange juice (about 1 orange's worth)
⅓ cup nondairy milk
zest of 1 blood orange
1 cup vegan dark chocolate chunks
1 tsp vanilla
*for the glaze*
¼ cup blood orange juice
1-2 cups powdered sugar
*for the candied orange slices*
1-2 blood orange, sliced thin
1 cup water
1 cup granulated sugar
If you want to top your loaf cake with candied orange slices, we need to prepare those first. Wash one of your blood oranges, and slice thinly.
In a large, shallow pot, combine the water and sugar. Heat over medium until sugar is melted and mixture starts to bubble gently. Add in the orange slices, and turn heat to medium-low.
Cook orange slices for 20-30 minutes, flipping occasionally, until they appear translucent and the syrup they're cooking in turns a soft pink.
Carefully remove orange slices from the syrup, and place on parchment paper to cool. Set aside until they are cooled off and hardened. You do not need the syrup for this recipe, but save it to add to cocktails, iced tea, or sparkling water!
When ready to bake, preheat oven to 400F. Grease & flour a 9x5 loaf pan.
In a small bowl, whisk together the flaxseed and water, and allow it to gel while you prepare the rest.
In the bowl of a stand mixer, combine the sugar, flour, baking powder, baking soda, salt, and vegan butter. Beat at low speed until mixture is combined and appears sandy.
In a medium bowl, mix together the nondairy yogurt, vegetable oil, the flax mixture, and vanilla.
Slowly pour this into the flour mixture while the mixer runs.
Finally, pour in the blood orange juice and nondairy milk. Stir in the orange zest and chocolate chunks.
Pour batter into prepared loaf pan, and bake at 400F for 10 minutes, then lower the oven to 350F and bake for 30 more minutes. If cake is getting too brown on top, cover with a piece of foil and continue to bake for 5-10 additional minutes. Cake is ready when a toothpick inserted in the center comes out clean. Allow cake to cool slightly in pan before transferring to a plate.
When ready to serve, prepare the glaze. Simply whisk together the blood orange juice and powdered sugar until you have a thick glaze. Pour over the loaf cake, and top with the prepared candied orange slices. Enjoy!
Recipe by
The Baking Fairy
at https://www.thebakingfairy.net/2019/03/vegan-blood-orange-dark-chocolate-loaf-cake/