peach yogurt & brown sugar granola parfaits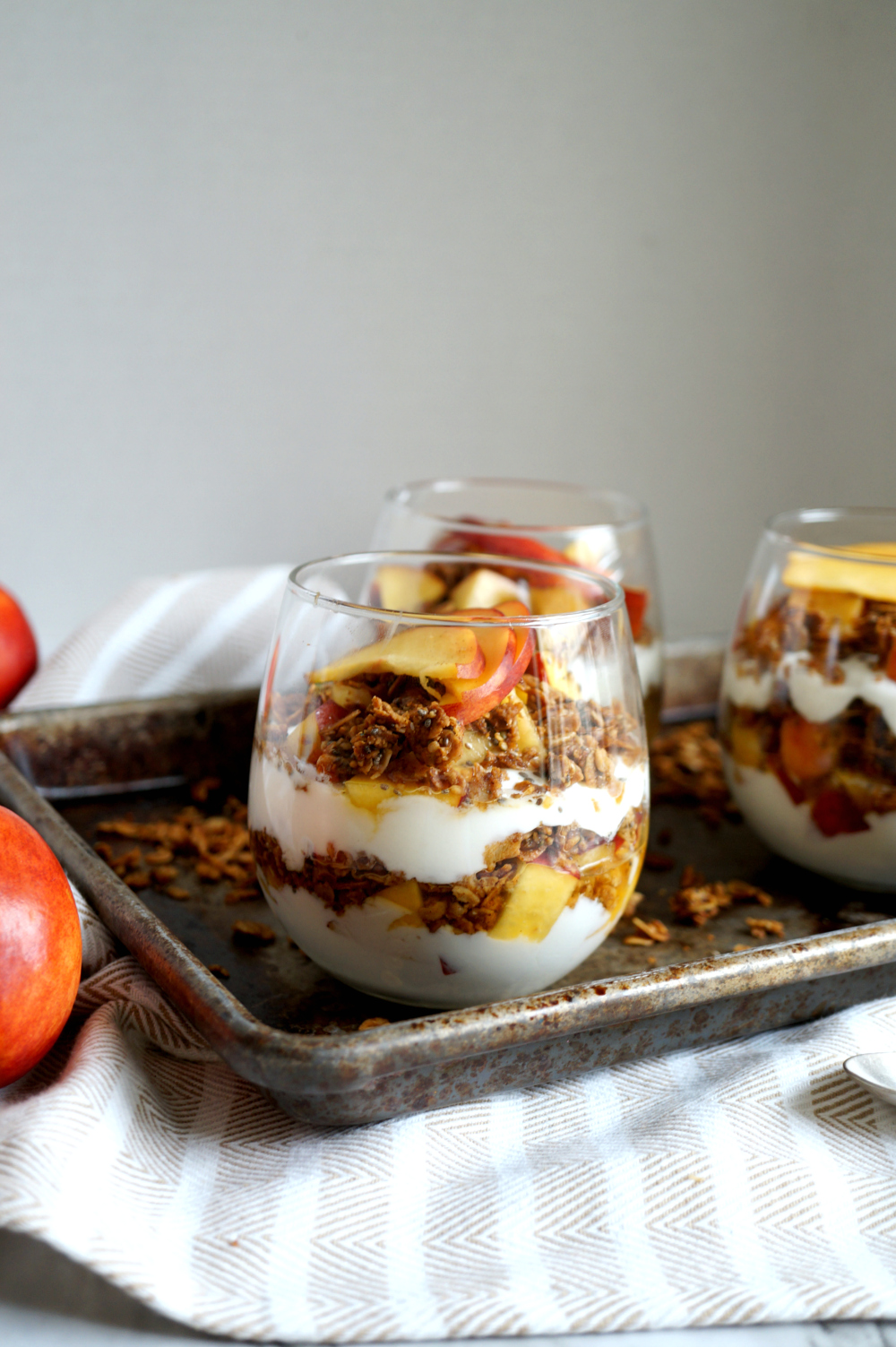 Author:
Valentina | The Baking Fairy
*for the granola*
1½ cups old-fashioned oats
½ cup quick-cooking oats
¼ cup chia seeds
¼ cup hemp herts
½ cup sunflower seeds
½ tsp salt
¼ cup dark brown sugar
1 tbsp cinnamon
1 tsp ground ginger
¼ cup coconut oil
½ cup agave syrup
*to serve*
6 ripe peaches, diced
2 tbsp brown sugar
juice of 1 lemon
32 oz Stonyfield Organic plain whole milk yogurt
First, prepare the granola. Preheat oven to 325F and line a baking sheet with foil.
In a microwave-safe bowl, combine the coconut oil and agave syrup, and heat until both are melted and smooth.
Add in the rest of the ingredients for the granola, and toss until everything is evenly coated.
Spread the granola out on the prepared sheet, and bake for 30 minutes, mixing every 10-15 min.
While the granola cooks, prepare the peaches. Place the diced peaches in a large bowl, and mix in the brown sugar and lemon juice. Set aside until needed.
When granola is cooked, let cool to room temperature before assembling.
To assemble, spoon some Stonyfield Organic yogurt in the bottom of a cup, and top with some peaches and granola. Repeat the layers, and then repeat to create 6 cups total. Serve immediately, or refrigerate until needed.
Recipe by
The Baking Fairy
at https://www.thebakingfairy.net/2019/04/peach-yogurt-brown-sugar-granola-parfaits/