vegan chocolate coconut waffles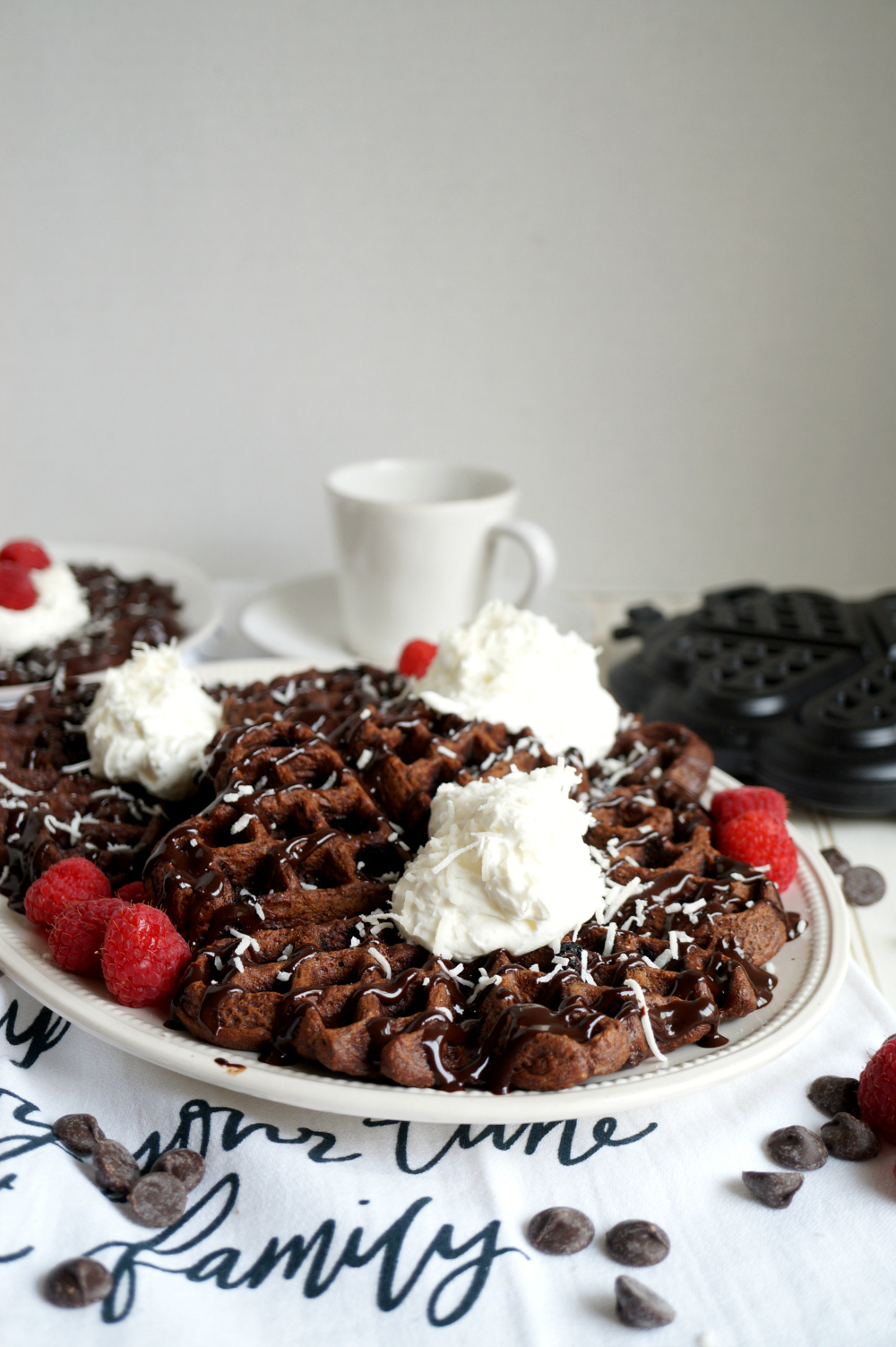 Author:
Valentina | The Baking Fairy
2 tbsp ground flaxseed + 6 tbsp water
1¼ cup all-purpose flour
¼ cup cornstarch
½ cup cocoa powder
¼ cup shredded coconut
1¾ cup lite coconut milk (1 can)
¼ cup melted coconut oil
1 tsp coconut extract
2 tsp vanilla extract
3 tbsp sugar
pinch of salt
½ cup dark chocolate chips
*for serving*
1 can coconut cream, refrigerated overnight
melted vegan chocolate
coconut flakes
fresh raspberries
First, place your can of coconut CREAM in the fridge overnight to solidify so that it can be whipped the next day. Be careful not to shake the can at any point!
When ready to make waffles, combine the flaxseed and water in a small bowl and set aside while you prepare the rest.
In a large bowl, whisk together the flour, cornstarch, cocoa, sugar, and shredded coconut.
Add in the coconut milk, melted coconut oil, coconut & vanilla extracts, and the prepared flaxseed mixture. Finally, stir in the chocolate chips.
Heat your NordicWare waffler over medium heat for about 5 minutes. When ready to cook, spray both sides with nonstick spray.
Pour in about ¼ of the mixture into the waffler, and cook for about 5 minutes, then flip and cook for 5 minutes more. Be sure to watch the heat and lower if needed, as the iron stays really hot! When waffle is cooked, transfer to a wire rack to prevent from getting soggy. Repeat with all.
To serve, open your can of coconut cream and carefully spoon out all the solid pieces from the top of the can. Place in a medium bowl, and whip as you would regular whipped cream. Add a spoonful of powdered sugar if desired.
Top the waffles with melted chocolate, the coconut whipped cream, and some shredded coconut and fresh raspberries. Enjoy!
Recipe by
The Baking Fairy
at https://www.thebakingfairy.net/2019/04/vegan-chocolate-coconut-waffles/