Have you ever had flourless cake? Because if not, ohhh boy, you are missing out. Although it seems strange and sort of impossible to make cake without flour, it is anything but so. Flourless cake is light, fluffy, melt-in-your-mouth delicious. It somehow manage to be rich and decadent while having the consistency of clouds. Don't believe me? Make this cake 😉 It may look impressive and fancy, but it's quite easy! A little time consuming, but nothing impossible.
I got this delicious recipe from SmittenKitchen, which is the very first food blog I ever followed :,) Me and Deb go way back... with me stalking her blog for awhile. Hahah. I had actually made this cake before, but the round layered cake version. Both are delicious, and taste the same.. the presentation is just different! But both look pretty impressive. Layer cakes and roll-up cakes both make you look like a baking pro. Just saying. 🙂 On her post, she talks great lengths about how when her mother made this cake when she was little, she would cuss so many times trying to get it to roll without cracking that they nicknamed it "shit cake." Hahah! So, I was intimidated but, I think maybe cause my pan was larger (making a larger, thinner cake) I had absolutely no problem rolling it without cracking it. The pan she uses is a 10 x 15 jelly roll pan, while mine was about 12 x 15. So, I guess a couple inches make a big difference. Make it easier on yourself and use a large pan! But be warned that rolling up a cake covered in cocoa powder can get a little messy 😉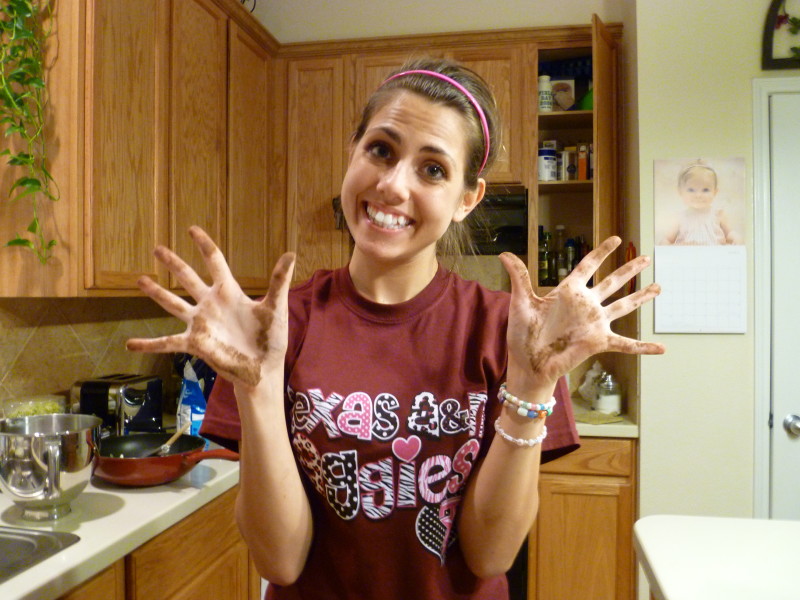 This cake was sooo scrumptious, and since it's a flourless cake, it even has the bonus of being gluten-free. My brother Davide inhaled it in about 2 seconds, and then asked for another piece. Even my momma loved it, and she doesn't even like chocolate. 🙂 Make it for someone you love! They will definitely love you for it. Trust me.
flourless chocolate cake roll
Author:
Valentina | The Baking Fairy
Ingredients
*for the cake*
6 ounces (1 cup) semisweet bittersweet chocolate, chopped (or chips)
3 tablespoons water or strong coffee
6 large eggs, at room temperature, separated
⅔ cup sugar
¼ teaspoon table salt
2 tablespoons unsweetened cocoa powder, divided
*for the filling*
1 cup heavy or whipping cream
2 to 3 tablespoons powdered sugar (use more if you prefer a sweeter filling)
½ teaspoon vanilla extract or 1 to 2 tablespoons liqueur of your choice, such as Marsala, or both!
Instructions
Preheat oven to 350°F. Butter or oil a 10-by-15-inch shallow baking pan or jellyroll pan. Line the bottom lengthwise with a piece of waxed or parchment paper that extends up the short sides one inch.
Melt chocolate with water or coffee in a small saucepan over very low heat until it is 75 percent melted. Remove from heat and stir until the remaining chocolate is smooth. Set aside to cool slightly.
Beat egg yolks with an electric mixer until pale and creamy. Add sugar gradually, and continue to beat until yolks are pale and ribbony. Gently stir the chocolate into the yolk mixture.
In a clean bowl with clean beaters, beat egg whites with salt until they hold stiff peaks.
Stir ¼ of egg white mixture into the chocolate-yolk mixture to lighten it.
Fold the remaining whites into the cake batter in three additions.
Pour batter into prepared pan and smooth top. Bake in preheated oven for 15 minutes, or until cake layer feels dry (but very soft) to the touch and a toothpick inserted into the center comes out clean. It will still seem a little underbaked.
Transfer to a cooling rack and cover the top with a light damp towel or two layers of damp paper towels for 10 minutes.
Gently remove towels. Run a knife around the edges of the cake. Sift one tablespoon cocoa over the top of the cake and cover the cake with a layer or waxed or parchment paper that is a little longer than the pan.
Place the back of a baking sheet or a large flat tray over the waxed paper and invert the cake and paper onto it. Gently peel back the parchment or waxed paper that was on the underside of the cake. Sift the remaining tablespoon of cocoa powder over the underside of the cake and cover the layer with a thin tea or flour sack towel.
Using the waxed or parchment paper underneath to help lift and roll the cake, roll the cake from short end to short end with the towel inside. Let cool completely.
Once cool, beat heavy cream with powdered sugar and vanilla until it holds stiff peaks.
Get your serving plate ready and place it near your cake roll.
Gently unroll chocolate cake and remove tea towel. Spread whipped cream filling evenly over cake. Gently use waxed or parchment paper once again to r-eroll cake. Place on serving platter, seam side down.
Serve immediately in 1-inch slices or refrigerate until needed.