This Balsamic Herb Baked Tofu is simple, delicious, and versatile! It comes together in just 30 minutes and pairs perfectly with all your favorite sides!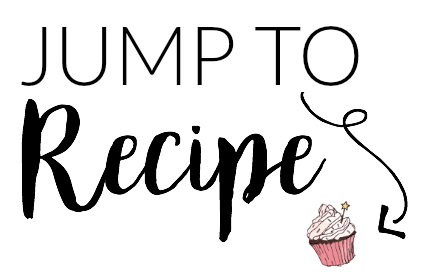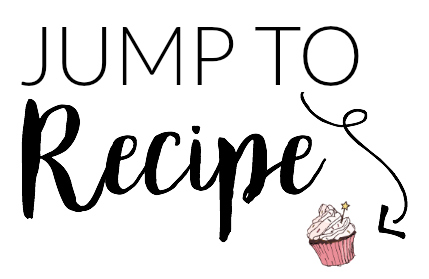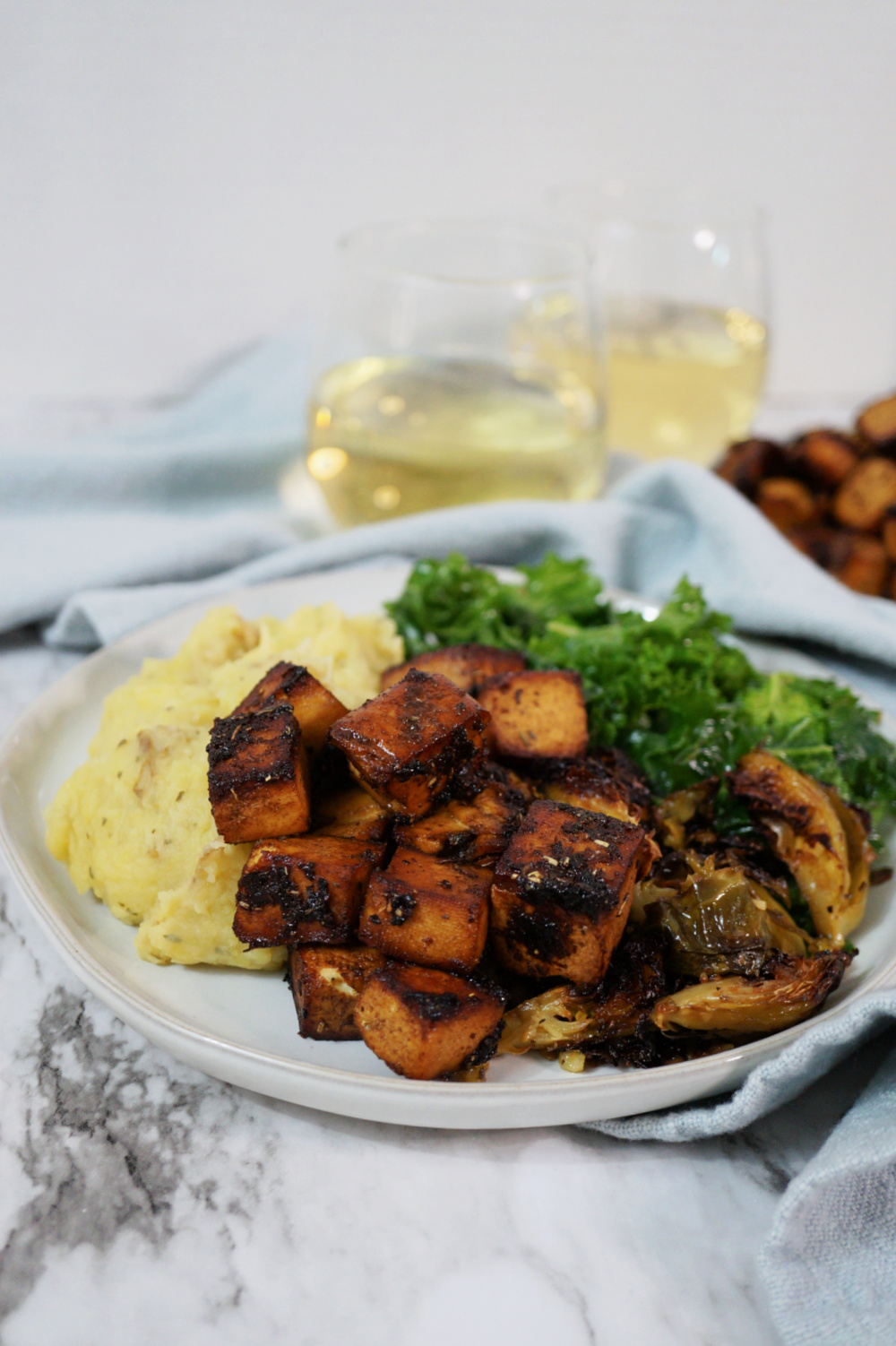 Hi friends and happy Thursday! I am back today with another easy and delicious dinner idea for you - Balsamic Herb Baked Tofu! If you're a bit intimidated by tofu, this recipe is super simple and requires just a few basic ingredients. It comes together quickly and uses one of my favorite methods to cook tofu - baking it! This gets the tofu crispy and light without having to fry it or mess with other complicated cooking methods. Quick & easy is the name of the game here!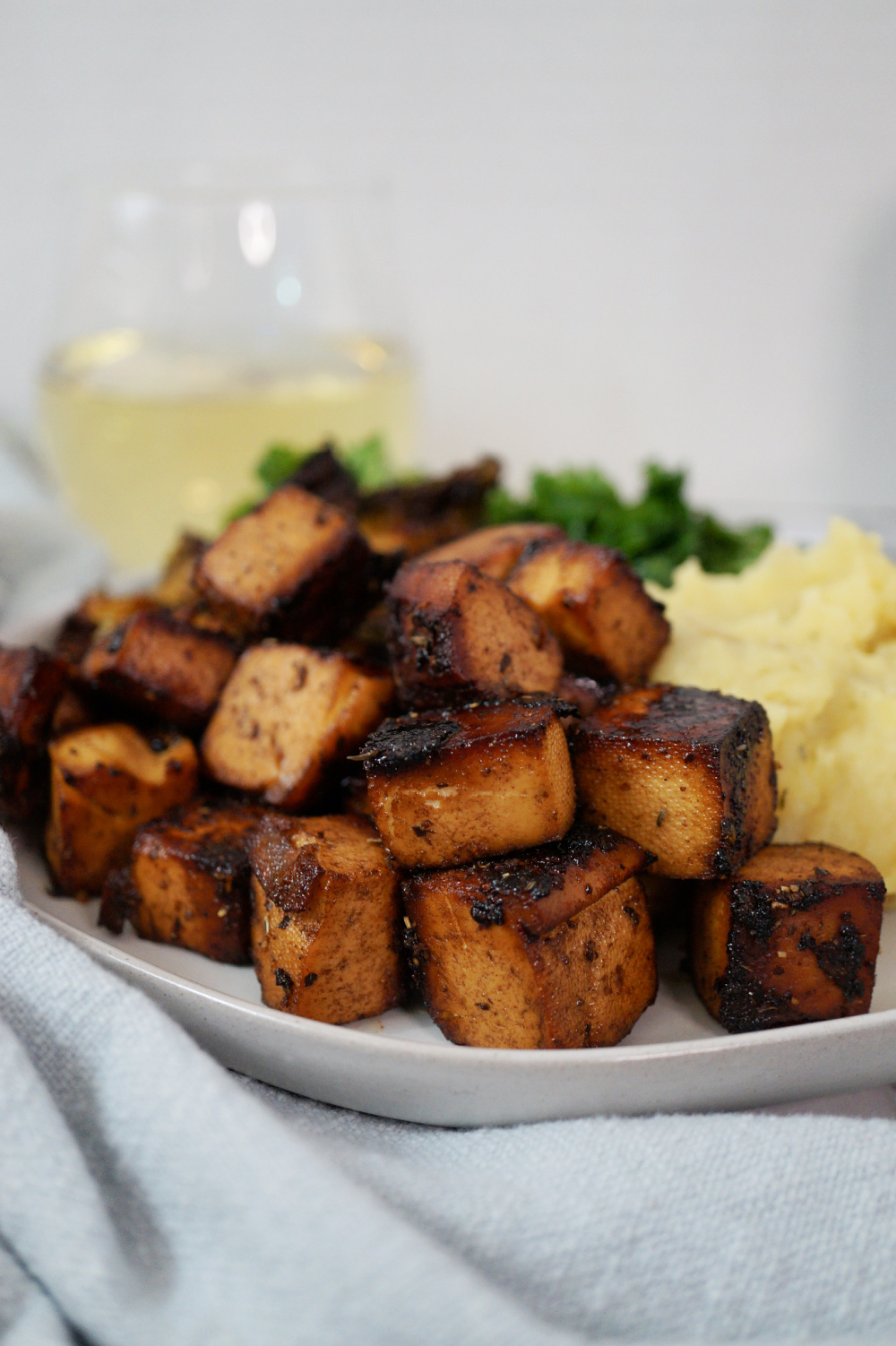 What do I need to make this balsamic herb baked tofu?
I was not kidding when I said this ingredient line-up is super basic!
Tofu: obviously! Our main ingredient. I recommend buying firm or extra firm as it's the easiest texture to work with (in my opinion). Also, since you start with a more firm tofu with less water, there is less moisture for you to try to press out. Do note that you need to buy the fresh, refrigerated tofu, not the shelf-stable kind.
Balsamic vinegar: the other most important ingredient. I recommend getting balsamic that is nice but not TOO nice & expensive since we are going to be heating and cooking it. Save the really fancy stuff for salad! 
Olive oil: you want to use good quality olive oil here since our ingredient list is so minimal. I use extra virgin olive oil for pretty much everything.
Italian herbs: I buy pre-blended Italian herbs to make it super easy to add a lot of flavor. Usually, there will be a mix of dried parsley, rosemary, oregano, basil, and thyme. You can do what I do or add each in individually to your own preference. 
Garlic powder: I seriously love this stuff and it adds so much flavor to so many dishes! It's one of my staples in cooking.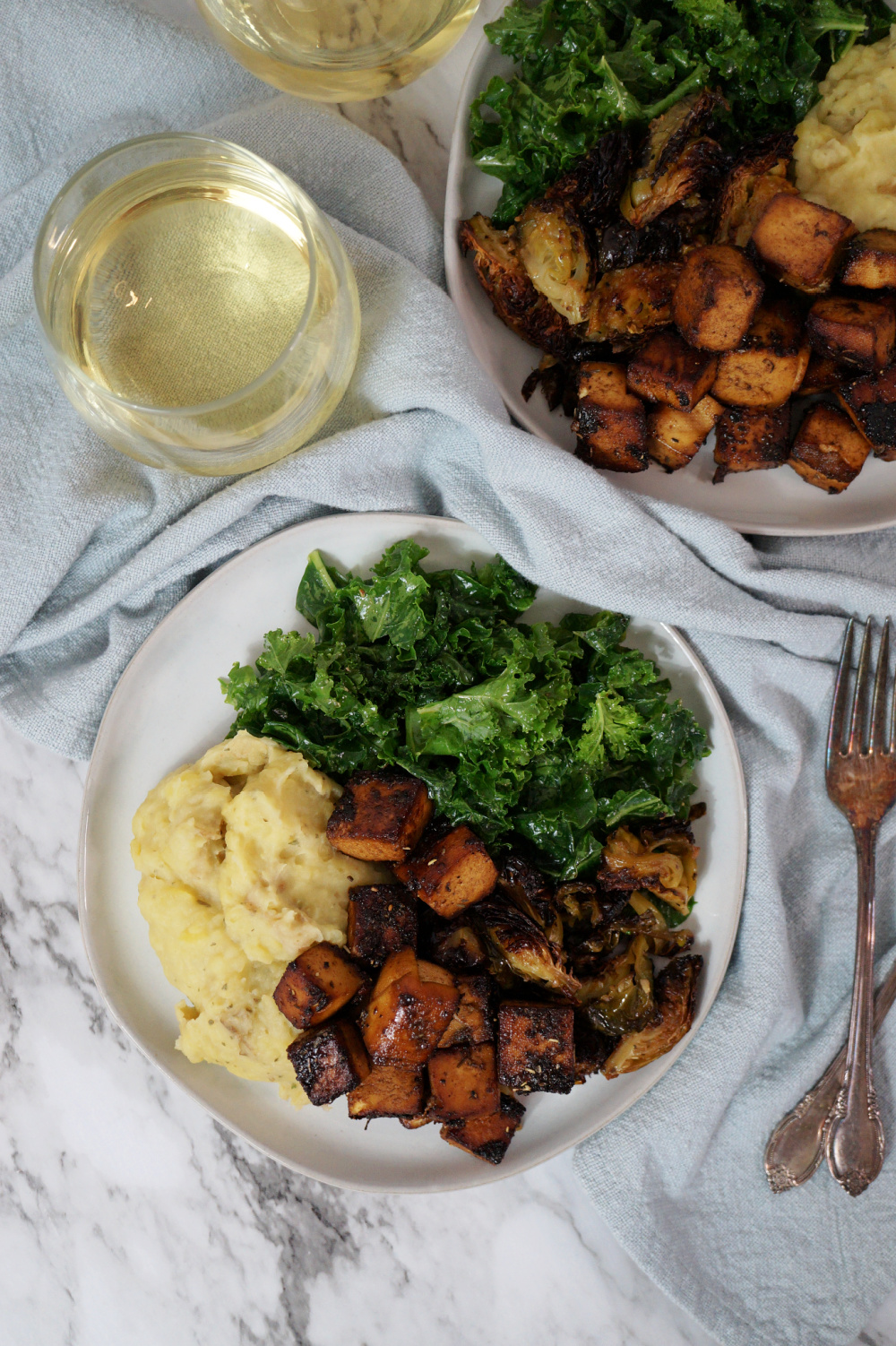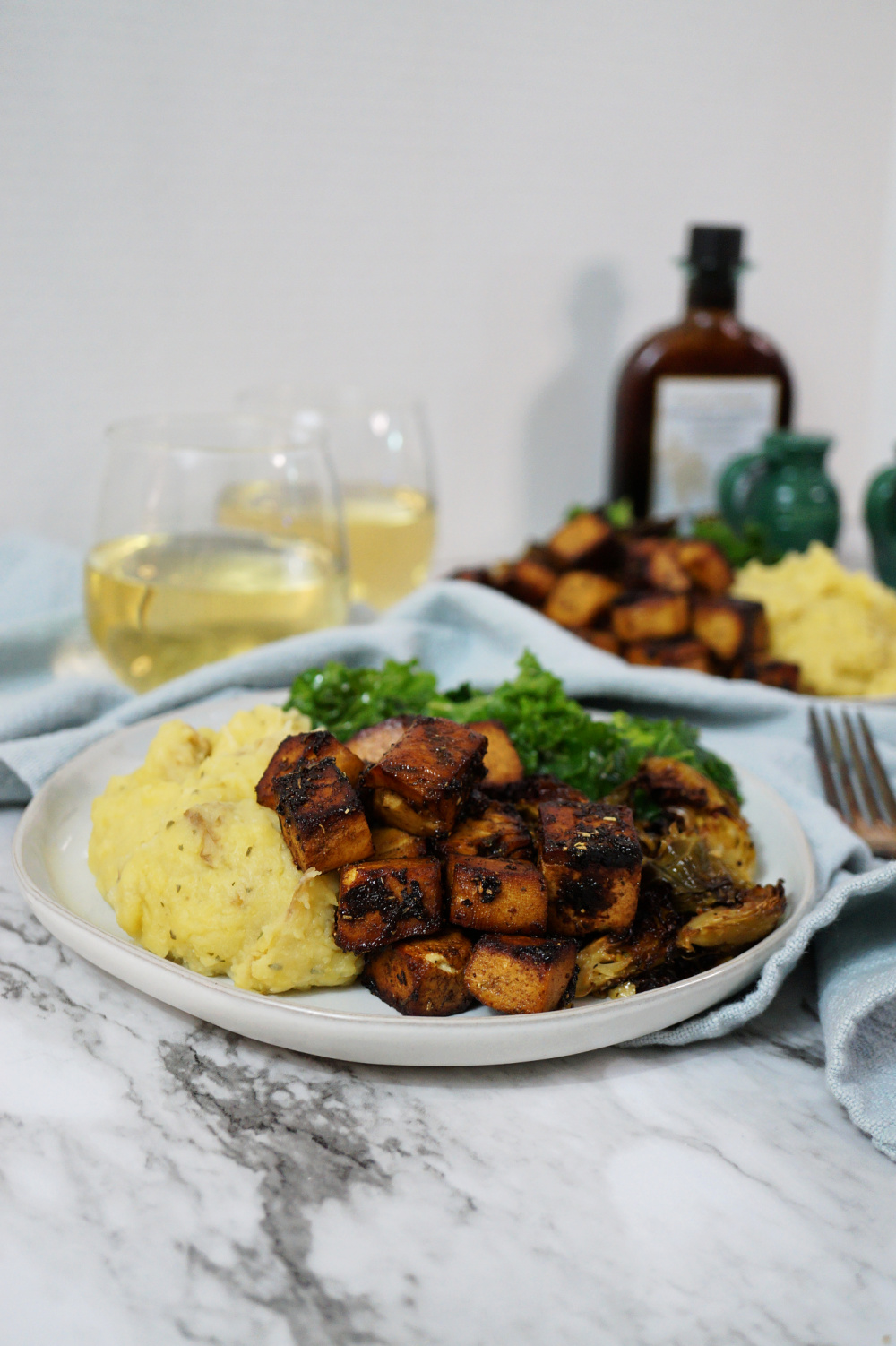 How do I eat this balsamic herb baked tofu?
Basically - use it any place you would use an animal protein such as grilled chicken!
As a main dish - here, I paired it with mashed potatoes, kale salad, and roasted Brussels sprouts. You can combine it with any of your favorite veggies!
On salad - craving an Italian-inspired salad with grilled chicken? Replace the bird with these tasty tofu cubes, and pile on cherry tomatoes, olives, artichokes, and other favorite toppings over lettuce.
In a Buddha bowl - serve this balsamic herb baked tofu in a big bowl with some quinoa, greens, roasted broccoli, sweet potatoes, maybe some sliced avocado... the possibilities are endless!
Over pasta - boost the protein content of your pasta dish (and add extra flavor) by tossing it with this balsamic tofu. This would be delicious over a pesto pasta, a classic marinara, or even a rich Alfredo. It would also be amazing in pasta salad, just make sure the pieces aren't too big!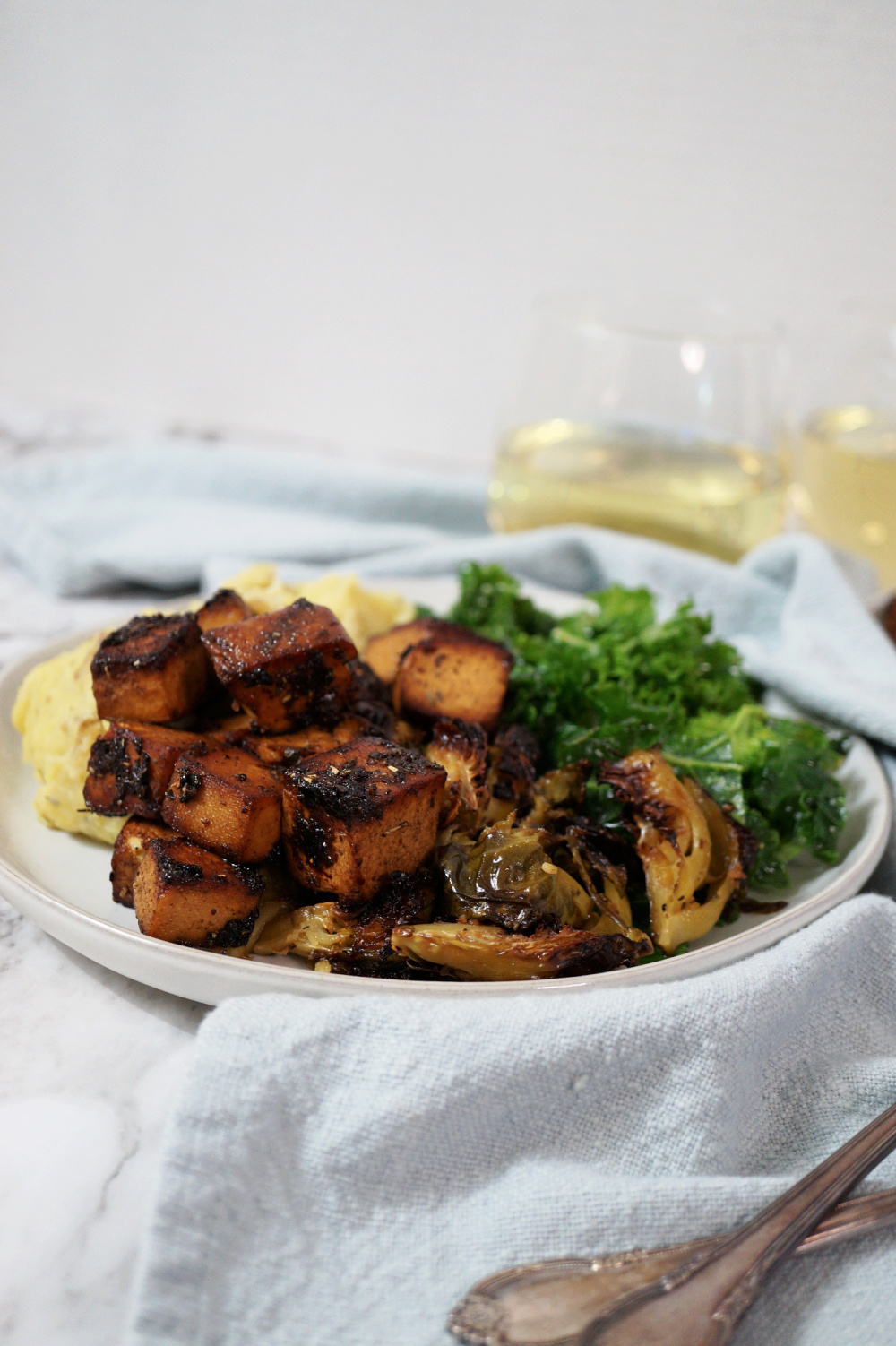 I hope you guys will give this balsamic herb baked tofu a try! It is so easy and one of my favorite ways to enjoy tofu. It may be simple, but this tofu packs so much flavor and it's super versatile. Let me know what you end up pairing it with!
Looking for more favorite tofu recipes?
balsamic herb baked tofu
This Balsamic Herb Baked Tofu is simple, delicious, and versatile! It comes together in just 30 minutes and pairs perfectly with all your favorite sides!
Author:
Valentina | The Baking Fairy
Ingredients
12.5 oz package of extra firm tofu
3 tablespoon olive oil
3 tablespoon balsamic vinegar
1 teaspoon Italian herb blend
½ teaspoon garlic powder
1 teaspoon salt
½ teaspoon black pepper
Instructions
Preheat your oven to 450F and line a baking sheet with parchment paper or a silicone liner.
Drain your tofu from excess water and wrap it in 2-3 layers of paper towels (you can also use a clean kitchen towel) and place in a plate. Top with a second plate or a cutting board, and place a couple of cookbooks or another heavy object. This will help press out any excess moisture. Set tofu aside for about 15 minutes.
While the oven preheats and the tofu presses, prepare the sauce.
In a large bowl, whisk together the olive oil, balsamic vinegar, Italian herbs, garlic powder, salt, and pepper.
When the tofu is done pressing, unwrap it and place it on a cutting board. Cut it into small cubes of equal size, and toss it into the marinade bowl. Gently mix to combine.
Pour the tofu out onto your prepared baking sheet, and bake for 15 minutes. Tofu will be crisp and caramelized. Serve immediately!
*Disclosure: I am part of the Amazon Associates Program, and there may be affiliate links on this page. If you buy anything through my website, I will receive a small percentage of the profit at no extra cost to you. Thank you for supporting my blog!*