Change up your weeknight dinners with this tasty Honey Mustard Tofu Sheetpan Meal! Sweet & savory tofu and roasted veggies are cooked all in one pan for easy meal prep and cleanup!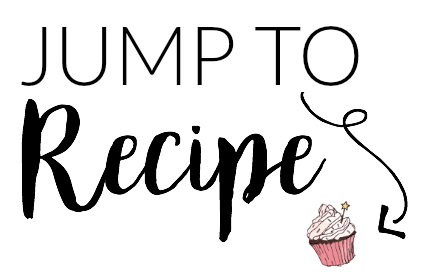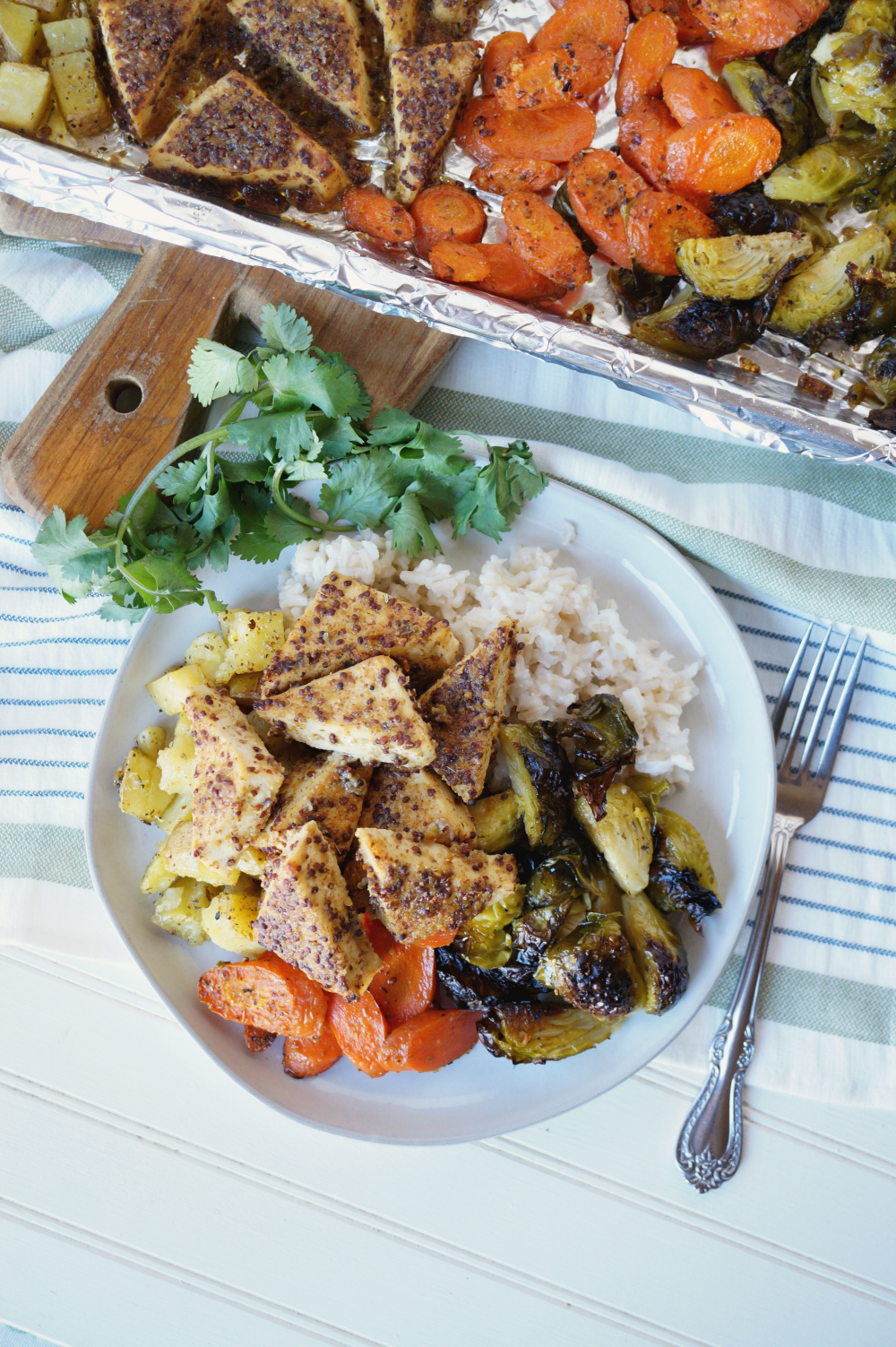 Hi friends and happy Friday! I am back again today with another savory recipe for you! I'm on quite a roll, first with that spinach artichoke quiche, then my go-to kale salad, and now this! A big goal for me for this new year has been to share more everyday/dinner recipes with you, and I have been making lots of sheet-pan meals on busy nights. Honey mustard chicken used to be my favorite, so I figured, why not use that flavor combination for tofu? This Honey Mustard Tofu Sheetpan Meal features crispy tofu triangles, potatoes, carrots, and brussel sprouts, all roasted to perfection. And it's so easy, too!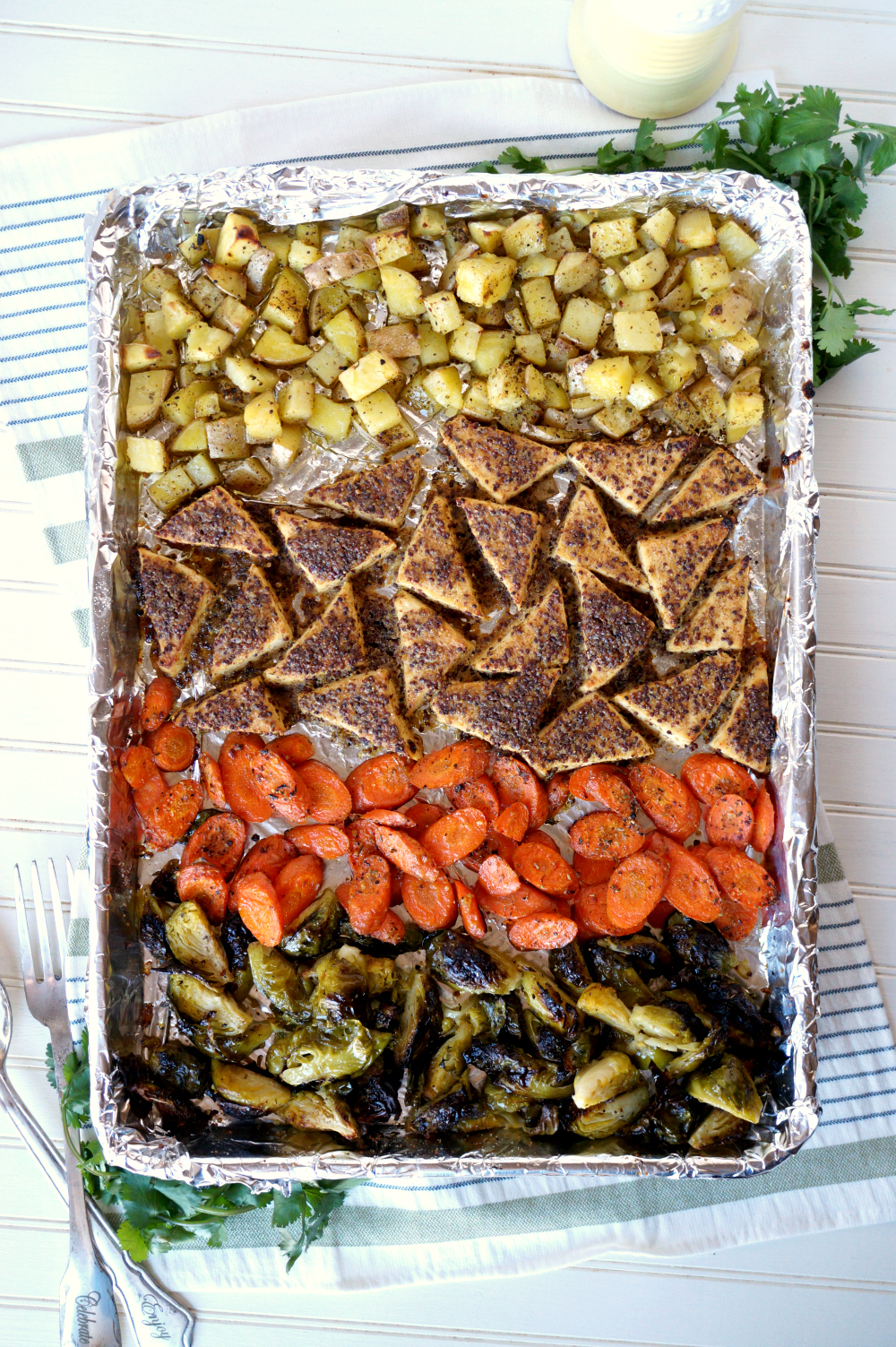 Seriously though, sheetpan dinners have been my saving grace lately. Don't know what to make? Just raid the fridge or freezer, throw it all in a pan, and put it in the oven for a while. I've done it with really every vegetable at this point and everything always comes out so good! The roasted veggies are great as a side dish, but add some tofu and you've got a whole meal. Serve over rice or quinoa if you're feeling really fancy, with salad, or even add some hummus for dipping or a tahini drizzle. It's so versatile!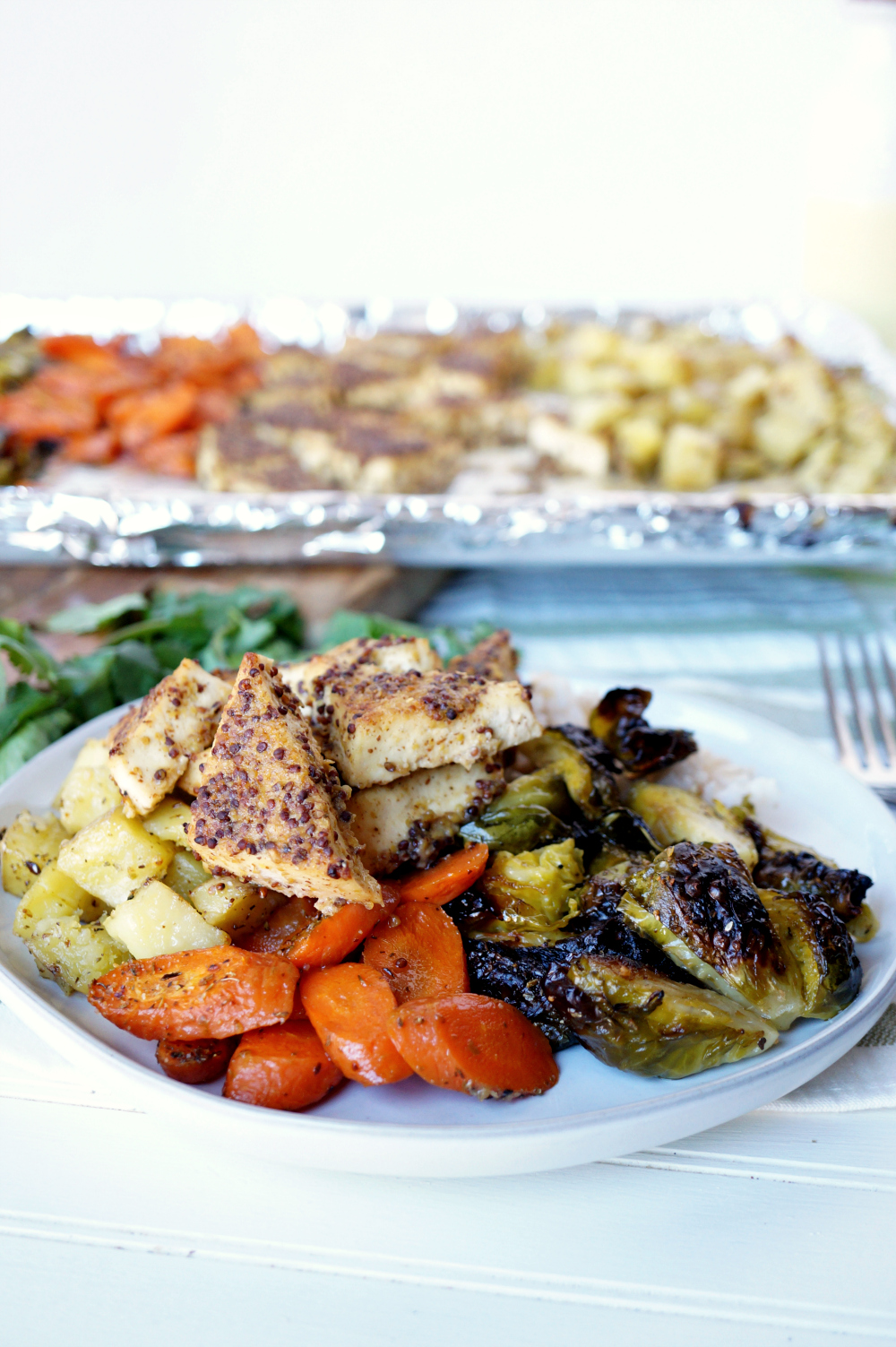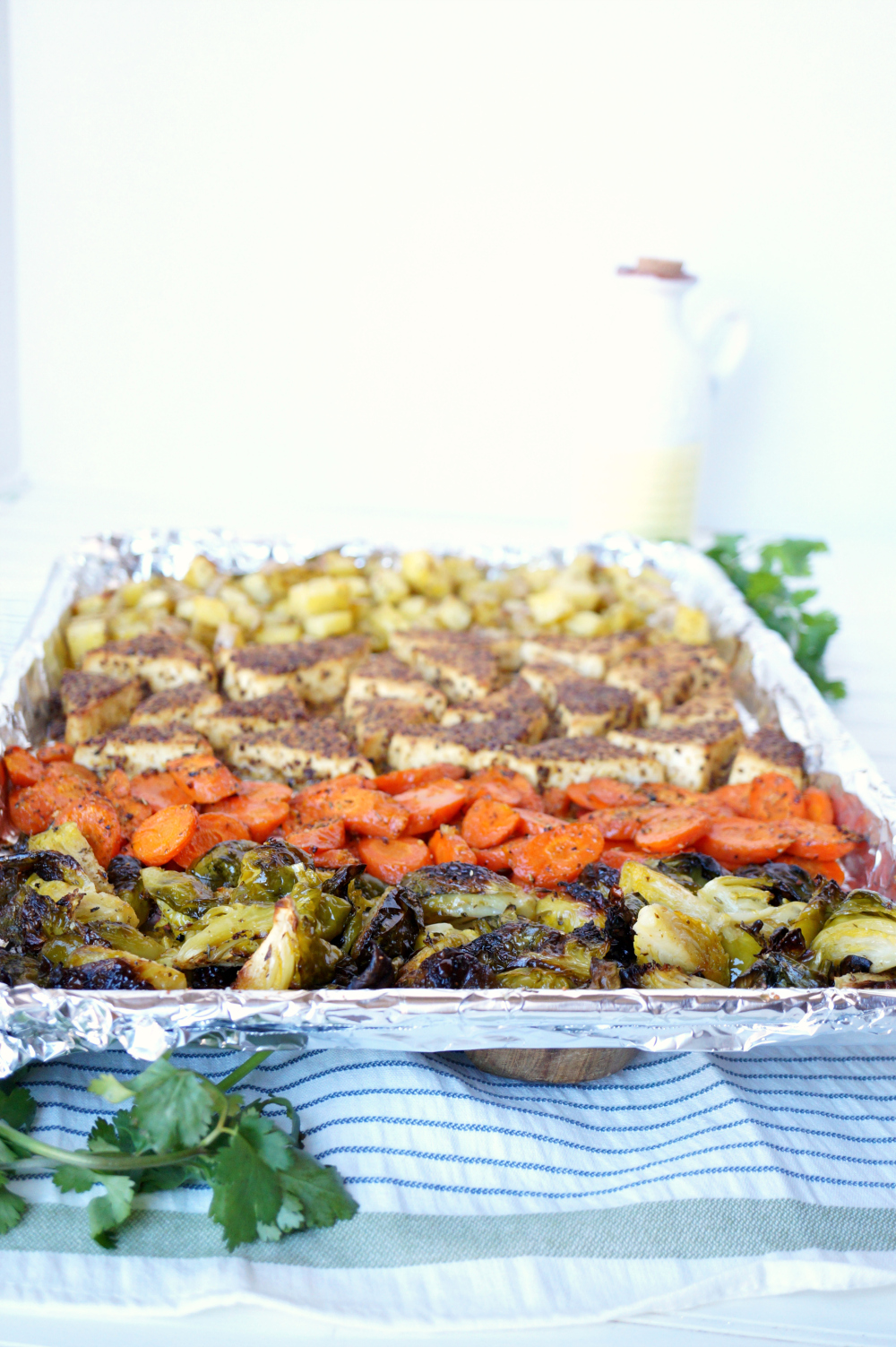 Soooo it is OFFICIALLY WEDDING MONTH Y'ALL! Aaaaahh. Someone hold me. I can't believe the big day is almost here... I kinda feel like I am losing my mind. Is being engaged fun? Yes. Is getting married fun? Sure. Is planning a wedding fun? It sure is NOT, let me tell you that. Thankfully, we are down to the homestretch and just have small nitpicky things left to do and decide and buy. If I give you one singular piece of advice on wedding planning, let it be this - hire a COORDINATOR! Even just a day-of coordinator, but a 6-week/month-of coordinator would be even better. My venue comes with a day-of, but she can also be hired to help like, from the time you book the venue, so that is what I did. And I am SO thankful for her, especially right now! She's the one that has been emailing all the vendors, making sure they have all their stuff together and the correct headcount etc, and I couldn't be happier I don't have to deal with that mess. When I first got engaged, I was all about the DIY... now, I would literally pay anyone to do anything for me. I'm. OVER. IT.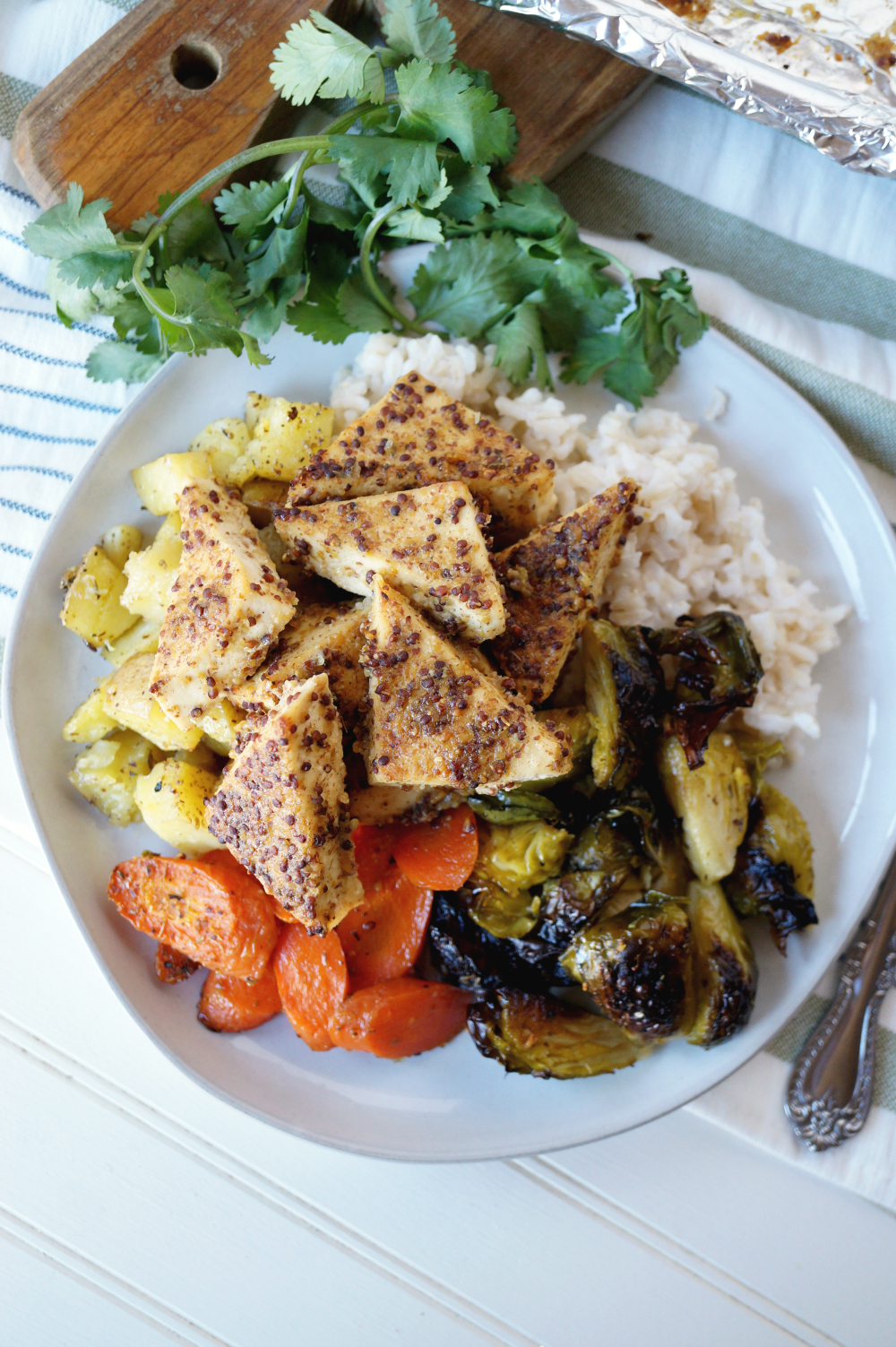 I hope you guys will give this honey mustard tofu sheetpan meal a try! It really is one of my favorites, and I have been LOVING cooking tofu with flavor profiles that are not Asian-inspired. It's fun to change it up!
Looking for more sheetpan meals? Check out my vegan sausage sheetpan meal with sweet potato & kale, roasted ratatouille sheetpan meal, and vegan sheetpan tofu fajitas!

honey mustard tofu sheetpan meal
Change up your weeknight dinners with this tasty Honey Mustard Tofu Sheetpan Meal! Sweet & savory tofu and roasted veggies are cooked all in one pan for easy meal prep and cleanup!
Author:
Valentina | The Baking Fairy
Ingredients
*for the tofu*
14oz block extra firm tofu
2 tablespoon spicy brown mustard
2 tablespoon whole grain mustard
1 tablespoon white wine
1 tablespoon agave or honey
½ teaspoon garlic powder
½ teaspoon salt
*for the vegetables*
2 medium gold potatoes, diced small
2-3 carrots, sliced
2 cups fresh brussel sprouts, cut into quarters
2-3 tablespoon olive oil
1 tablespoon Italian seasoning
Instructions
First, prepare the tofu by pressing all the excess water out with paper towels.
Preheat oven to 425F, and line a baking sheet with foil or a silicone liner.
In a small bowl, whisk together the mustards, agave/honey, garlic powder, and white wine for the honey mustard sauce.
Cut the tofu into triangles, and dip each piece into the honey mustard sauce. Place on prepared sheet pan, and pour remaining sauce on top.
Wash and cut all the vegetables, and place on sheet pan. Drizzle with olive oil and sprinkle on the Italian seasoning.
Bake in preheated oven for 30-40 minutes, until vegetables are tender and golden brown.
Serve immediately over rice, quinoa, or salad. Enjoy!