This simple, savory Creamy Black Bean Soup is packed with healthy veggies and spices perfect to warm you up from the inside out! Top it with crispy tortilla strips, avocado, and a squeeze of fresh lime for the perfect finishing touch.
Hi frans and happy Tuesday! I am so pumped to be sharing this scrumptious recipe for Creamy Vegan Black Bean Soup today! I have built up quite the repertoire of soup over the years, from creamy tomato soup, to minestrone, broccoli cheese soup, and most recently Thai carrot soup! Black bean soup was one that had somehow never really landed on my radar, as there are always more exciting options on a Tex-Mex menu than the infamous black bean soup. However, this week we are reaching record cold temps and I figured a thick, creamy, spicy bowl of soup would hit the spot!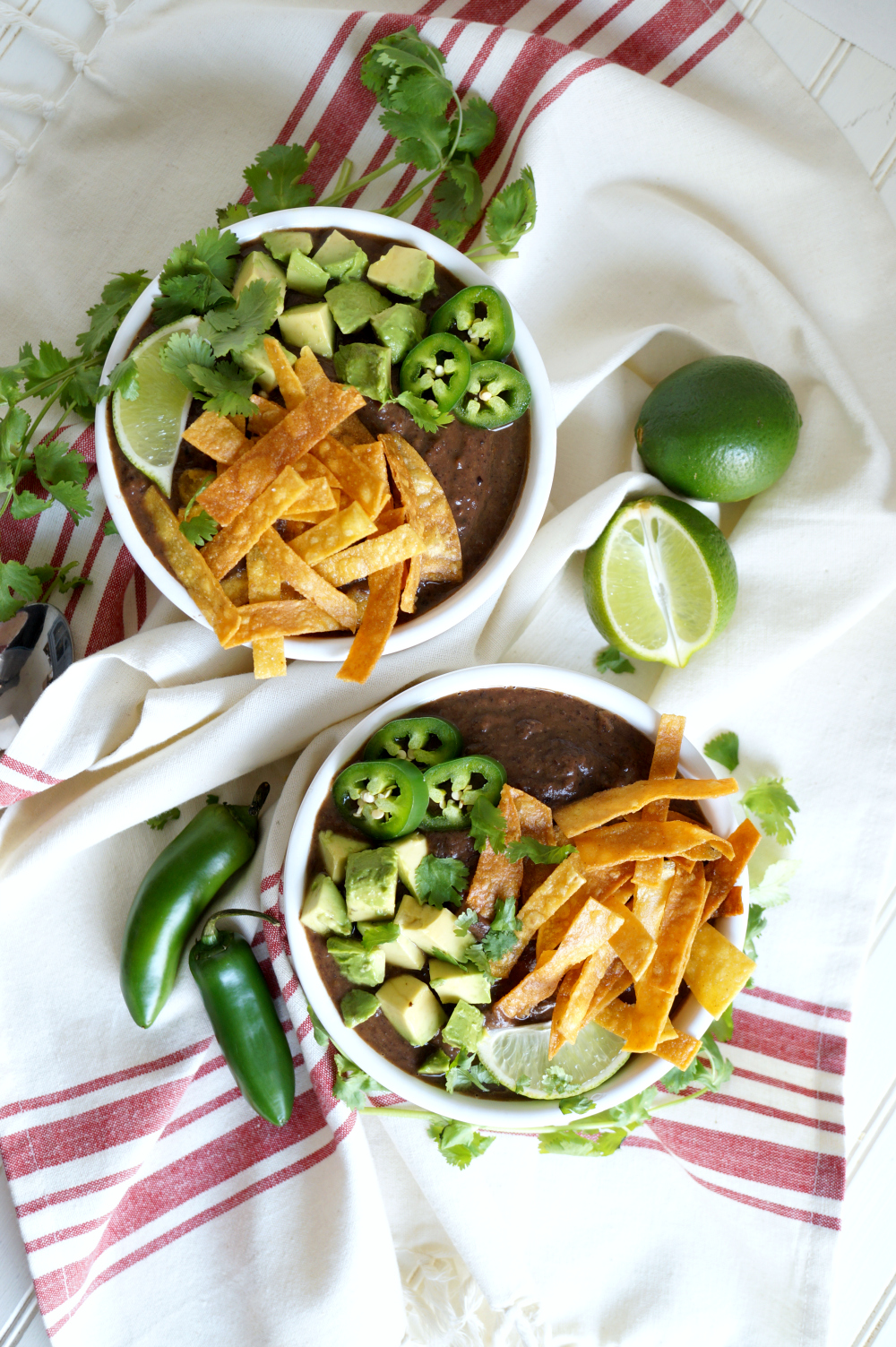 This creamy vegan black bean soup starts as most of my soups, with the Italian trinity soffritto. This combo of onions, carrots, and celery is such a flavor powerhouse and adds so much savory depth and umami to any dish. I also added in jalapeños, garlic, and some tomato to round out my flavors, as well as lots of black beans! I used canned beans because I feel like they're the most convenient thing ever, but feel free to use dry beans (after soaking) instead if that floats your boat!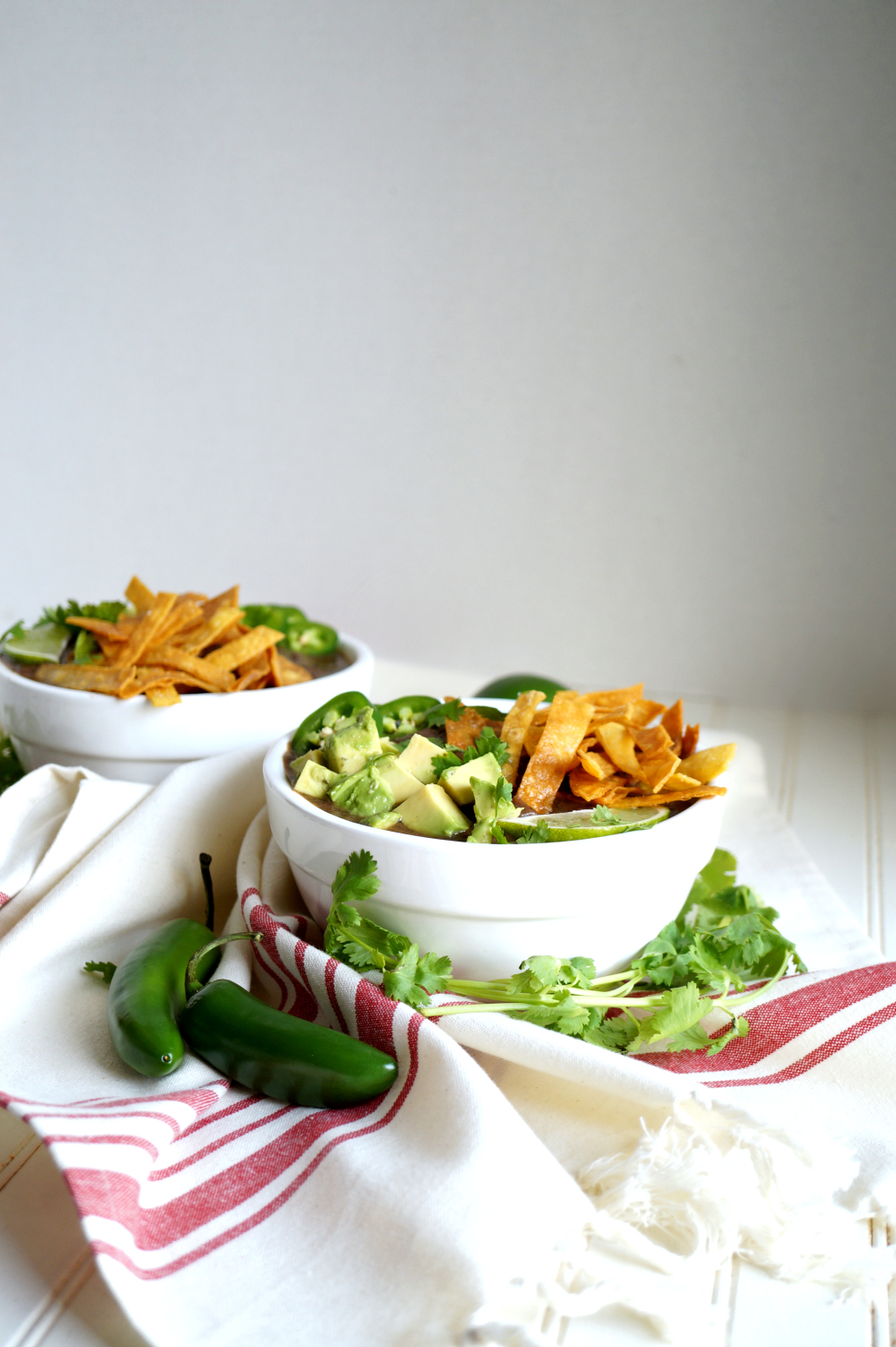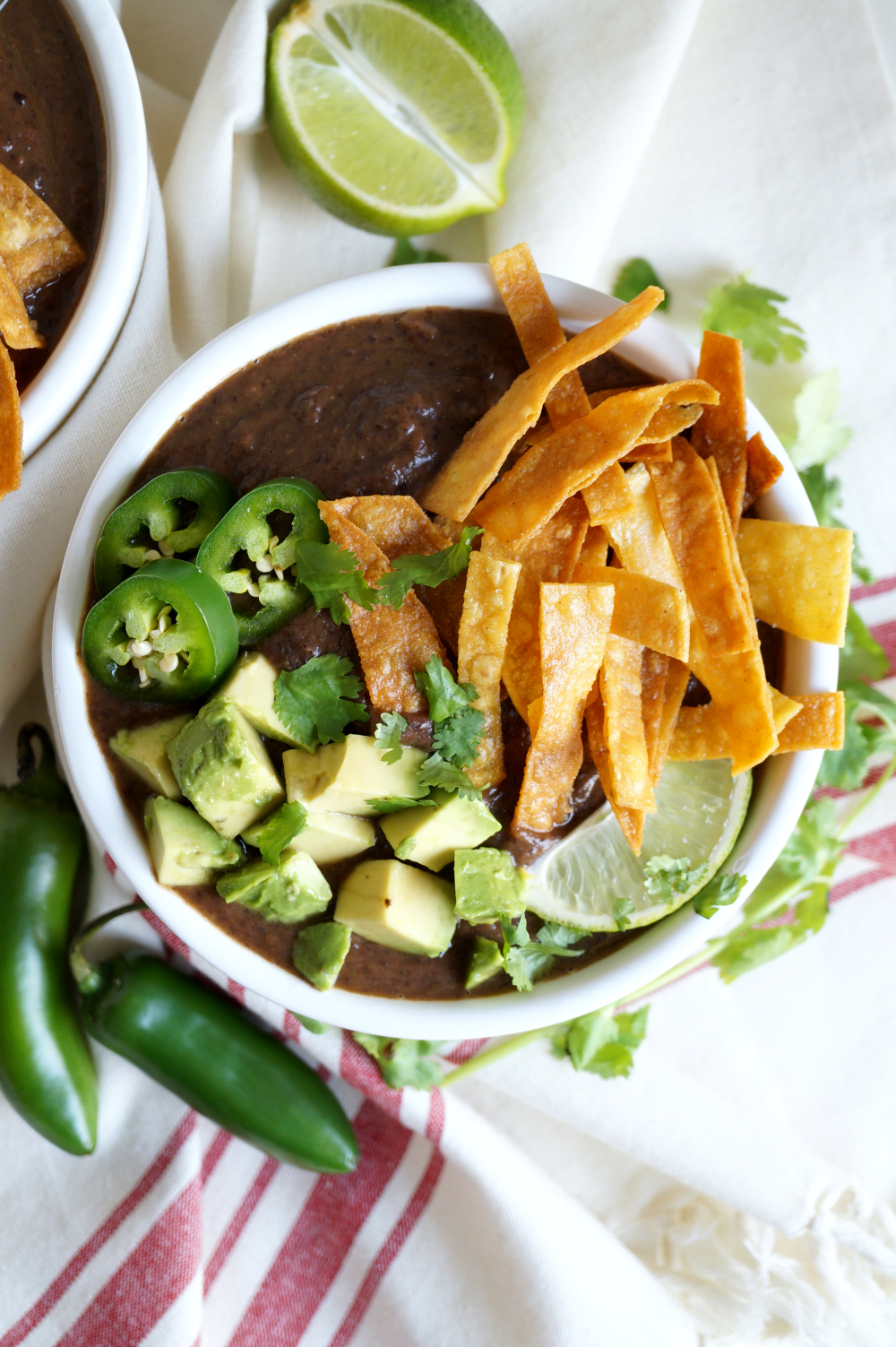 This black bean soup may be delicious all by itself, but the toppings are definitely the best part! They're my favorite way to add extra flavor and texture to any soup. I added on some crispy tortilla strips, creamy avocado, sliced jalapeño, fresh cilantro, and a squeeze of fresh lime. Altogether, the mix of fresh and spicy, crunchy and creamy, is seriously irresistible! My fiancé also added some cheese on his which would be yummy too. He said he thought meat would be good in here which - LOL. But I will agree and say some soy chorizo would add some good flavor if you so wish!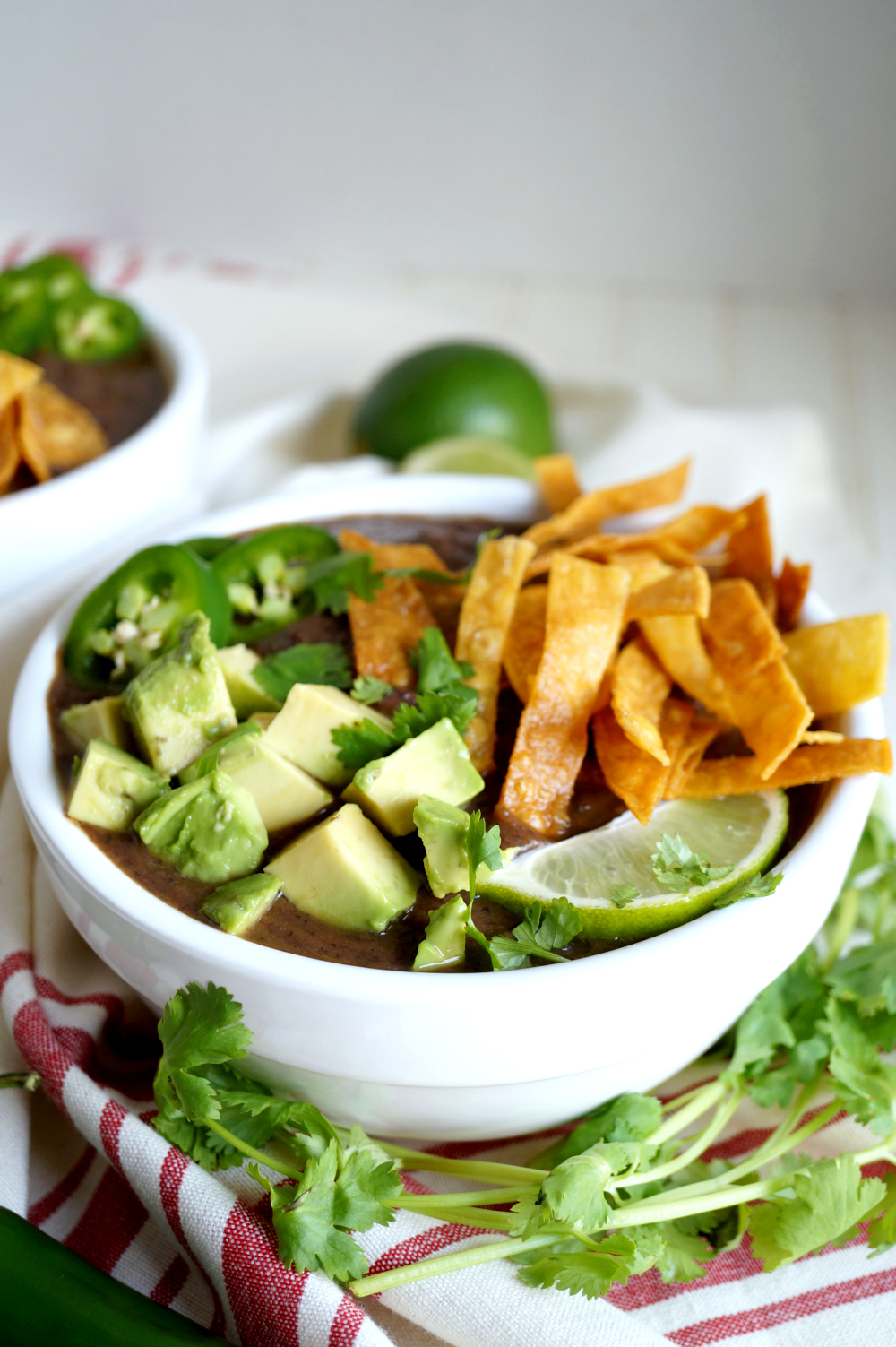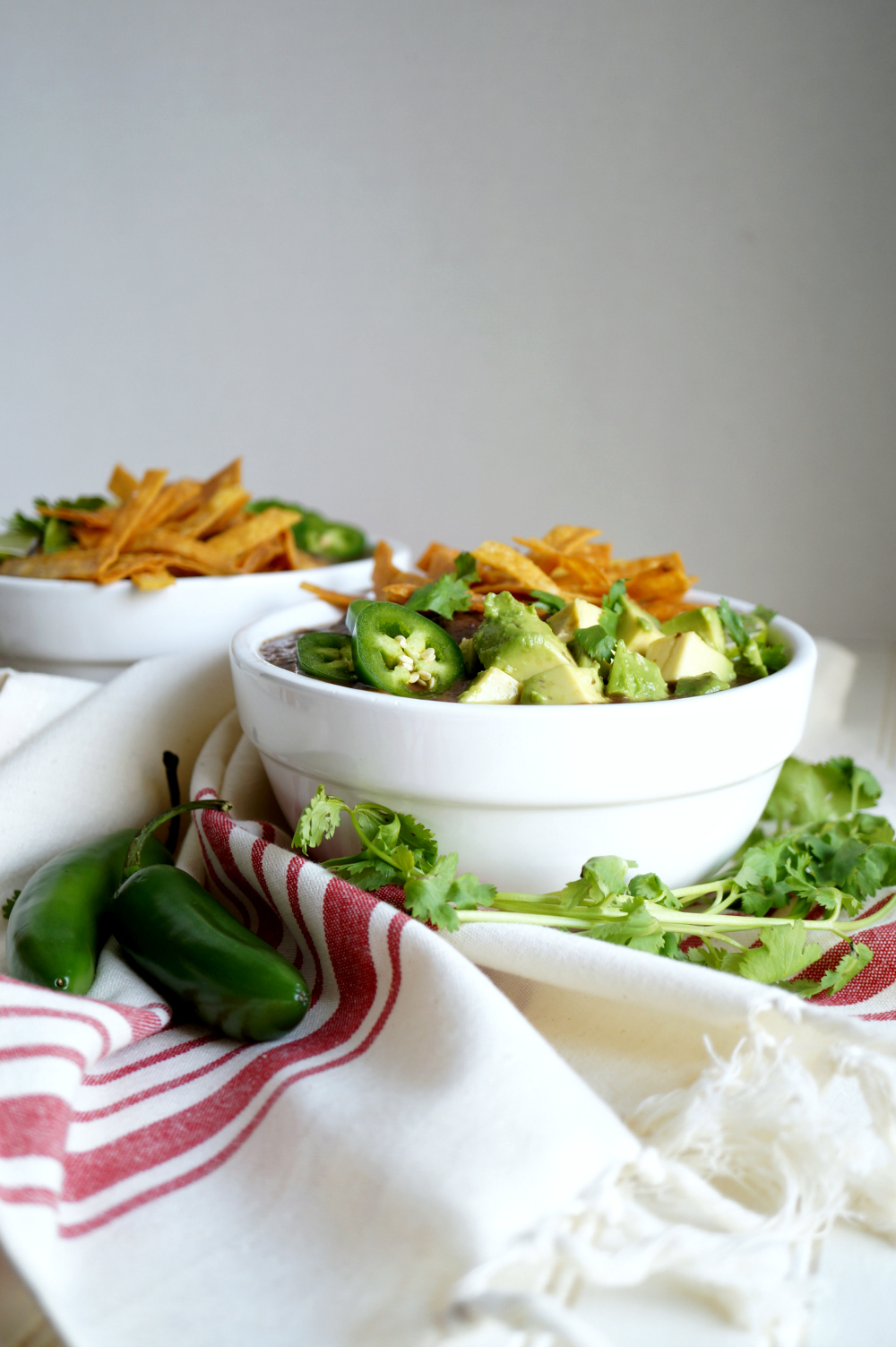 I hope you guys give this creamy vegan black bean soup a try! You won't believe how easy it is to make, and it packs so much flavor! If you've got some basic veggies and canned black beans in your pantry, you're all set. It's the perfect dinner for a chilly night!

Looking for more vegan tex-mex recipes? Check out my Vegan Breakfast Enchiladas, Vegan Sofritas Tacos, Vegan Cheesy "Pork" Nachos, Jackfruit & Potato Taquitos, and Vegan Chorizo Taco Chili!

creamy vegan black bean soup
This simple, savory Creamy Black Bean Soup is packed with healthy veggies and spices perfect to warm you up from the inside out!
Author:
Valentina | The Baking Fairy
Ingredients
½ white onion, chopped
2 medium carrots, chopped
2 stalks celery, chopped
4 cloves garlic, crushed
2 medium tomatoes, diced
1-2 jalapeños, finely chopped
2 tablespoon olive oil
3 cans black beans
4 cups vegetable broth (or water with veggie bouillon)
1 teaspoon cumin
½ teaspoon smoked paprika
2 teaspoon garlic powder
2 teaspoon onion powder
½ teaspoon Mexican oregano
2-3 teaspoon salt, to taste
1-2 teaspoon crushed red pepper flakes, to taste
to serve: tortilla strips, avocado, jalapeno slices, fresh cilantro, lime wedges
Instructions
In a large pot, heat up the olive oil over medium-high heat.
Add in all of the chopped veggies and spices, and saute until fragrant and soft, about 6-10 minutes.
Rinse and drain the black beans, and add to the pot. Add in the vegetable broth or water with bouillon.
Cover the pot, lower to a simmer, and cook until all veggies are soft and cooked through. Add more salt or spices as needed.
To serve, pour soup into a blender or use an immersion blender to process until smooth and creamy.
Top with diced avocado, crispy tortilla strips, fresh cilantro, jalapeno slices, and a squeeze of lime. Enjoy!