If you've been curious about cooking with jackfruit, let this recipe enlighten you! These vegan Jackfruit & Potato Taquitos are filled with a savory mixture reminiscent of pulled pork... but they're totally plant-based!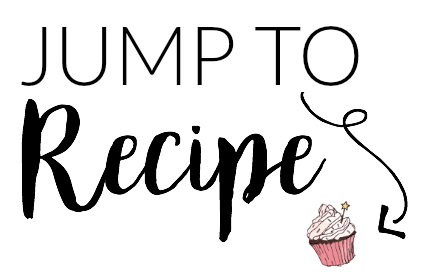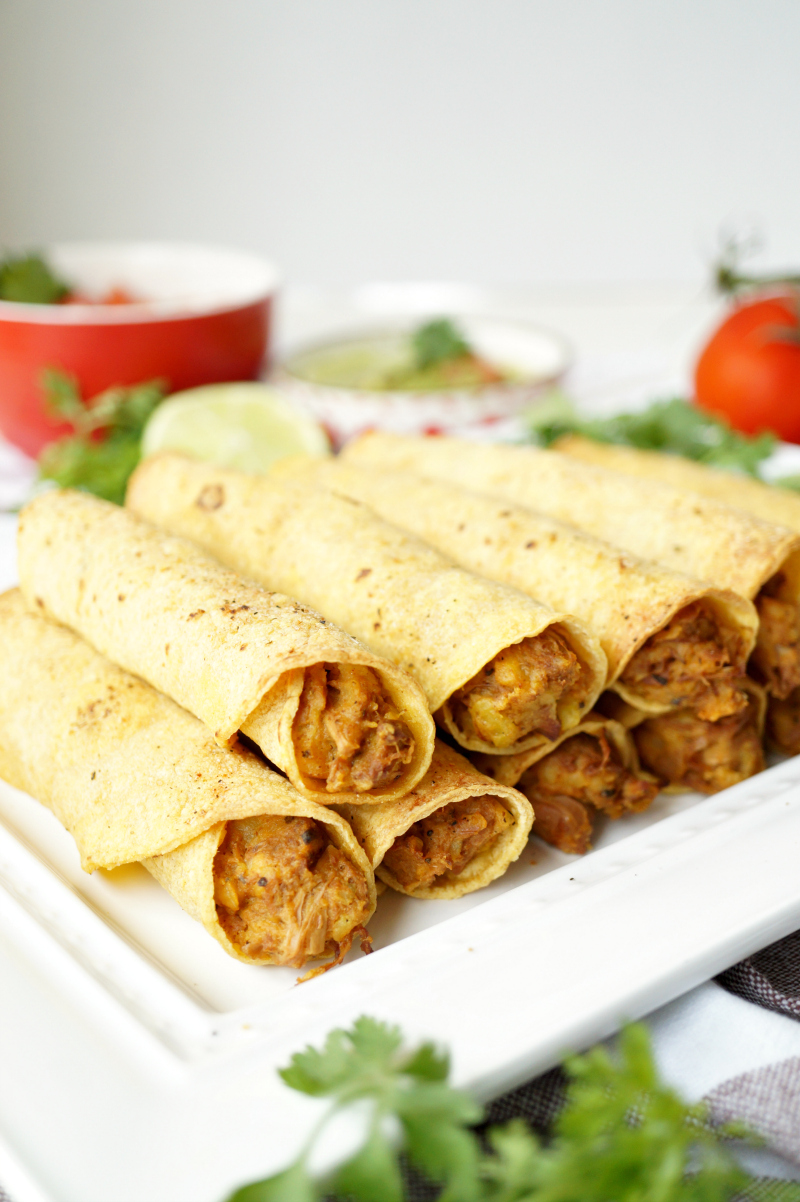 Happy happy Tuesday, lovely readers! I am happy to announce I am officially done with the big momma, chief beast of all PA school courses - clinical medicine! I gave my last exam yesterday so let's give a big ol' YIPPEE for that! Now I can marginally relax for like 5 minutes and share this recipe with y'all as the semester wraps up. Today, I am sharing these Vegan Jackfruit & Potato Taquitos which are absolutely going to blow your mind! Let's talk about em. You're gonna fall in love.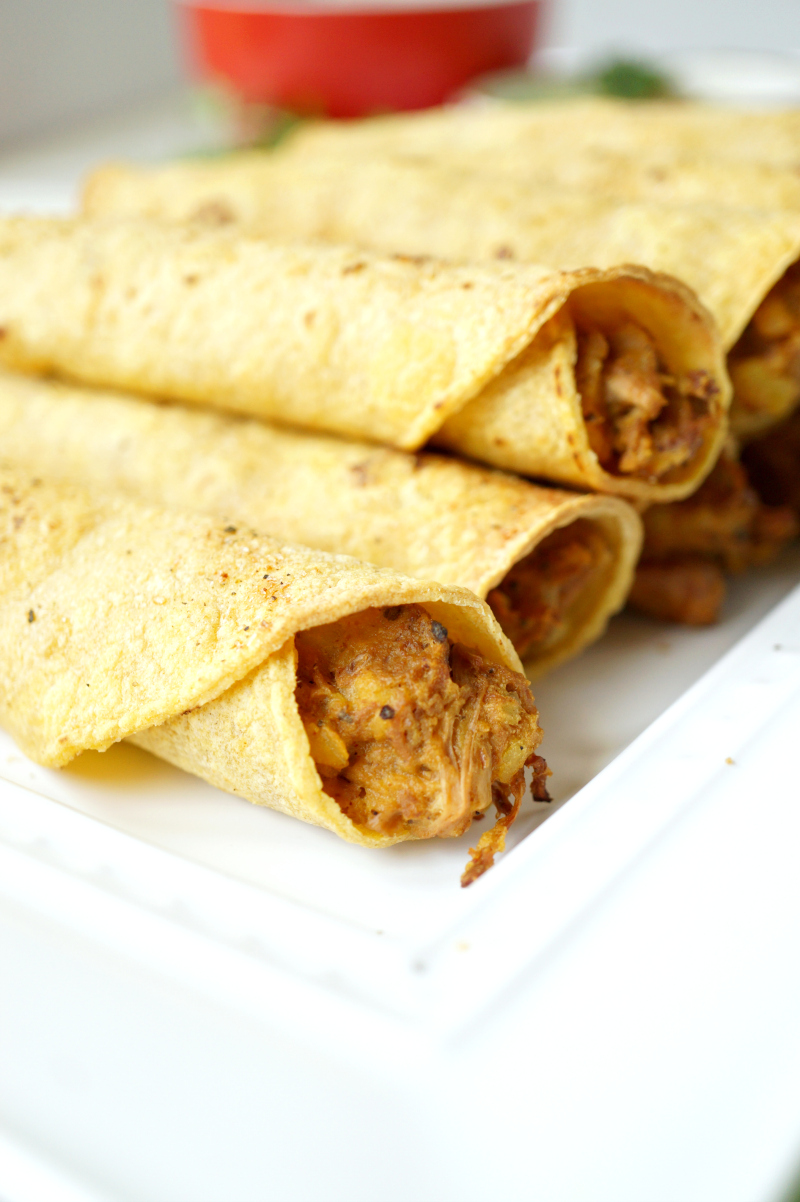 In case you're currently giving me a confused stare like one of my good friends did when I said the word "jackfruit"... let me explain. So jackfruit is the new darling of the vegan world and it has amazed everyone  with its ability to mimic the taste and texture of pulled pork. This stuff is magic! I bought it in a can, rinsed it, and  cooked it in my Crockpot for a few hours with some spices and goodies and it essentially turned into pork. I mixed it with some smashed potatoes to make the filling creamy and delicious, wrapped them up in corn tortillas and... there ya have it! Fake pork taquitos! These are honestly better than the real thing when dipped into guac or salsa.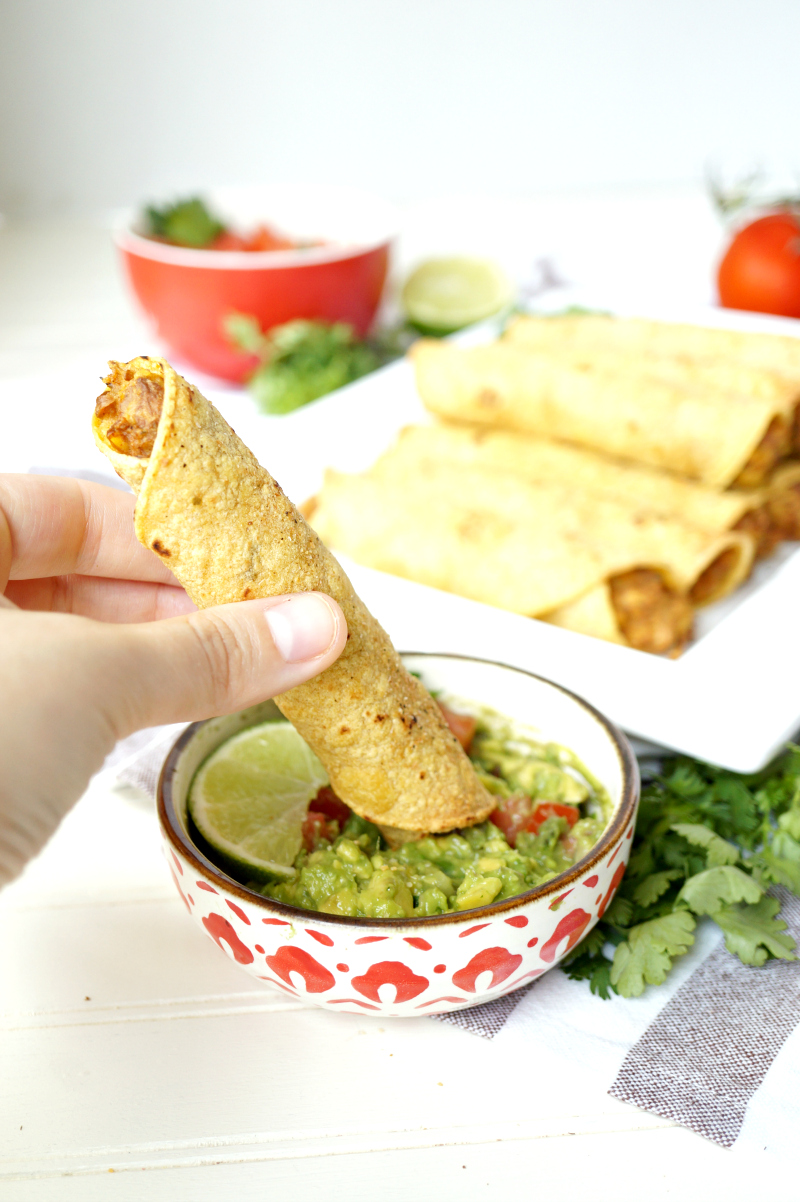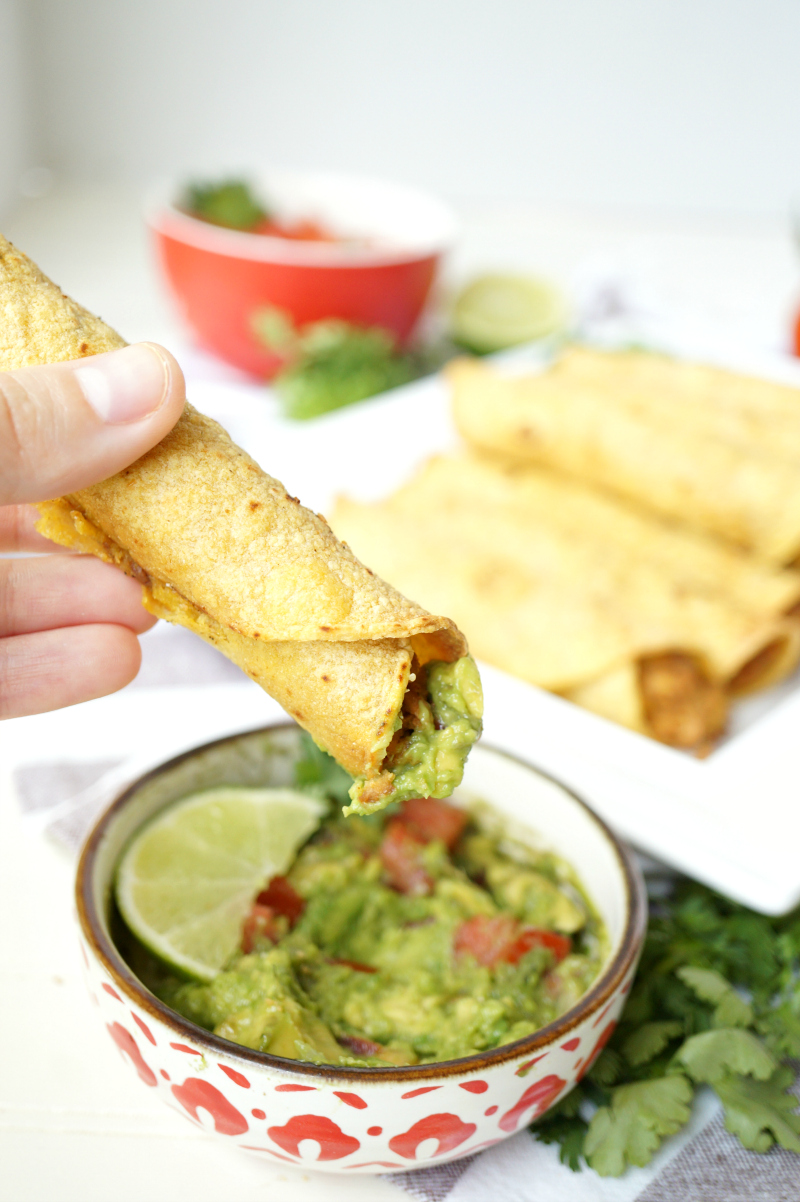 I will say that a small caveat is that canned jackfruit is a little bit sour, with a bit of almost pickled flavor. Which can definitely be used to your advantage, but you just have to take it into account so you don't add too many acidic flavors into your marinade. 🙂 From what I've heard, fresh jackfruit is very, very sweet so honestly I don't know which one would work best in here! I used canned without a problem, but if I can ever get my hands on the real thing, I think it would be a fun variant to try.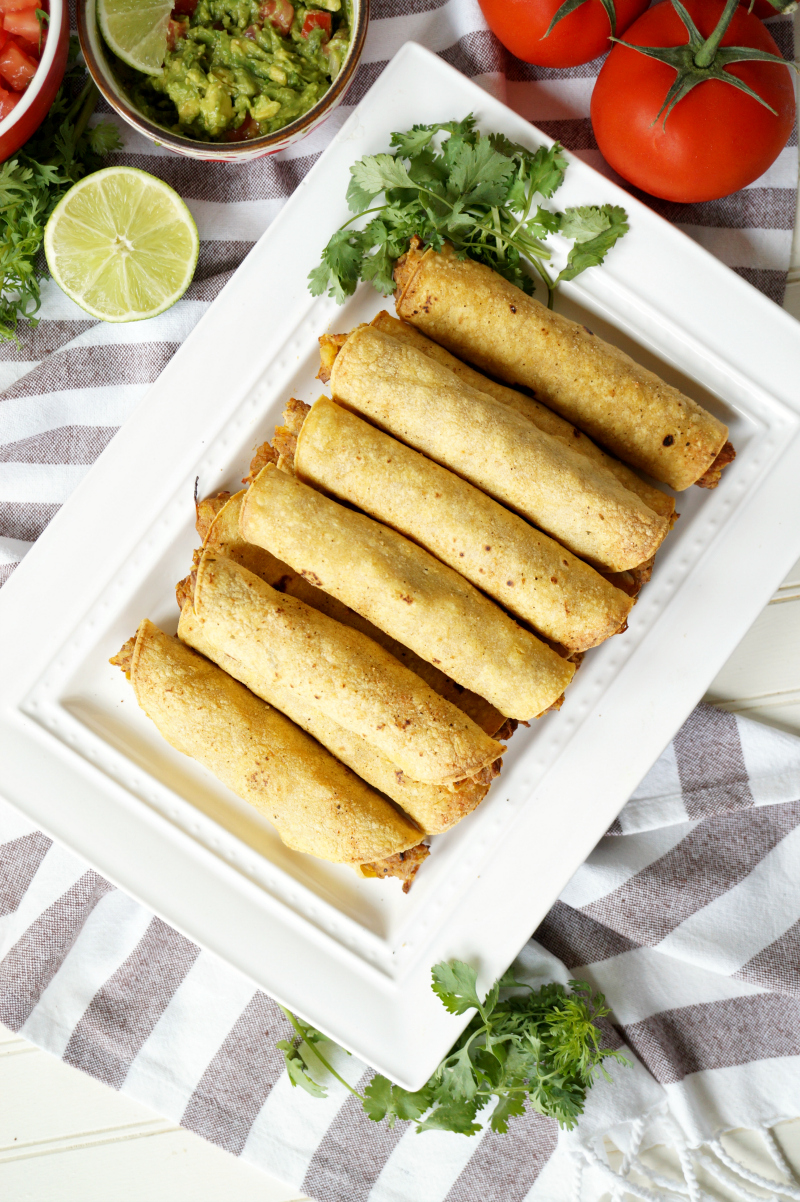 It's been a couple of weeks since our vegetarian-centered Fad Diet Friday, so I think it's about time for another one! 🙂 Christine will be returning this Friday to discuss some specifics about a vegan diet, which is why I decided to share these vegan taquitos today to tie into the theme. If you have questions you want her to answer, hit me up and leave a comment on this post or any social media channel you prefer 😉 I look forward to having y'all back on Friday!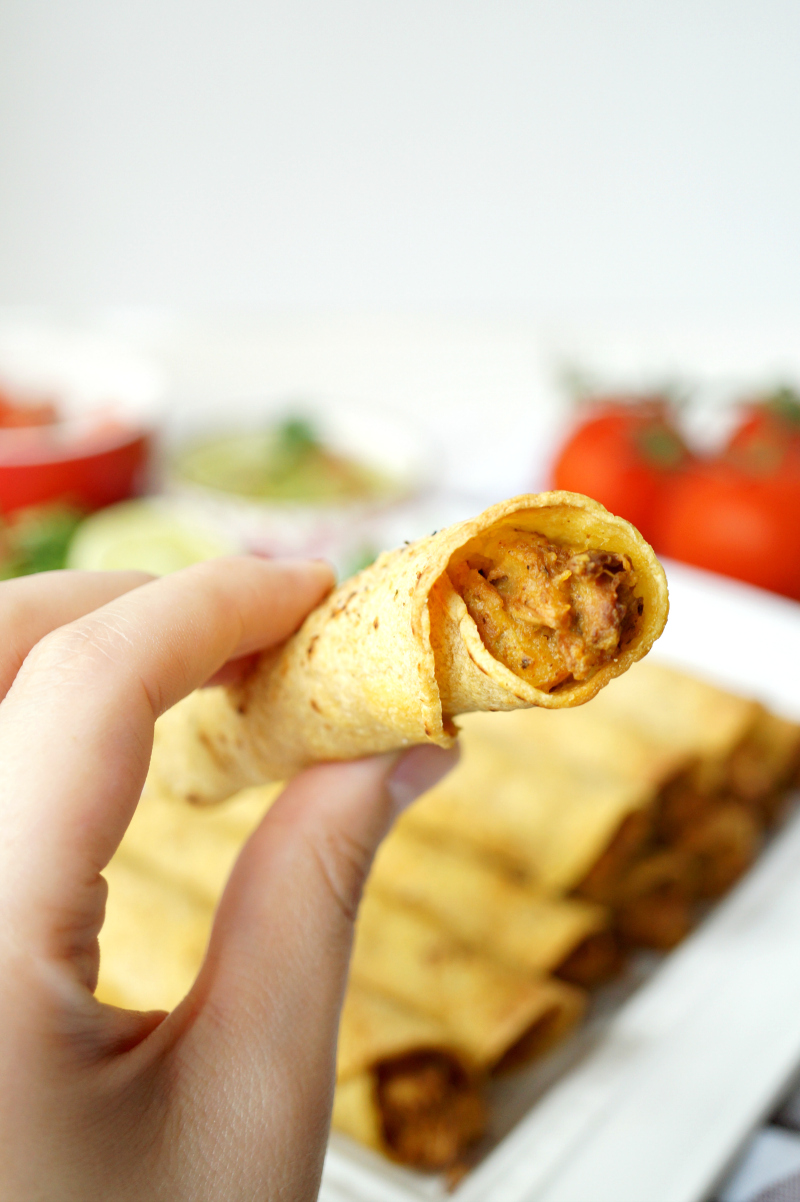 If you want more Tex-Mex veggie recipes, you can check out my Sofritas Tacos, Fajita Enchiladas with Vegan Cheese Sauce, and Mexican Stuffed Peppers! Happy cooking! 🙂
vegan jackfruit & potato taquitos
Author:
Valentina | The Baking Fairy
Ingredients
12 small corn tortillas
1 14oz can jackfruit
juice of ½ lime
¼ cup chopped onion
3 garlic cloves, chopped
½ tablespoon cumin
1 teaspoon garlic powder
½ teaspoon smoked paprika
1 teaspoon salt
1 teaspoon black pepper
1 teaspoon mustard powder
1 tablespoon tomato paste
1 teaspoon cumin
1 teaspoon oregano
2 teaspoon vegan Worcestershire
2-3 small potatoes, peeled and diced (about 1 cup)
¼ cup unsweetened nondairy milk
2-3 tablespoon olive oil
Instructions
First, prepare the jackfruit. Drain the brine from the can and rinse well.
Add the jackfruit to your Crockpot, and mix with the lime juice, onion, garlic, Worcestershire, and all the spices.
Cover, and cook on low 4hrs/high 2hrs until the jackfruit is tender and has soaked up the marinade mix.
Meanwhile, place the potato pieces in a small pot and cover with water. Boil for 10-15 minutes until soft and easily mashed with a fork.
Transfer to a medium bowl, and mash the potatoes with the nondairy milk. Mix in the jackfruit mixture, and add more seasoning as needed.
Preheat oven to 425F and line a baking sheet with parchment or a silicone liner.
Wrap the tortillas in a moist towel, and microwave for 5-10 seconds until warm and pliable. If you have time, I actually prefer toasting the tortillas in a dry, ungreased skillet for about 20-30 seconds on each side until lightly charred and flexible.
Spoon some filling in the center of each taquito, then fold in half and roll tightly. Repeat with all 12.
Place the taquitos on the prepared baking sheet, brush with oil, sprinkle on a little bit of salt, and bake for 13-15 minutes, until golden brown and crisp. Enjoy warm with salsa and guacamole for dipping!
Nutritional Facts (1 taquito)
Calories: 116
Carbohydrates: 19 g
Fat: 4 grams
Protein: 3 grams
*Disclosure: I am part of the Amazon Associates Program, and there may be affiliate links on this page. If you buy anything through my website, I will receive a small percentage of the profit at no extra cost to you. Thank you for supporting my blog!*

SaveSaveSaveSave
SaveSave
SaveSave
SaveSave
SaveSaveSaveSave
SaveSaveSaveSave