Satisfy your cravings for Tex-Mex with these vegetarian Mexican Stuffed Peppers! They're filled with quinoa, beans, and mixed veggies for a wholesome weeknight meal.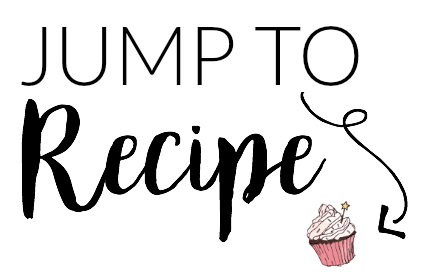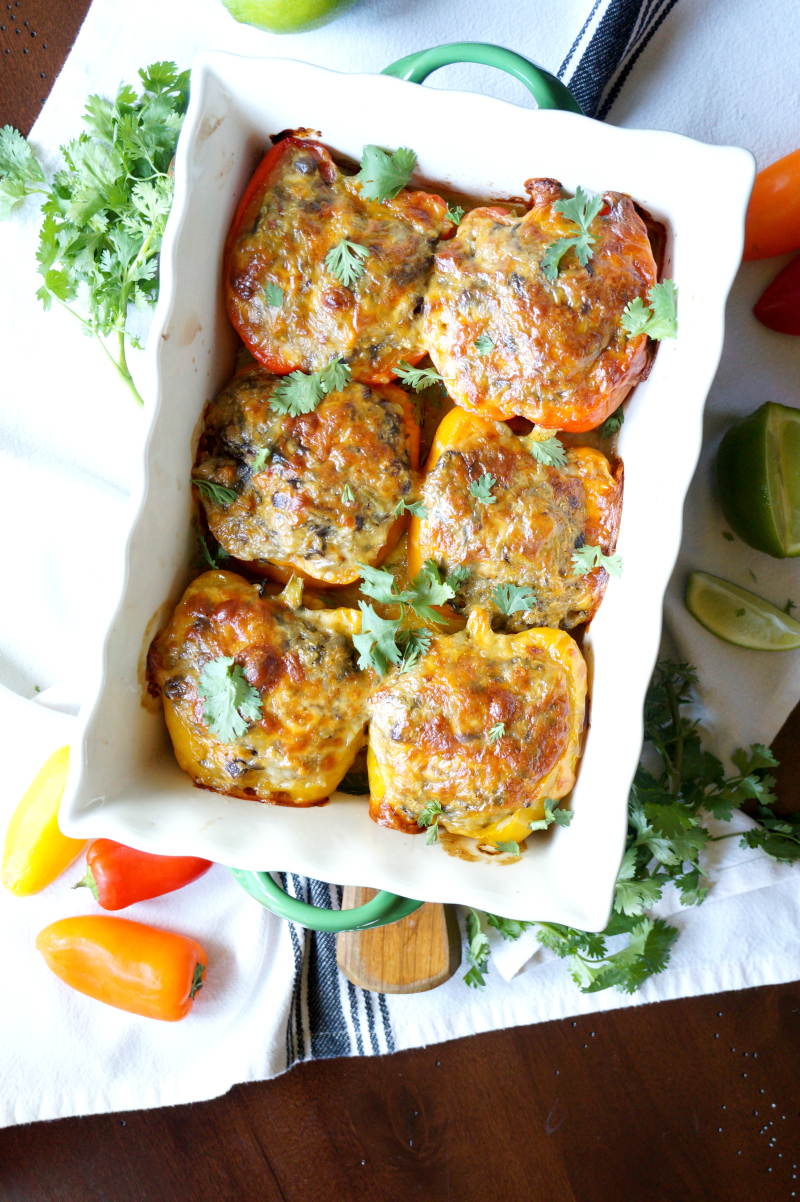 Hello, readers, and happy Thursday! I hope everyone is recovering nicely after the long weekend. I figured after four days of hotdogs and hamburgers and cheesecake, we could all use some veggies today! These Vegetarian Mexican Stuffed Peppers are packed full of quinoa, beans, and kale, but they taste savory and almost indulgent with that gooey, cheesy layer on top. Make these tonight and eat leftovers for lunch! This recipe makes a ton of stuffed peppers, so it's minimal work for max delicious payoff.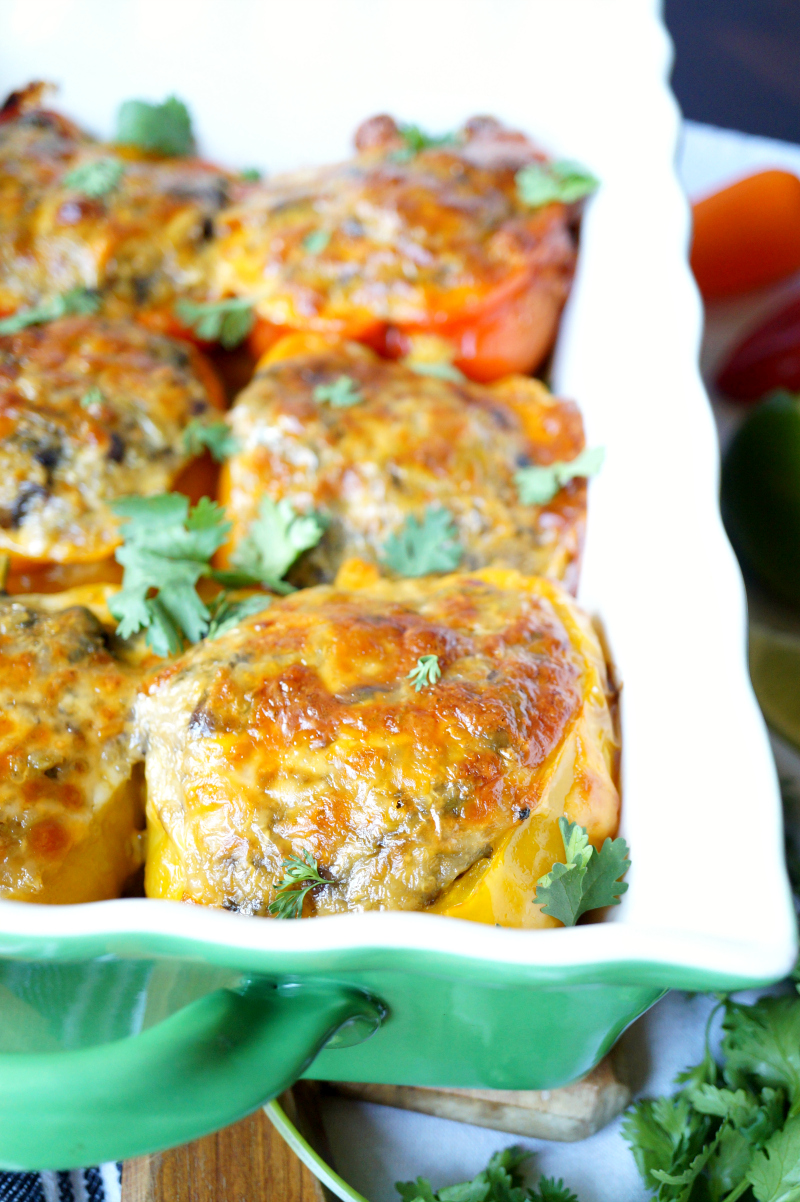 So you may remember that a few posts ago, I talked about a new series that I'll be doing with one of my friends who is a registered dietician (RD). The series is called Fad Diet Fridays, and each Friday (or every other Friday, we have yet to decide), we'll pick a popular diet, I'll make a recipe fitting that diet, and she'll discuss pros, cons, common questions, and all that jazz! That will be starting... TOMORROW! Today, I am sharing these, notably vegetarian, Mexican stuffed peppers, and tomorrow, she'll be educating us about vegetarian diets. What are people allowed to eat, what do they avoid, and of course the age-old question... do they get enough protein (I can already tell you the answer is yes). Be sure to come back tomorrow to check it out! And if you have any questions you want to ask, please leave them here, or on the post tomorrow, or shoot me a message on Facebook! 🙂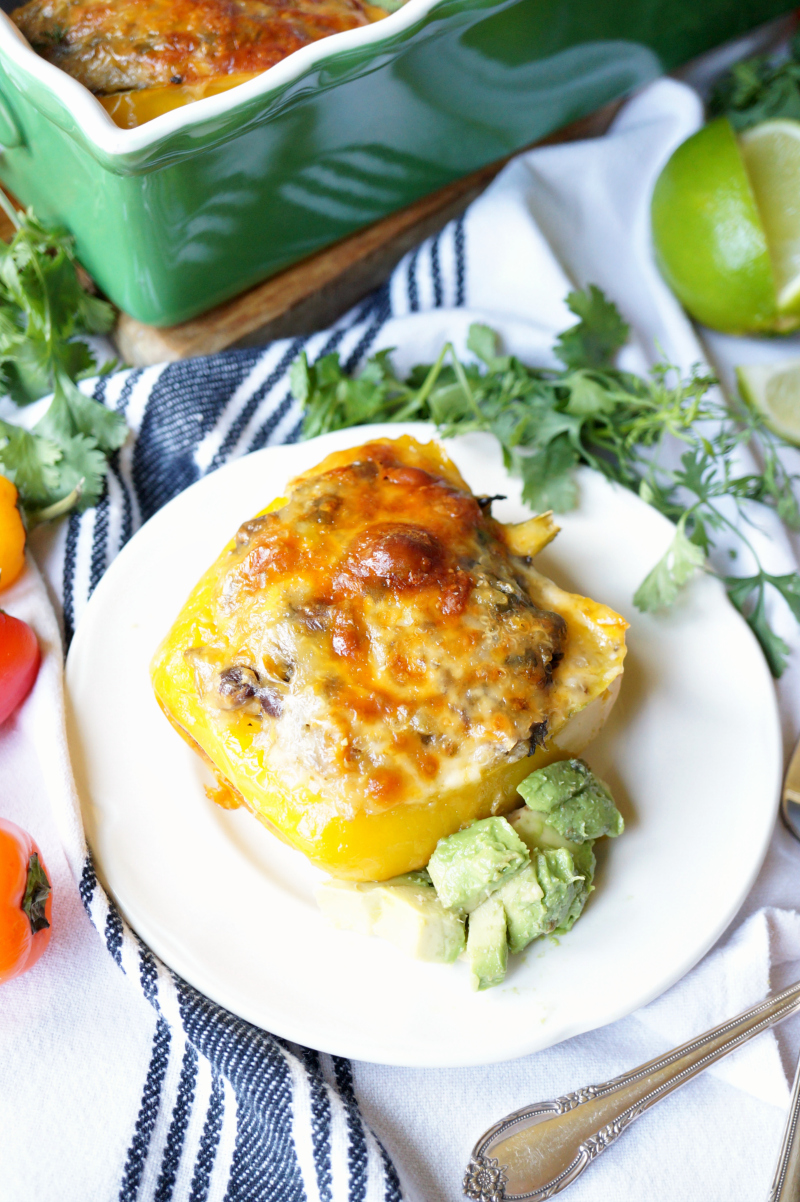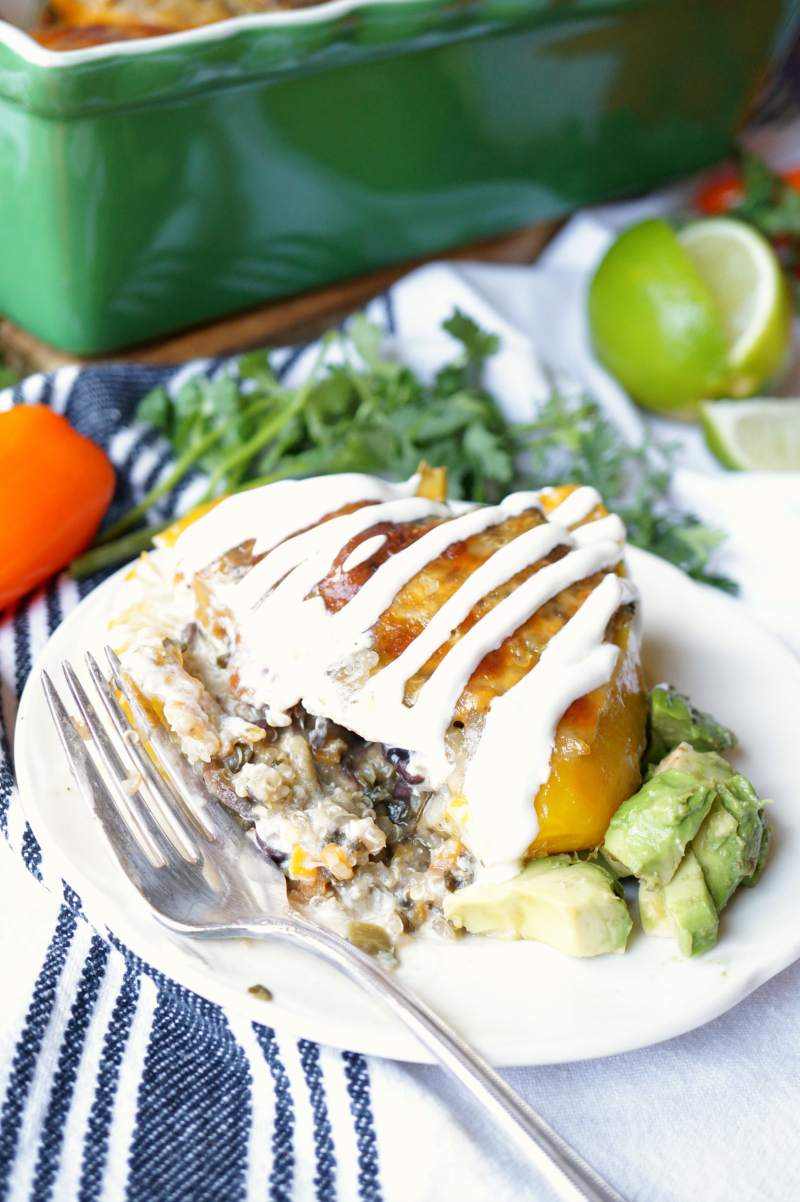 Now back to these Mexican stuffed peppers! These start with a tasty saute of carrot, celery, onion, and garlic, aka the famous Italian soffritto. I know it sounds super random, but this combo is the secret behind every intensely flavorful vegetarian recipe! There is something about that aromatic blend that makes everything taste so good. I then added mushrooms, chopped kale, and black beans for good superfood measure. The whole thing was then mixed with quinoa and green enchilada sauce, stuffed into the peppers, and topped with slices of ooey, gooey cheese... and more enchilada sauce! I know the combination of all these veggies sounds haphazard,  but there was a method to my madness. Beans are a tex-mex staple, and I've definitely had mushrooms in my fajita mix at restaurants before! If you're not a fan of kale, you can always sub in spinach - because spinach enchiladas are definitely a thing. So I promise I'm not the crazy veggie lady! Well. Maybe only a little.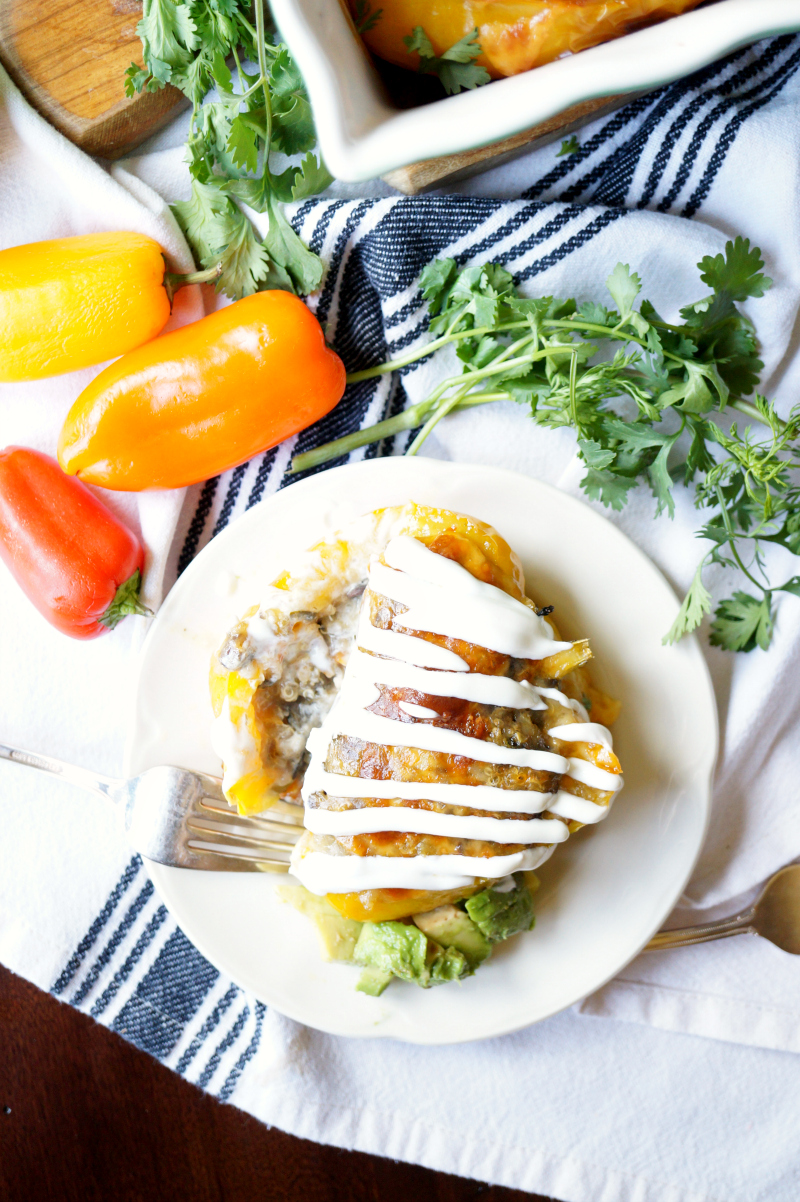 I hope y'all will give these vegetarian Mexican stuffed peppers a try next time you're craving some Tex-Mex! They'll satisfy your cravings without busting that calorie bank 😉
Looking for more vegetarian Tex-Mex? Check out my Vegan Sofritas Tacos, 5-Ingredient White Queso Dip, Vegan Fajita Enchiladas with Potato Cheese Sauce, and Poblano Pepper Soup. Happy cooking!
vegetarian Mexican stuffed peppers
Author:
Valentina | The Baking Fairy
Ingredients
6 bell peppers
1 cup quinoa (uncooked)
1 vegetable bouillon cube
2 stalks celery, diced
3 carrots, diced
½ onion, diced
4-5 cloves garlic, chopped
1 jalapeno, seeded and chopped
1 tablespoon olive oil
1 cup sliced mushrooms
2 cups kale
1 15oz can black beans, rinsed and drained
1 10oz can green enchilada sauce (I use Old EL Paso)
12 slices colby jack cheese
1 teaspoon oregano
2 teaspoon cumin
1 teaspoon smoked paprika
1 teaspoon salt
1 teaspoon red pepper flakes
1 teaspoon turmeric
Instructions
First, preheat oven to 425F.
Prepare two 9x13 baking pans and lightly grease with olive oil. Cut each bell pepper in half and arrange, cut-side up, in a single layer. Set aside for now.
Cook quinoa according to package directions, adding the vegetable bouillon to the cooking water.
In a medium pot, heat the olive oil over medium-high heat. Add in the celery, carrots, onion, garlic, and jalapeño, and cook until fragrant and slightly softened.
Add in the mushrooms and quinoa, and saute for a few minutes. Lower heat to medium-low, and allow veggies to cook until soft.
Add in the beans and all the spices, and mix to combine.
When the quinoa is ready, add it to the veggie mixture. Pour in half of the enchilada sauce, and mix well.
Divide filling among the 12 pepper halves, drizzle with the remaining enchilada sauce, and top each with a slice of cheese.
Pour about ½ inch of water in the bottom of the pans, wrap tightly with foil, and bake for about 30 minutes.
Then, remove foil (BE CAREFUL because there can be hot steam!), and cook for 10 more minutes, until cheese is melted and golden brown.
Serve immediately with avocado and sour cream!
Nutrition Information per serving
1 serving=1 stuffed pepper half
12 servings total
Calories: 232
Carbohydrates: 24 grams
Fat: 11.5 grams
Saturated fat: 5.8 grams
Protein: 7 grams
*Nutrition information is an estimate. Values may vary with different brands/sizes of produce.*
*Disclosure: I am part of the Amazon Associates Program, and there may be affiliate links on this page. If you buy anything through my website, I will receive a small percentage of the profit at no extra cost to you. Thank you for supporting my blog!*

SaveSave
SaveSave